Suman is 16 years old. He lives in a makeshift shack in Kolkata's Topsia Canalside squatter camp. He lives with his parents and two younger siblings. His father, formerly a rickshaw driver, is now a security guard. His mother is a housewife. Family income is Rs5,000 – 8,000 a month (£50 - £80).
Suman has just sat his Class X exams and wants to be an electronics and telecommunications engineer. How can that possibly happen for him?
Suman belongs to Tiljala SHED's education programme, attending after school classes for children aged 12 and upwards. It's a very successful programme, encouraging youngsters to remain in education. There are 40 other young people like Suman in his Evening Class. They all desperately want to make something of their lives. The girls are fighting social and parental pressure to drop out of school and to marry. The boys face the pressure to drop out of school and take up labouring jobs. Many of the boys end up involved in crime, violence and substance abuse. Suman looks at the other boys. He says "They could do so well in studies and in life. But most of them ruin their lives". It is a credit to Suman's parents that all their three children remain in education and that they support Suman's ambitions.
Please consider a generous donation, to help other ambitious youngsters like Suman realise their dreams. My colleague, who interviewed Suman for me yesterday reported "He is sober, nice, calm, peace-loving, gentle, patient and shy." Yes he is. I met him in January and was so impressed.
I was in Kolkata in January, making my annual visit to the projects and meeting the beneficiaries. This is very important to me because I need to know that your donations are being well spent and that they have real impact.
On this day I was very much looking forward to meeting Rehana - one of the beneficiaries who has really turned her life around. But I was not expecting this. Here is an extract from my diary that day..
"Then the BDS (Livelihood Programme) women started to arrive. It became immediately clear that one of them, Rehana, was very sick. She is pregnant but has been bleeding for some time. She had been to the hospital and was told she urgently needs to be admitted. But her husband has run off with another woman and there is no one to take care of the children if she goes into hospital. Rehana is one of the stars of the livelihood project. She started by buying a cycle rickshaw and then bought another 9. She then sold them all and set up a godown (warehouse) for collecting and sorting waste from the ragpickers. She became pregnant with her 3rd child and her husband then started an affair. He and the girlfriend have absconded with most of the assets she had accumulated. The godown is not functioning as she is ill and she is very worried about how she will repay the money she owes. She is a fine businesswoman and entrepreneur, but life has knocked her. She says "When I get well I can restart the business" and I'm sure she can. While we were there she contacted her mother who can come and take care of her two children while she is in hospital. A member of staff will accompany her to the hospital and ensure that her bills are covered by the Emergency Food and Medicine budget. I wrote this as I sat there "I came expecting one kind of story but I got another. This is real life. I want to tell positive stories of redemption but life is untidy and amongst such vulnerable groups, very messy indeed." But thanks to Tiljala SHED, Rehana stands a good chance of getting her life back on track."
Rehana duly went into the hospital where she stayed a few days. She lost the baby sadly. I saw her again about a week later and she was so much better. She was full of smiles and tears - thanking us (you, the donors) for helping her. She was positive about getting back to her business and moving on with her life. Tiljala SHED will relax the repayment terms of her loan whilst she restarts the business.
Thanks to Tiljala SHED and to the generosity of people like you, vulnerable women like Rehana have the opportunity to make a success of their lives. She'll be fine and is probably better off without the duplicitous husband.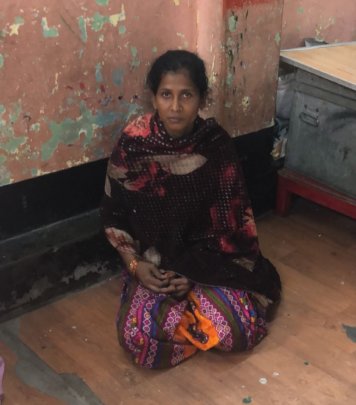 On the face of it, Shabnam's circumstances sound as bad as anyone's. She lives in the Darapara slum sharing 2 small rooms (80 sq ft) with 10 other family members. Her father was an embroiderer but has almost lost his sight and cannot work anymore. Her mother is a maidservant, earning just Rs2000 (£20) per month. Her brother is a salesman bringing in Rs 6000 (£60) per month. He himself has two severely disabled children. The family is originally from Bihar and are respectable, my colleagues tell me: they would rather starve than beg. But on this tiny income of just about £80 a month they regularly face starvation. Thanks to Tiljala SHED's emergency food programme, the whole family receives rations occasionally.
Meeting Shabnam in the Tiljala SHED office recently, I would never have guessed what terrible hardship she suffers. For Shabnam, defying the odds, is at college and studying to become a lawyer.
"My first priority is my family" she told me. "The first thing I'll do when I start earning is release my mother from her job". She said, "I'll give all the happiness to my mother and father because they deserve it".
Thanks to the generosity of Bhawanipore College where she has a scholarship, to a private benefactor and to extra tuition and lots of moral support from staff at Tiljala SHED, Shabnam is getting close to realising her dream. She passes all her exams with flying colours.
It is the combination of Shabnam's drive and ambition and the external support she gets from Tiljala SHED and donors like you, that leads to success. As a qualified lawyer, Shabnam will change many more lives.
Please consider a generous donation to this excellent project so that we can empower more women and girls like Shabnam.
WARNING: Javascript is currently disabled or is not available in your browser. GlobalGiving makes extensive use of Javascript and will not function properly with Javascript disabled.
Please enable Javascript
and refresh this page.