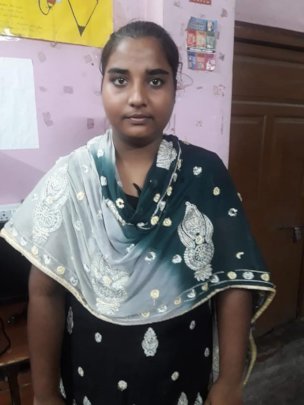 Almost a year ago I reported here about 6 ambitious young women who were busy defying all expectations and about to embark on a university career. https://www.globalgiving.org/projects/educate-destitute-girls-in-kolkata-india/reports/?subid=99072
Today I am delighted to report that they are all doing well and loving college life. Back in November 2017, we were worried about Dulari.
Like the others she had proceeded against the odds through the Islamia Girls High School (enduring class sizes of 150 and upwards). She had been inspired by Sofia Khan, who had grown up in the same slum but had fought the system and is now a senior officer in the West Bengal Civil Service. Determined to get into university, Dulari jumped at Tiljala SHED's offer of free Sunday tuitions, passed her class 12 exams and won a free place to Bhawanipore College.
But her family was so poor that her parents wouldn't be able to spare her for any more education, nor would they be able to provide her with the books, stationery, travel costs and other expenses she needed to be able to continue with her education.
Thanks to your generosity Dulari was able to join this sponsorship programme and all these costs are covered. She wants to join the civil service, like Sofia. You have given her the opportunity to make a success of her life.
Report from Shreya and Aamna who run the programme:
"Dulari lives with her family in a rented room at jannagar Road kol-17 Her father Md Alauddin he works as a Auto Driver and he earn very less Her mother Kharuinisa she is a house wife .They are four sisters all of them are studying in school. At present she is studying in B.A 1st year at Bhawanipur education society college it's a famous collage at Kolkata. She said thanks to GlobalGiving Project for her support now she is getting everything .Before getting the sponsorship she was in Anjuman Islamia Girls High School during that time she faces many problems it's a big challenge for her to complete her education her family is very grateful to GlobalGiving Education. Hopefully she will complete her graduation."