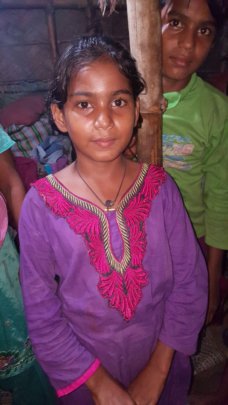 2016 has got off to a great start! Thanks to our donors, we raised an amazing £6374.00 towards our £10,000 target in the Winter Gateway Crowdfunding Challenge. Indeed you were so generous that we actually came top of the leaderboard and secured a further bonus of £1500. Once Gift Aid is calculated and added to the total - we won't be far off our £10,000.
So an enormous thank you to everyone who contributed so generously!
We are looking forward to launching the project in February as soon as the funds arrive in India. Our project officers will be selecting the families most in need of help, counselling them and then helping to deliver life changing interventions.
Upala's mother has already dropped by to ask when her husband can expect a new rickshaw. He struggles to feed his family of seven from the meagre 150 rupees a day he earns. He hires a cycle rickshaw each day at a cost of 60 rupees (60 pence) but the rickshaw owner restricts him to passenger services only. He says that if he has his own rickshaw he can accept different loads and works for businesses which will help him earn more. And he won't have to pay the 60 rupees hire. We will also invite Upala's dad to attend a training session with the police: one of the major threats to rickshaw drivers is fines (as much as 2000 rupees or more) imposed by the police for traffic violations. Tiljala SHED is very experienced in building bridges between members of these vulnerable communities and the authorities.
Upala's mother used to have a small second hand clothing business, but lost it when one of the children fell sick and they had to pay medical bills. Tiljala SHED will also be helping her to build her business up again.
The result of this intervention is that Upala (who is just 12) and her brothers and sisters will stay in education and not be forced into labour to help feed the family.
We look forward to sharing the next part of Upala's story with you.
with many thanks from the whole team at Tiljala SHED