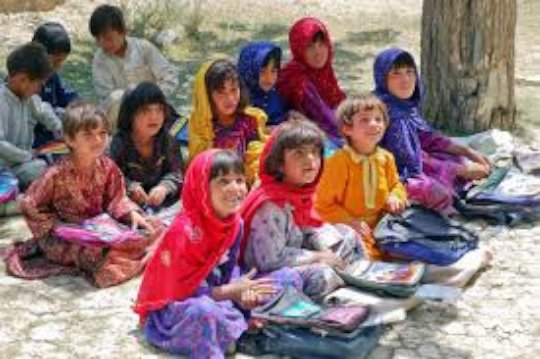 Dear K4AK Supporters,
As most of you know, Kids 4 Afghan Kids is an all-volunteer organization, so, unlike many other organizations, we have no administrative costs. That means that all of your donations go directly to the project to pay teachers, buy school supplies, repair buildings and provide food. However, it also means that everyone at K4AK has another job, so sometimes, life, and unfortunately even death, get in the way of filing our Global Giving Report in time. We are sorry this report is coming to you late!
We are saddened to report the passing of one of our most ardent supporters, Diann Lee Korowin. Diann was a constant presence at the K4AK fundraisers, helping to man our booths for long hours, even when she was fighting cancer. One of K4AK's popular Christmas fundraisers is selling nice boxes of chocolate dipped pretzels. Diann helped package hundreds of these boxes and she certainly knew how to make each box look pretty!
Over the years, Diann knitted hundreds of caps and scarves to send to the children in Afghanistan, and she donated many knitted goods to be sold at craft fairs in Michigan to raise money for the project. She also knit and donated hundreds of (the world's greatest!) dish scrubbers for sale at local craft fairs. She bought hundreds of boxes of notebooks and other school supplies to be sent to the K4AK schools. She also taught knitting and tutored reading to kids in Michigan.
Diann's influence was great. She encouraged her daughter, Khris Nedam, to teach in Afghanistan. As a nurse, she understood and valued her daughter's service. When Khris returned to Michigan and, along with her sixth grade students, founded Kids 4 Afghan Kids, her mother again encouraged her and volunteered to help every step of the way.
We will all miss Diann's calm presence, determination and friendly smile.
On a happier note, we are pleased to report that we have an updated website, thanks to marketing students at the University of Michigan - Deaborn. They updated our website, social media pages and even our Wikipedia page as part of a digital marketing project. The experience was even more gratifying for us because one of the students had been involved with K4AK in elementary school. Check out our new website at kids4afghankids.org and take a peek at our Facebook and Wikipedia page.
In the meantime, progress continues at the K4AK project. The number of girls wishing to be educated has increased, as has the number of parents who now support girls' education. As a result, our girls' school is overflowing and we have begun using an outside classroom.
Engineers have come to examine the girls' elementary school to decide if it is feasible to build a second floor so we can accommodate even more female students. We are waiting for the engineers' findings. We will update you in the next report.
Of course, building a second floor will involve more effort, expense and fundraising, but it's also a nice problem to have. When Kids 4 Afghan Kids opened its first school 20 years ago, many people in the village were skeptical of, or even opposed to, girls' education. Although many boys started school in the early days of the project, only a handful of girls showed up. Now, girls routinely finish 12 years of school at our project and go on to college or career training. In fact, one of our students has just graduated from nursing school to become our first female college graduate. We are proud K4AK schools gave her the science background, skills and confidence she needed to succeed.
All in all, an overflowing girls' school is the best compliment we can imagine! And, it has happened because of your support. Thank you very much!