Dear Friends,
It's been an exceptional year at Enroot. When I think back across 2018 I'm struck by the incredible accomplishments of our students and I can't help but be filled with hope. From 100% of seniors graduating high school, to record scholarship awards, and impressive academic achievements, Enroot students once again taught the adults around them constant lessons in courage and perseverance.


It's been a year of significant growth for Enroot, expanding the number of students we serve by over 50%, to 175 this year. For years we have wanted to support our students beyond high school. This fall we launched our College Success program and we're thrilled to be supporting 28 Enroot high school graduates during their crucial first two years of college - all of them first-generation students.

The Enroot team pours its heart and soul into this work every day, always putting students first. We're proud of how far we've come, but we know there are many more students in the region without this kind of support. That's why we're working hard to prepare the launch of our third Enroot site next year
. This expansion to serve more students is only possible with your generous support.

Recent events have brought a unique sense or urgency to Enroot's work. This is a moment when the network of support around our immigrant students is needed most. We are committed to affirming the value our immigrant students and their families bring to the community. We simply could not undertake this work without the support and generosity of individuals like you. Thank you for joining the movement to advance equity for the newest members of our community.
With Gratitude,
Ben Clark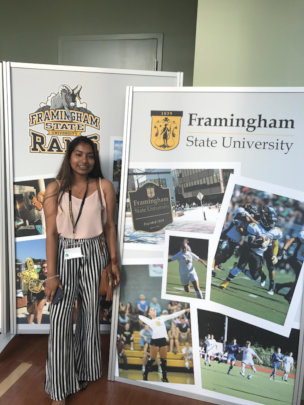 Enroot just launched our new College Success program this fall designed to support Enroot's high school graduates in their first two years of post-secondary education through mentoring, 1:1 coaching, and support navigating the higher education system. College Success programming is essential in expanding opportunities for traditionally marginalized individuals and communities and Enroot is uniquely positioned to do this work alongside our students.
We are thrilled to announce Enroot AmeriCorps Massachusetts Promise Fellow Georgia Lederman has joined our team full time and will be leading this effort as our Manager of College Success and Alumni Engagement. She wrote, "I couldn't be more excited to manage Enroot's College Success Program, which will include academic, career, financial and social-emotional coaching, ultimately leading to an increase in the number of first-generation immigrants who graduate from college and enter the workforce ready to succeed."
A week before students headed off to college, we hosted our first night of College Success mentoring. Students and mentors met over ice cream to talk about students' college goals and everyone enjoyed the familiarity of the Enroot office before embarking on their college journey.
Enroot recognizes five pillars that lead to college success:
Academic Success: Students' academic choices and performance align with goals and graduation requirements
Financial Aid Renewal: Students make sound decisions on debt and budgeting and take advantage of all available resources
Navigation Skills & College-Going Identity: Students learn how to access everything their institutions have to offer and develop a sense of belonging on campus
Job Readiness: Students gain hard and soft skills and have meaningful summer plans
Social-Emotional Well-Being: Students have what they need materially and socially to succeed in college
We look forward to sharing updates about this new program.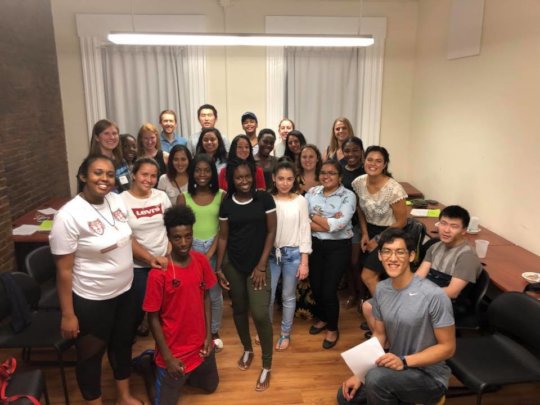 Links: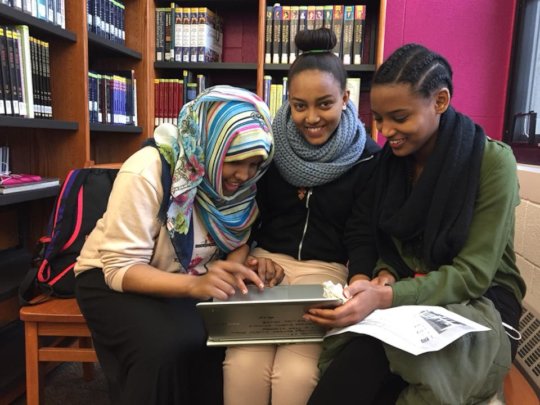 While we celebrate the amazing accomplishments of Enroot students this year, and recognize the many ways immigrants make our community stronger, we are deeply disturbed by what is happening in our country right now.

Our government has failed people fleeing danger by enforcing flawed and destructive immigration policies. The Supreme Court decision on the Muslim ban was profoundly disheartening. In many ways our government's policies and actions fail to recognize the humanity in immigrants. I write to you today in opposition of these hurtful, xenophobic and fear-based policies. I am saddened by the message we're sending to the world, especially our Muslim brothers and sisters, and the children, women and men fleeing danger in their greatest time of need. This is not who we are.

In response to this moment, I urge you to continue finding new ways to support your immigrant neighbors. Lend a hand and a smile. Check in on them more often as they forge ahead and work to protect their families. Make sure they know they are still welcome here. Please also lend your voice to the wider policy debate. Call and write to your elected officials to let them know how you feel about the way our country is responding to this moment.

Thank you for your steadfast support of Enroot and for doing anything you can to stand with immigrant families, especially during this time. During this time, we also want to recognize the accomplishments of our students: this year, our seniors were awarded over $100,000 in scholarships and are headed off to 12 different colleges and universities in the fall.
WARNING: Javascript is currently disabled or is not available in your browser. GlobalGiving makes extensive use of Javascript and will not function properly with Javascript disabled.
Please enable Javascript
and refresh this page.