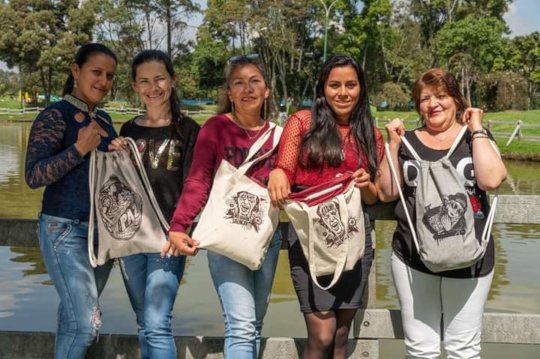 In Colombia 11,6% of women are unemployed, which represents almost twice the masculine unemployed (6,6%) rate. Active women earn on average 28% less than men (DANE and PNUD 2015).
One of the goals of our projects is to create forms of labor inclusion and to promote wage equity, supporting women in social or economic vulnerability conditions to undertake projects that help them to be economically independent.
During the last months of 2018, we have been working with women from the project OLINGO and women from the project "heritage is in the pot"
With OLINGO (Textile accessories project) we have been launching a new design of ecological bags onto the market, this new version has an exterior pocket with zipper, useful to save your keys, your money or your phone. Also we are creating a new design of bags with strips, now with impermeable material inside.
Here we are sharing with you some pictures of our new campaign.
Follow us on Instagram: Olingo, marca social
Since our Project "El Patrimonio está en la Olla" we organized 2 events based on Colombian food. The first one was in the cultural house "Casa B", to promote the heritage of Colombia: deserts made by women and dance.
For the second event we organized a lunch with Colombian gastronomy, in which 8 women met to share their traditional knowledge and recipes, providing to the participants the best flavors of the Caribe, the Pacific, Huila and Tolima.
The objective of this gastronomy event was to support women to start a productive project based on their traditional knowledge. The event has been very successful: here we share some of pictures that have been taken this wonderful day.