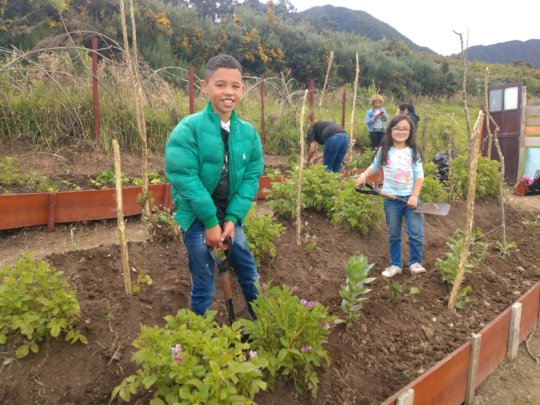 Paseito III, is a vulnerable neighbourhood located south Bogotá in the buffer area of Bosque Oriental Protective Forest Reserve. ,For Proyectar Sin Fronteras, this urban project is the one with most potential. It allies two processes that are carried out today: weekly environmental education and agriculture workshops with 20 children and teenagers from the neighbourhood and an urban agriculture process compound by the construction/management of a community garden and capacities building for the community.
Since the beginning of our environmental education intervention in Paseito III in October of 2019, a total of 13 workshops corresponding to 26 hours of formation has been carried out by Proyectar Sin Fronteras. We have seen amazing changes in the participants' behaviours: they reflect more on the origin of what they consume and on the effects their lifestyle can generate. The community garden has been a wonderful pedagogical tool to provide the practical side that can be missing while teaching environmental education in an urban area.
We can notice that the environmental awareness has been awaken among most of the participants while they proudly narrate their sustainable actions, promises or knowledge. Nevertheless, much remains to be done to hopefully create future environmental leaders or committed citizens.
With regard to the agriculture process which begun in June of 2019, these are the results so far:
Construction of a 52 metres squared community garden with 3 beds of seeding
Disposal of 6 cubic meters of black soil and furrows design
Construction of a community compost
Construction of an alive fence using willow
Sowing of potatoes, peas, broad bean, lettuce, swiss chard, spinach, cubios, onions, blackberry, naranjilla, aloe and aromatic herbs (cilantro, parsley, chamomile, thyme, oregano, marigold)
Soil mulching with hay
The next step is to install a greenhouse designed by Politécnico Grancolombiano University students as part of an academic and prototyping convention with Project without Borders. This greenhouse will be compounded by recyclable plastic bottles and guadua (a native species of bamboo).
The objective of the agricultural process is to empower the community so they can cultivate healthy and sustainable aliments for their own consumption and hopefully for local commercialization in the future. This process shows remarkable results for now in terms of community participation - about 20 Paseito III inhabitants including children are active participants of the capacities building - and agricultural outcomes.
Thank you for all your support! Your donations directly help vulnerable communities in achieving environmental and social peace! Continue to support us to keep strengthening environmental awareness and resilience among youngest and elders.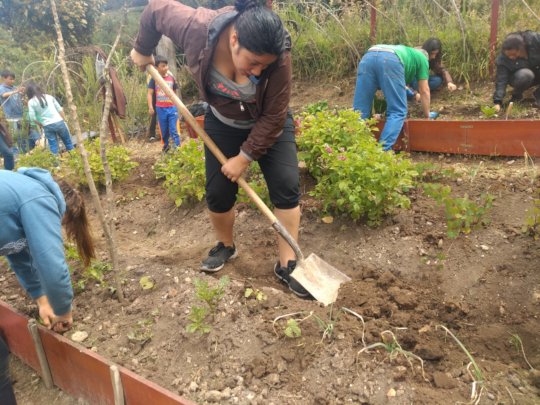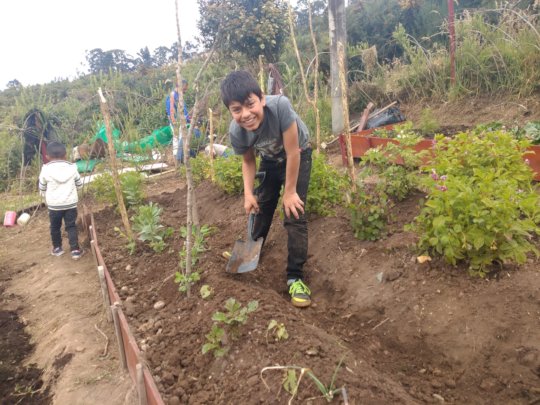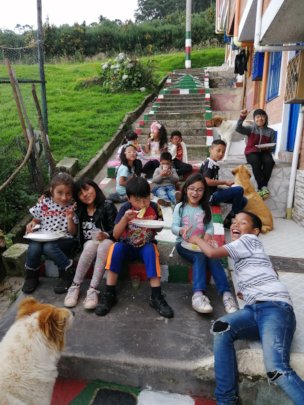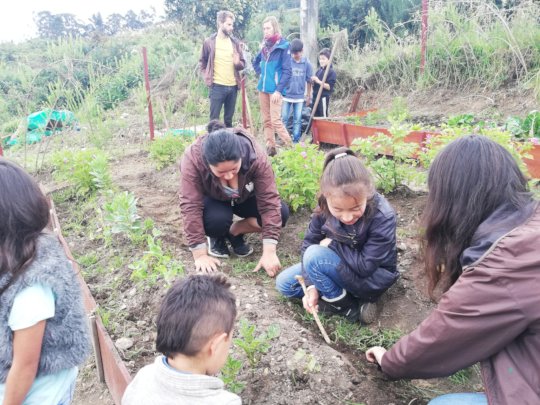 Links: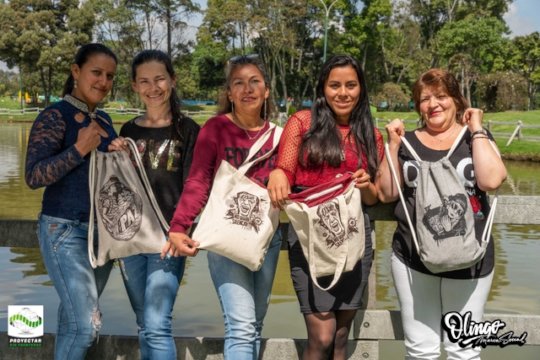 Olingo, the last project of COMParte, has concluded a crowdfunding campaign in July. Unfortunately, we only reached 35% of our goal amount of 3771 US dollars. However, Project without Borders did not give up, just like the women that had participated in the confection of 60 products of the last Olingo's collection. We also want to express gratitude to our three local artists: Djlu, Garavato and Mestizo, for supporting this project by creating beautiful designs to embellish our products.
In addition to COMParte, Project without Borders is involved in various other projects empowering women, in particular with Sembrando Confianza - Mujeres (Sowing confidence - Women) that took place in 2016 in the Municipality of Choachí and La Calera, near Bogotá. According to the United Nations Food and Agriculture Organization (FAO), women produce 50% of the world's agricultural production. Unfortunately, dynamics between women and the agriculture field are often informal and underestimated, but are fundamental for food security. Therefore, this project aims to value and to strengthen the role of women in agricultural production in vulnerable and rural areas by enhancing food and economic security while preserving the environment. Today, Sembrando Confianza - Mujeres counts an association of 18 women with a 500m² space recovered in the municipality of La Calera to set up an edible forest for biodiversity conservation and climate change adaptation.
Project without Borders is also proud to announce the end of a rewarding cycle of environmental education and food security initiatives in the neighborhood of Santa Rosa (locality of San Cristobal, south of Bogotá) under the project Sembrando Confianza (Sowing confidence). In lines with the principles of agroecology, we have developed 270 workshop with 60 children of Santa Rosa and we have supported 15 family gardens during a seven years period. We are now working on the development of a new cycle with other communities nearby such as Paseito III and Los Puentes.
Thank you for all your support! Your donations directly help women, children and families achieving economic autonomy and social and environmental peace!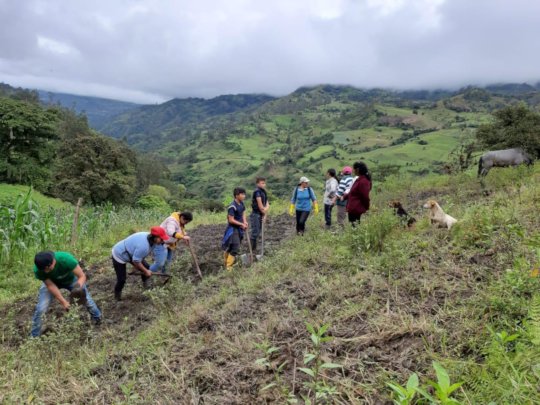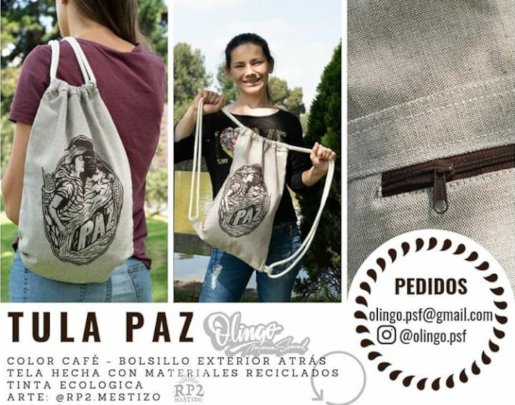 In COMParte we continue to promote women's empowerment and gender equity through the Olingo project, which the aim is to generate decent incomes for women seamstresses in the city of Santa-Rosa, by bringing them in a collaborative work. In this sense, we continue to work on the development of the Olingo brand, to strengthen the values of community work and the exchange of knowledge between women seamstresses. A lot of work has been done to standardize our production : creation of plans, sewing pattern, technical specifications and manufacturing instructions. In this way, we are able to both facilitate the work of women and improve the quality of our products. This allows us to be more competitive in the market. Then, we have built a marketing strategy, identifying several potential points of sale for our products in Bogota.
Finally, in May Olingo launched a new collection in which 80 products have been produced, thanks to the work of 2 women: Ruby and Leila. They are two mothers who are heads of household : they are involved into to the project both in terms of clothing confection and design. For this production, approximately 370,000 pesos will be destined to the payment of these two women for the confection of these products.
In this latest collection we have collaborated with 3 urban artists: DJLU, Garavato and RP2 Mestizo, who help us promote the Olingo values through their designs that we use for the prints of our bags. We produced 50 bags and 30 "Totebag".As in every collection, we have privileged the use of responsible materials such as recycled materials, or ecological ink (water-based) for the prints
We expect to sell this collection in art and design stores in Bogota and participate in entrepreneurship events to promote the brand. With the sale of these products we will be able to continue investing in the development of the brand so that in the near future we will get involved more women to the project and ensure a stable income.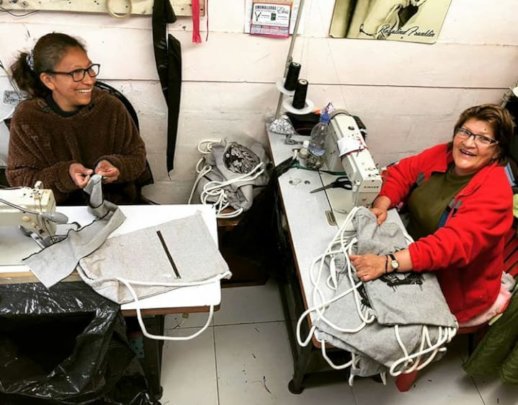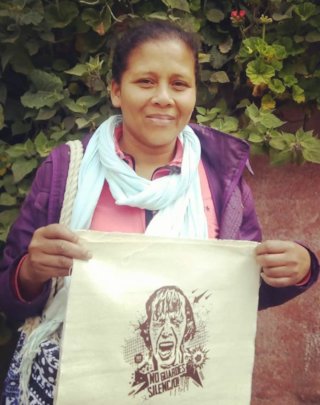 WARNING: Javascript is currently disabled or is not available in your browser. GlobalGiving makes extensive use of Javascript and will not function properly with Javascript disabled.
Please enable Javascript
and refresh this page.