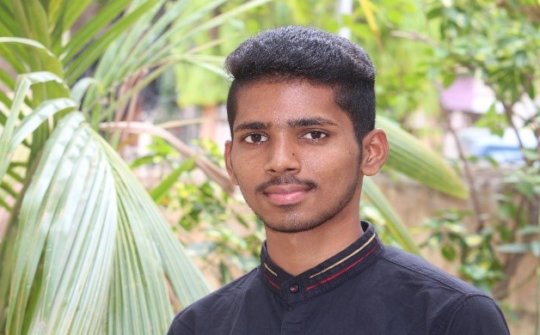 Hi friends!
It's so nice to be able to share my story with you all today. A story of how I, a Lorry driver's son living on the streets of India, who could never have dreamt of living in comfort, am now, on road to realising such dreams by becoming a successful learned professional.
Today, I am a student of IIIT, Basara for integrated B.Tech. A dream for many, but beyond imagination for a child like me. While on slum living, we lived by somehow in whatever meagre earning my father toiled for. Life was all about play catch with my friends, run errands when my father came home every evening to buy rice and eggs. I used to see the school children my age, with their shiny shoes and colourful bag packs, what interested me more was the free auto/bus rides they used to enjoy, and I remember being envious of that. We got to ride in autorickshaws in my neighbourhood when my friends' father used to come home, we would hop in the rickshaw and I would drive! It was during that year I remember people coming to see my father and mother and uncle talking to me about going to a place where kids my age and older live and play all day. They even get to ride on buses and go to school! I marvelled at the whole idea and agreed to go check it out. This was a turn in my life known as Rainbow Homes Program aka the place for me to find more friends. My home's name was Aashray Balatejassu Sheh Ghar. Life was good, and I loved chatting the ears off of my older "Bhaiya's"
In my 3rd class, I was forcibly dropped out of school by my mother. At that time, I did not know what happened exactly, but my parents got separated. Eventually, in the middle of the academic year, I and my younger brother went with my mother to live off with my maternal grandparents. I thought we would be admitted to another school at my grandparents' place, but that day never came. We did not know the reasons, but my father understood what was happening to us. With an intention to retaliate against my father, my mother took both of us away from my father.
Fearing things might go bad, my father took a step! When my mother and grandparents were busy attending the funeral of some of their relative, my father secretly came to the village and took us with him. To avoid being caught by anyone, he walked five-kilo meters in the forest carrying both me and my younger brother on his shoulders. He did not have enough means to look after and did not know who would take care of us in his absence. What he had was love and utmost concern for our future. So he sought my paternal uncle's support. My uncle is also an auto driver with a family of 3 children. Nevertheless, he extended support and suggested for our admission into some hostel for the less privileged. he searched for good quality homes and finally find out the one, Balatejassu Boys home. After due enquiry, he approached the home management and sought for our admission into the home. Listening to our vulnerable condition, home management took me back again.
After a short bridge course, I got admitted into the 4th class. Coming back I started concentrating on studies, noticing my spark for studies, home mothers and teachers encouraged me and continuously supported me to perform well in studies. My rising grades got me more love, support and appreciation from my "bhaiya's" (Older brothers in the home) and home mothers, I was happy. One of the donors visiting the home asked the home team to put me to English Medium schooling from 6th grade, to build up my potential and vocabulary. I found it really difficult and resisted incessantly, even resorting to crying, all but to no use. They knew that I can cope with the same and after a while, it won't be much problem for me. With time and practice of different words and letters, I gained the confidence, understanding English better. The initial year proved to be a struggle, but with the support of home and school teachers, I could overcome the fear and started giving my best. Finally, in the S.S.C., 2019, I secured a whopping 9.8. GPA, paving a way for my admission into IIIT. While marks helped me to get admission, English medium education boosted my confidence to seek admission and fluency while communicating.


As I recall my years as a student and my time on streets, I truly thank my father for taking that decision that day who is now proud of me and all those who supported my education and helped me stand where I am today.
Thank you, dear readers, may this support of yours continue to impact many more lives like mine, helping people become empowered and truly conquer their inner fears and struggles in life.
Much Gratitude
Pavan (meaning breeze)