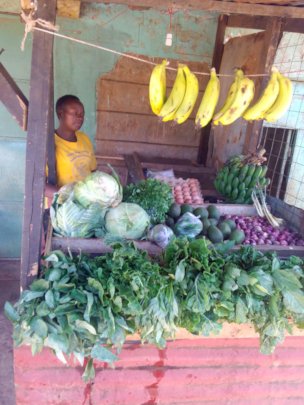 Vulnerable families in the slums of Kiandutu face enormous financial marginalization. Mostly vulnerable families are not able to take care of the basic needs of their children. This leaves them with little or no technical training that would enable them to enter the job market and help them enjoy financial independance.
I would like to share a transformative journey of Wangari.
Wangari lives in the Kiandutu slums with her husband and five children (girl 2, boy 6, boy 8, girl 9, girl 12). She is 32 years old in a bad marriage. Her husband Dennis struggles with alcohol and is very dominant and abusive, while Wangari is hardworking and reliable. She lost her mother at a young age, and has had to shoulder family responsibilities since then. Wangari could only complete her education up to Class 7, and was married off at the young age of 15. Her husband was a wage laborer, and barely earned enough to sustain their family. She was identified by our social workers when her daughter was found to be malnourished. Her child was enrolled in Macheo Malnourished Intervention while Wangari was enrolled in the Macheo Household Economic Empowerment. Through the workshops and exposure visits, she learned about business entrepreneur/management and expansion, and gained business skills like marketing, building customer relations, accessing new markets etc. She also learned about financial management such as budgeting, applying for loans and maintaining savings, through the financial literacy workshops. Wangari wanted to contribute towards the family income. She decided to earn some money through keeping a green grocers business. With the money she raised from selling her vegetables, she managed to add to her stock. Having acquired the above skills, knowledge and capital resources, Wangari is now enjoying financial independence. She is able to provide basic needs for herself and her children.
We believe that there is a need to provide these vulnerable families with access to knowledge and capital that will give them personal and professional agency in their lives. The Macheo Family Empowerment Intervention aims at increasing parent's knowledge and control of their resources, build reliable & fair access to food and empower parents by increasing their skills, knowledge, and capital resources they need to support their children. We give them knowledge of financial management, savings and entrepreneurship skills. This helps in building and accumulating assets. This may go along in reducing a family's vulnerability while increasing their economic independence to improve their ability to provide for their children.
This can only have been done because of your generous donation. Working alongside these families, produces stability and independance.
Thank you for your ongoing support.
Regards
Seth Mwangi and Anne Thompson
Macheo Health Coordinator/ President Macheo US