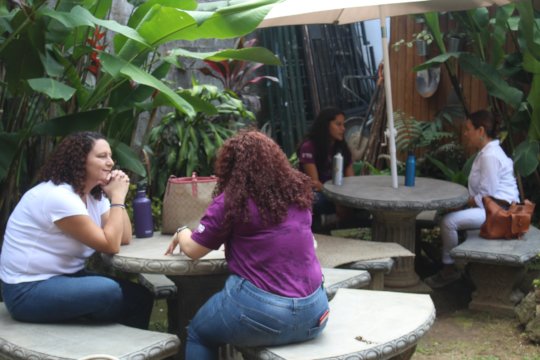 English Below
Red MenTe
Certificación Fundamentos de Tecnologías de Información
Actualmente dos grupos de 20 chicas han finalizado la certificación Fundamentos de Tecnologías de Información de CompTIA, 17 están llevando a cabo la certificación de Linux. En las próximas semanas 62 chicas nuevas darán inicio a la certificación Fundamentos de Tecnologías de Información de CompTIA.
Actividades de seguimiento de la Red MenTe
Hemos realizado cuatro Facebook Lives con el objetivo de que más mujeres conozcan sobre la experiencias e historias, de otras mujeres en áreas STEAM, lo que nos permite llegar a más mujeres y no solo beneficiarias del programa.
Becas TEDxPuraVidaJoven 2019
55 chicas fueron becadas para poder asistir al TEDxPuraVidaJoven 2019, donde pudieron conocer de diferentes temas, entre ellos, de ciencia y tecnología.
Taller Entrenando asistente virtuales y acciones para Google
En este taller, 15 chicas pudieron aprender paso a paso en como entrenar a su propio asistente virtual y crear una acción que comprende lenguaje natural, voz y texto para Google Assistant. Fue llevado a cabo el 06 de julio en el Innovation Center de Intel Costa Rica.
We Love STEM Day (Kids Day)- Emerson
La empresa Emerson en su Kids day, el 03 de julio permitió que seis chicas de la Red trabajaran con chicos y chicas de edades entre los 5 a 12 años de edad en el evento We love STEAM para empoderar a la niñez a través de las tecnologías.
Feria Vocacional-Emerson
El 10 de julio, en esta feria Vocacional, Emerson permitió que 10 chicas participaran de charlas de CINDE sobre las carreras del futuro, información sobre carreras STEM, charlas de IT, Recursos humanos sobre habilidades blandas y cómo hacer un CV, Big Data, Finanzas personales y otros.
Día de la Mentoría
Durante toda una mañana, el 24 de agosto 15 chicas de la Red MenTe tuvieron la oportunidad de tener una mentoría con el objetivo es dar un acompañamiento individualizado en temas de liderazgo, mediante el establecimiento de una meta personal, futuro profesional, proyecto de vida a corto o largo plazo, para el auto descubrimiento del potencial. Este espacio fue liderado por Voces Vitales Costa Rica.
Cyberday for Girls
El 29 de agosto 40 chicas de la Red participarán de una actividad donde aprenderán sobre Una actividad donde podrás aprender cómo proteger tu identidad en línea, redes sociales y cómo defenderte de ataques cibernéticos.
MenTe en Acción
El 29 de junio finalizamos la 9na edición de MenTe en Acción que realizamos una vez más en el Parque La Libertad, San José. Recibimos 170 aplicaciones de las cuales solamente 57 podían ser seleccionadas para para aprender sobre nuevas tecnologías, lógica de la programación, empoderamiento de género, y liderazgo; con el objetivo de que ingresen a carreras de Ciencia y Tecnología y disminuir la brecha de género en estas áreas, de las cuales se graduaron 55.
Asimismo, el pasado 17 de agosto dimos inicio a la 10ma edición, la cuál también llevaremos a cabo. Esta vez participaron por la beca 257 mujeres entre 15 y 19 años, de las cuales 55 fueron seleccionadas.
En ambas ediciones se trabaja mediante la asignación de un Objetivo de desarrollo Sostenible por grupo, y mediante un proceso de Ideación y Design Thinking diseñan su prototipo de aplicación móvil funcional, que realizan con el apoyo de las/os mentaras/es técnicos/as. Este prototipo lo presentan ante sus familiares, amigos y jurado durante la ceremonia de graduación para la décima edición se realizará el 05 de octubre.
Duolingo en Acción Inclusivo
En conjunto con la empresa Accenture el 16 de agosto dimos inicio por tercera vez al curso de inglés para personas con discapacidad, esta vez bajo el nombre Inglés sin Barreras, dimos inicio con 25 participantes. Este curso se realiza viernes y sábados durante dos meses y medio, y utilizando la herramienta Duolingo for Schools para poder brindar un seguimiento a los/as estudiantes lo largo de la semana.
Fuck Up Nights vol VII
FuckUp Nights San José vol, VII lo llevamos a cabo en el Steinvorth, San José, el 08 de agosto, contamos con la participación de cuatro expositores que nos contaron sobre sus emprendimientos y la importancia de permitirnos ser vulnerables para construir nuevas oportunidades, dar espacio a la creatividad y la innovación. Contamos con la participación de 100 invitados/as.
Audiciones TEDxLlorenteWomen 2019
El pasado 19 de julio abrimos la convocatoria para las audiciones de TEDxLlorenteWomen 2019 que se llevará a cabo el próximo mes de diciembre. Recibimos 98 inscripciones, de las cuales 24 personas se presentarán el 29 de agosto en las audiciones.
Taller de Manejo de Crisis
En conjunto con la Embajada de Estados Unidos en Costa Rica ofrecimos un taller de capacitación para altos funcionarios del Poder Ejecutivo, funcionarios de diferentes Ministerios, organizaciones independientes, asesores de prensa y comunicación sobre gestión de crisis. Fue liderado por CommCore Consulting Group.
---
Red MenTe
Fundamentals of Technology Information Certification
Currently two groups of 20 have completed the CompTIA Information Technology Fundamentals certification, 17 are taking the Linux certification. In the next weeks 62 new girls will start the certification IT Fundamentals. All this thanks to the partnership with Rocket Girls.
Red MenTe follow up activities
We have made four Facebook Lives with the objective that more women know about the experiences and stories of other women in STEAM areas, which allows us to reach more women and not only beneficiaries of the program.
TEDxPuraVidaJoven 2019 Scholarships
55 girls were awarded scholarships to attend the TEDxPuraVidaJoven 2019, where they were able to learn about different topics, including science and technology.
Workshop Training virtual assistant and actions for Google
In this workshop, 15 girls can learn step by step on how to train their own virtual assistant and create an action that includes natural language, voice and text for Google Assistant. It was carried out on July 6 in the Innovation Center of Inter Costa Rica.
We Love STEM Day - Emerson
The company Emerson on its Children's Day, has six girls from the Red MenTe will work with boys and girls between the ages of 5 and 12 at the event We love STEAM to empower children through The technologies.
Vocational Fair - Emerson
On July 10, at this Vocational fair, Emerson invite 10 girls of our Nerwork to participate in CINDE talks about future careers, information on STEM careers, IT talks, Human resources on soft skills and how to do a CV, Big Data, Finance personal and others.
Mentoring Day
During a whole morning, on August 24, 15 girls from the Red MenTe had the opportunity to have a mentoring with the objective of giving individualized support in leadership issues, by establishing a personal goal, professional future, life project to short or long term, for the self discovery of the potential. The Mentoring Day was lead by Voces Vitales Costa Rica.
MenTe in Action
On June 29, we finished the 9th edition of MenTe en Acción, which we once again held at Parque La Libertad, San José. We received 170 applications of which only 57 could be selected to learn about new technologies, programming logic, gender empowerment, and leadership; with the objective of entering Science and Technology careers and reducing the gender gap in these areas, we graduated 55 young women of the program.
Also, on August 17 we started the 10th edition, which we will also carry out. This time 257 women between 15 and 19 years participated in the scholarship, of which 55 were selected.
In both editions, work is carried out by assigning a Sustainable Development Objective per group, and through an Ideation and Design Thinking process they design their functional mobile application prototype, which they carry out with the support of the technical miners. This prototype is presented to his family, friends and jury during the graduation ceremony for the tenth edition will be held on October 5.
Duolingo in Inclusive Action
Together with the Accenture company on August 16, we started for the third time the English course for people with disabilities, this time under the name Inglés sin Barreras, we started with 25 participants. This course is held on Fridays and Saturdays for two and a half months, and using the Duolingo for Schools tool to be able to follow up the students throughout the week.
Fuck Up Nights vol VII
FuckUp Nights San José vol. VII we carried out in Steinvorth, San José, on August 8, we had the participation of four exhibitors who told us about their ventures and the importance of allowing us to be vulnerable to build new opportunities, give space to creativity and innovation. We have the participation of 100 guests.
TEDxLlorenteWomen 2019 Auditions
On July 19 we opened the call for the auditions of TEDxLlorenteWomen 2019 that will take place next December. We received 98 registrations, of which 24 people will appear on August 29 at the auditions.
Workshops on Crisis Management
Offer a training workshop for senior Executive Branch officers, Ministry officials, independent organizations, press, and communication advisors on Crisis Management. This workshop was lead by us and the US Embassy in Costa Rica.