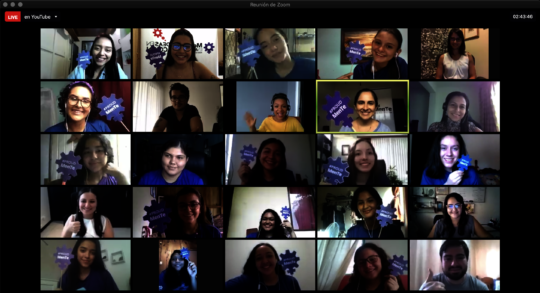 English Bellow
Mente en Acción
Finalizamos la 12va edición de MenTe en Acción el 08 de agosto y había dado inicio el 04 de julio. Recibimos 162 aplicaciones de las cuales se seleccionaron 55 y se graduaron 43. Esta edición fue solo para mujeres de la provincia de Guanacaste y contamos con el apoyo de la Embajada de Estados Unidos, P&G Costa Rica y Accenture Costa Rica y contamos con la alianza de Efecto Boomerang.
Actualmente estamos ejecutando la 13va edición, que dió inicio el 12 de septiembre y finalizará el próximo 24 de octubre, se obtuvieron 192 aplicaciones y actualmente hay 61 participantes que se graduarán. Esta edición es apoyada por P&G Costa Rica y Accenture Costa Rica, Citrix Costa Rica y Emerson Costa Rica y contamos con la alianza de Efecto Boomerang.
El programa tiene una duración de ocho sábados (16 sesiones de 4 horas cada una) donde aprenden sobre empoderamiento de género, de liderazgo y trabajo en equipo; así como las bases de la programación para desarrollar un prototipo de una aplicación móvil que responda a un Objetivos de Desarrollo Sostenible. Contamos con el trabajo de 20 mentores/as técnicos/as que apoyaron a las chicas a desarrollar este prototipo.
Ambas ediciones se realizaron 100% virtuales debido al COVID-19.

Red Mente

Debido al COVID-19 hemos realizado las actividades de la Red Mente de forma virtual, hemos organizado 38 actividades con una participación total de 903 mujeres de la Red MenTe. Hemos tenido talleres de Impresión en 3D, el rol de los microorganismos en la cotidianidad, Finanzas Personales, Recomendaciones para el CV, Conversatorio de Seguridad Digital, cómo hacer jabón casero, charlas vocacionales, introducción a la Astronomía, clases introductorias de Figma, Agilidad y Python, cursos de Inglés, Talleres de I´m Remarkable, principios básicos de Lesco, Arduino, Introducción a la Programación entre muchos otros.

Programando mi mundo laboral

https://www.instagram.com/tv/CEH75HBAbLq/?igshid=q7hcrai2juik
Debido al COVID-19 diseñamos y ejecutamos este nuevo programa 100% virtual para las mujeres de la Red MenTe con el objetivo de que mejoren su perfil empleable a través de tres áreas: Introducción a la Programación, Inglés y Habilidades para la Empleabilidad.
La primera edición se llevó a cabo del 30 de mayo al 27 de julio y se graduaron 34 y actualmente estamos ejecutando la segunda edición en la cual contamos con 40 participantes de todas las provincias del país.
Emprendimiento en Acción:
https://www.instagram.com/tv/CEcWkIygUQS/?igshid=1ufhf7vvomb65
Nace de las oportunidades de desarrollo identificadas a partir de las situaciones que enfrentan las mujeres de las Red MenTe debido a la situación por COVID-19. El programa tiene por objetivo brindar herramientas, conocimientos y apoyo en el desarrollo y mejoramiento de emprendimientos de las mujeres de la Red MenTe y sus familias. Además, a lo largo del proceso, se busca generar una comunidad y red de apoyo mutuo entre de emprendedoras, para incentivar la generación de ingresos a partir de sus emprendimientos.
La primera edición se llevó a cabo del 04 de junio al 06 de agosto y se graduaron 24 participantes con sus emprendimientos. Esta edición contó con mujeres de la Red provenientes de todas las provincias del país.
Curso Multimedia facilitado por Parque La Libertad
Curso práctico y de modalidad virtual donde se explorarán diferentes herramientas para mejorar las actividades de emprendimiento y aprovechar sus ventajas. Además, se dan a conocer las nuevas tecnologías que con el paso del tiempo van evolucionando y estableciendo nuevas características o prestaciones que nos ayudan cada día a ser más proactivos como emprendedores.
Las lecciones se imparten por medio de las plataforma Zoom y el trabajo en clase (prácticas) se desarrollan posterior a cada sesión virtual a través de la plataforma Google Classroom. Actualmente se encuentra en desarrollo, dio inicio el día 13 de octubre y finaliza el 15 de diciembre. Para esta oportunidad se cuenta con la participación de 11 mujeres emprendedoras graduadas de la primera edición de Emprendimiento en Acción.
STEAM para jóvenes
Iniciativa virtual desarrollada en conjunto con GAN Costa Rica, con el propósito de generar conocimientos y habilidades acerca de STEAM, las disciplinas que promueve y las oportunidades que ofrece a través de un módulo virtual durante. La población beneficiaria fue del Parque La Libertad y Aldeas SOS, en su mayoría provenientes del 1er módulo a cargo de Global Shapers Costa Rica acerca de Habilidades para la Empleabilidad.
El programa finalizó con la participación de un total de 25 jóvenes de ambas instituciones, divididas de la siguiente manera: Participantes de Parque La Libertad: 15 jóvenes // Participantes de Aldeas SOS: 10 jóvenes.
FUN San José - Special Edition
https://www.instagram.com/tv/CGWE_6DAyhz/?igshid=leroodwjgp7z
Movimiento mundialdesarrollado desde el 2016 en Costa Rica. Un evento donde se invitan emprendedores costarricenses a compartir con un público desconocido sus Fracasos/metidas de pata con el propósito de desmitificar el fracaso y poder verlo como parte del proceso de emprendimiento.
El jueves 24 de setiembre realizamos otra edición especial del evento, fue desarrollado de manera virtual y los speakers invitados pertenecen al área de educación, gastronomía y joyería, los(as) tres hablaron sobre sus emprendimientos y cuales han sido sus principales metidas de pata en este proceso de emprender y las principales afectaciones debido al COVID-19. Contamos con la participación de 60 personas vía Zoom Meetings.
-English
MenTe en Accion
The 12th edition of MenTe en Accion took place from July 4th to August 8th. We received 162 applications and selected 55 young women out of which 43 graduated. This edition was exclusively for women from the province of Guanacaste. We had the support of the United States Embassy in Costa Rica, P&G Costa Rica and Accenture Costa Rica and worked in partnership with Efecto Boomerang.
The 13th edition started on September 12th and will run until October 24th. For this edition we received 192 applications, and there are currently 61 participants who we expect to graduate. Efecto Boomerang is our partner for this edition, and we also count with the support of P&G Costa Rica, Accenture Costa Rica, Citrix Costa Rica, and Emerson Costa Rica.
The program consists of 16 sessions of 4 hours imparted during eight Saturdays where beneficiaries learn about gender empowerment, leadership and teamwork, as well as the basics of programming with which they develop a mobile app prototype aligned with one or more Sustainable Development Goals. We have 20 technical mentors supporting participants throughout the process.
Due to COVID-19 both editions were held 100% online.
Red MenTe (MenTe Network)
Due to the COVID-19 pandemic, all MenTe Network activities have been held online. We have organized 38 activities with a total of 903 participants from the network. Some of the workshops and sessions include: 3D printing, the role of microorganisms in day to day life, personal finances, CV recommendations, a panel discussion on digital safety, a homemade soap workshop, vocational talks, intro to astronomy, intro to Figma, Agility and Python, English courses, I'm Remarkable, basic Lesco, Arduino, and intro to programming.
Employability Booster
In line with COVID-19 precautions this new program was designed and executed 100% online. We offered this program to women in the network to help them improve their employability profile working on three specific areas: intro to programming, basic conversational English and life hacks for employability.
The first edition took place from May 30th to July 27th graduating 34 participants. We are currently running the second edition with 40 participants from around the country.
Entrepreneurship Incubator
This program stems from the development opportunities identified from the different situations recently faced by the women from the network due to the COVID-19 pandemic. The main goal of the program is to offer participants tools, knowledge and support in developing and/or improving pre-existing family owned businesses or new endeavors. Throughout the process, we aim to create a sense of community and a support network amongst participants to promote the generation of income through their various enterprises.
The first edition was held from June 4th to August 6th and we had 24 graduates. Women members of the network from all over the country participated in this edition.
Multimedia Course - Facilitated by Paque La Libertas
Practical and virtual course where participants will explore different tools to boost their endeavors. This course also works on new technologies that evolve constantly and establish new characteristics or benefits that help us be more proactive as entrepreneurs.
Lessons are imparted on the Zoom platform and the coursework is completed after every virtual session using Google Classroom. This program is currently running, it started on October 13th and will finish on December 15th. On this occasion there are 11 women entrepreneurs participating, all of which are graduates from the first edition of the Entrepreneurship Incubator.
STEAM for youth
This virtual initiative is developed in partnership with GAN Costa Rica. The purpose is to generate knowledge and abilities on STEAM, the fields of study promoted and the opportunities offered. Beneficiaries were selected from Parque La Libertad and SOS Children's Villages, most of them from the first Global Shapers Costa Rica module on Life Hacks for Employability.
The program ended with the participation of 25 young women from both organizations, divided as follows: participants from Parque La Libertad - 15, participants from SOS Children's Villages - 10.
FUN San José - Special Edition
https://www.instagram.com/tv/CGWE_6DAyhz/?igshid=leroodwjgp7z
This is a global movement that's been taking place in Costa Rica since 2016. Costa Rican entrepreneurs are invited to share their failures with an unknown public. The purpose is to debunk the myth of failure and be able to view failing as a necessary part of the entrepreneurial process.
We had another special edition eventon September 24th. It was held on a virtual platform and invited speakers came from the fields of education, gastronomy, and jewelry. They spoke about their endeavors, their main failures along the way and the most important ways they have been affected by the COVID-19 pandemic. 60 people joined the event through Zoom Meetings.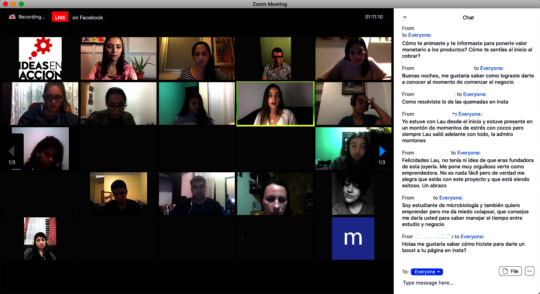 Links: