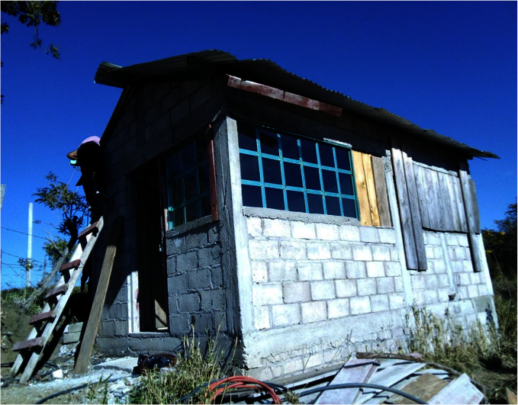 Committed to long-term recovery, NGO impacto keeps working in the Earthquake Recovery & Reconstruction Program. We are coordinating these efforts as a joint force with based-NGO partners to ensure that the families and women artisans have durable homes and safe constructions. Secure spaces lead to economic stability and to empower women to establish their own strength, stability and self-sufficiency.
This report aims to show that your donations have been used effectively, and that at the same time, you can be assured that the actions that we are carrying out, have a long-term effect, providing sustainability to the beneficiaries. In this way, all together, we continue to provide support to those affected by the earthquake of September 7 in Chiapas and Oaxaca.
Housing Reconstruction support at Zinacantán, Chiapas:
Organization: Cooperative "Mujeres Sembrando la Vida"
Location: Zinacantán, Chiapas
Amount: $ 48,000.00 M.X ($2,700 US DLLS)
We have focused our efforts on the reconstruction of homes of women artisans in the Mayan community of Zinacantán, collaborating with MSV (Mujeres Sembrando la Vida), a cooperative with which we have been collaborating for several years through our Textile Program.
We have carried out the reconstruction of three houses that were previously built of adobe, making them vulnerable to earthquakes. Now they have been built with blocks and cement and better foundations, making them more durable and safe. Previously the houses of adobe destroyed by the tremor consisted of a single common room, which was shared by all the members of the family. Now two rooms have been built, one for parents and another for children; and one common room.
Reconstruction of the "Crafts House", at Bochil, Chiapas:
Organization: Batsil Antsetik
Location: Bochil, Chiapas
Amount: $ 115,000.00 M.X (6,400 US DLLS)
In coordination with one of our allied NGO "Batsil Antsetik", we are working in the reconstruction of the "Crafts House" for productive activities, commercialization and tourist services, in Bochil, Chiapas.
Advances:
• The local craft service was reinforced: a subdivision of the local was made, so that two spaces could be achieved, the upper part will work as a warehouse for materials for the artisans, while the lower part will work as a kitchen area.
• A bedroom for artisans that come from different municipalities and stay overnight was rebuilt. Both, the roof of the ground floor, and the second level roof were rebuilt with concrete material.
We would like to thank you for your kind and generous donations to support this Earthquake Recovery & Reconstruction Program. This couldn't be possible without your engagement!