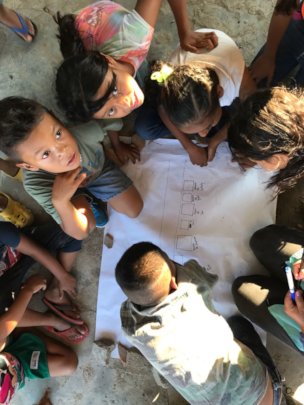 Fifteen weeks had passed since the devastating 8.2-magnitude earthquake strucked the states of Chiapas and Oaxaca, Mexico. Approximately 2.3 million people were affected with 90 deceased. The results of the official census revealed that the earthquake caused damages in more than 12,000 houses in the states of Oaxaca and Chiapas, close to 4,000 with total damage and more than 8,000 with partial damage; besides the psychological consequences suffered by the population, mainly children and youth.
This report aims to show how relevant your donations, as well as those of GlobalGiving have been in regards to our relief efforts. Today, the 24 of December, we want to share the progress of the Earthquake Recovery & Reconstruction Program, which Impacto is coordinating as a joint effort with base-NGOs partnering with us.
Our program is focused on: psychosocial support for children and youth, technical assistance, and reconstruction.
(1) Psychosocial support:
Many studies showed a high prevalence of psychological damages in survivors of natural disasters, indicating the great negative impact of the emotional trauma caused by these situations. Considering this, one of the first actions we made, in collaboration with our partner WPDI (the Whitaker Peace and Development Initiative, led by actor Forest Whitaker), was to provide psychological support for children and youth affected by the S7 at the coast region of Chiapas.
Professionals in the area of psychology and well-being, served vulnerable children and youth, while going directly at hard-to-reach communities. The team provided care to the children and youth, carrying out dynamics to reduce the effects of anxiety and depression caused by post-disaster trauma. As part of these actions, we previously carried out a campaign to collect storybooks as support material in regards to psycho-social dynamics.
(2) Reconstruction actions:
(a) Housing Reconstruction support at Zinacantán, Chiapas:
We have focused our efforts on the reconstruction of homes of women artisans in the Mayan community of Zinacantán, collaborating with MSV (Mujeres Sembrando la Vida), a cooperative with which we have been collaborating for several years through our Textile Program. Some of the affected houses were habited by more than one family, in some cases were habited only by women and children as men had to emigrate due to economic issues. This context had exacerbated the urgency to begin reconstruction of the houses for these families.
As of today, the reconstruction of several houses is in progress, the purchase of construction material had been done. Additionally, we have being supporting the reparation of the damaged suffered in the building of the Educational Development Center of this community (for children and youth), to ensure safety.
(b) Reconstruction at Asunción, Ixtaltepec, Oaxaca:
In coordination with one of our allied NGO, Binni Biaani A.C., a prototype construction system has been developed for the houses of Asunción Ixtaltepec, Oaxaca; which is resistant to earthquakes, adaptable to extreme climates, reinforces cultural identity and strengthens the development of the community. At the same time, a thorough study of Ground Mechanics and Topography has been started.
(c) Rehabilitation of Educational Centers at Pijijiapan, Chiapas.
The S7 earthquake affected many schools of different educational levels; this caused the temporary suspension of classes. Parents and teachers had to enable alternative spaces to prevent them from losing many classes. Through our partner, Centro de Derechos Humanos Digna Ochoa NGO, we obtained information about damaged schools, as well as the need to allocate resources so that those schools were rehabilitated as soon as possible.
The reconstruction of the elementary school Lázaro Cárdenas del Río at Gustavo Lopez, Pijijiapan, Chiapas has begun, and it is planned the support of the reconstruction of 6 schools more in this area.
Additionally, the acquisition of a truck to take people, food and construction materials to remote and/or difficult access communities was possible through our partner GlobalGiving.
We already have done an important progress in the reconstruction process in the affected areas of Chiapas and Oaxaca. Two other collaborations had also been agreed, (d) reconstruction for houses at Jiquipilas Chiapas with Fundación Internacional Granito de Arena NGO, and (e) the municipality of Bochil, Chiapas focused in the rehabilitation of an Economic Development Center for Mayan artisans with Batsil Antsetik NGO.
As Impacto keeps moving forward in the reconstruction of the affected areas, we will also continue to share the progress with you as to inform of the impact of your donations.
Thank you again for your generosity! Wishing you all peace and prosperity!