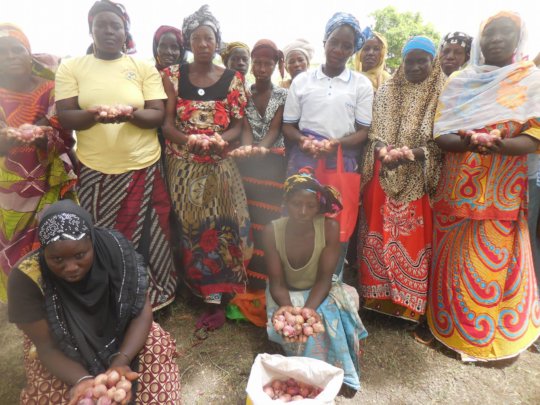 With the rainwater catchment basin, we do not only have water, we growth crops too!
Last month (June 2018), CBG-WA local team have visited the three beneficiaries' villages of the water projects including the villages of Kamsi (Boulkièmde province), Kougny (Nayala province), and Djomga (Séno province). The three villages are apart from each other with Kamsi locate at the Center West region, Kougny in the West at the Mouhoun region and Djomga at the farthest North in the Sahel region which is the driest area in the country.
The team have overview the entire projects together with the local population toward focus group discussion with the local communities.
According to the women, after harvesting on May, they are now preparing for the nexrtdry season which will start from September 2018 till April or May of 2019.
Elizabeth, the president of the women association of Kamsi said that, "with the rainwater catchment basin, we do not only have water, but we also growth crops with solar power irrigation system. We can manage our time now, and we just have to press the button for watering our crops, and this year CBG-WA gives us soil moisture sensors to monitor our soil humidity, we got three sensors, so we don't have to waste water. As we use solar energy, we don't worry about paying fuel or gasoline for irrigation. I can tell you we have a better performance of our vegetables garden. The garden is a very successfull activities, and we got food, and re-sell the surplus in the local market. Sometime, animals come here to destroy our crops, this is problem that we want to solve now with fence."
For Saliou the president of the groupment of Djomga said that, "we hope to collect more water in this rainy season, so we can growth more crops till May of next year."
For CGB-WA, we believe that your donation can make big difference, because we have been overloaded with call from more than 200 villages asking for implementing this type of project in their areas.
Thank for you donation and support.