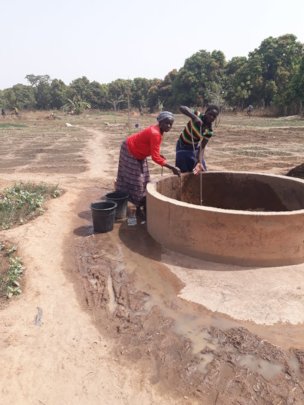 The village of Kabinou is ready for the next solar irrigation project!
On Wednesday, January 8, 2020, the regional team of CBG -WA visited a new area that will host future solar power irrigation project in the village of Kabinou, near Koudougou. Kabinou is located at 101km from Ouagadougou in the Center-West of Burkina Faso.
The team met with the women cooperative called "Lagamtaaba -la-nôgo group" of Kabinou. The cooperative has already a vegetable garden, but the irrigation is supplied manually from the wells. The women told our team that they heavily rely on this garden as the only source where they get most of their household foodstuffs. For their household daily needs, they usually get cabbage, onion, tomato, and hibiscus leaf from the garden for making the sauce.
Fati, the president of the cooperative, speaking on behalf of women said: "We are really happy having Community Building Group coming here today to Kabinou. We have been waiting for this time. We heard that you have helped the village of Kamsi, and some of our members have visited the site of Kamsi. We are very impressed by their results. Here in Kabinou, we also want solar power irrigation system, because in our existing garden, water is supplied manually. We have no resources and don't have any clue and expertise on how to build this type of solar system. In our current farming activities, we do grow mainly vegetables, and the main difficulties are pumping water which is 100% done manually. We spend all day in the garden every single day only for fetching and carrying water to the field. This is extremely hard, believe me. The kids help us too because we get our food from there, so everyone gets involved. Other difficulties are preventing animals to get inside the farm and destroy our crops at night which often hampers our work. So, in addition to the irrigation pump, we need a metallic fence to protect the farm from animal damage mostly by cattle, goats, and sheep.
We do not have enough wells in the garden, there are only six water-wells and two already collapsed and are in poor condition. By repairing the water-well and retrofitting the garden with a fence and equipped with a solar irrigation system will be a great relief, as we will suffer less. This will considerably alleviate our day to day burden, of course, our business will flourish, as we will also sell part of the production. We hope that our dream becomes a reality.
The young men also said that to please add them to the project, because they have nothing to do after the raining season, so if we could help them with an irrigation solar power system, that will allow them to stay in the village all year and help their family, and generate some revenue.
Communities Building Group thanks you for your valuable support and for your donation that is making an impact on communities' wellbeing.
Stay tuned, and more yet to come!
Sincerely thanks