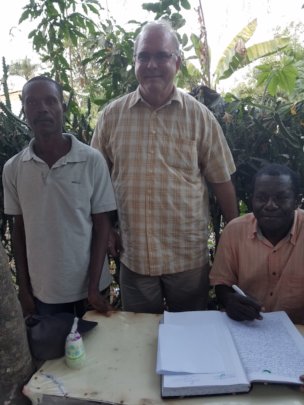 Here is a recap of our recent trip to Haiti and developments with other non-profits.
January 17th: Just picked up another bottle of permithian spray for my clothes at REI. Great insect repellent for my trip to Haiti. Have using it and recommending it for years now. Every since my run in with the chickagunya virus.
Packing up for a solo trip this time around. Will be taking a few laptop computers to donate, but other donation will wait for next trip. Looking for a source for sunglasses and dental hygiene supplies. Anyone now an organization that could help with these items. Getting my fill of salads at Sweet Tomatoes for lunch. Not a lot fresh vegetables in country.
Looks like a busy first few days. Leave Sunday, arrive Monday. Monday meeting with Help4Haiti on collaboration. Tuesday, site visit to Help4Haiti's future grass farm, meeting with notary and land owner in Hinche. Wednesday, visit to farm and survey on land. Thursday, visits in Mirebalais and back to Port Au Prince. Friday/Saturday, meetings with Msgr Pierre Andre, NDUH to continue conversation about collaboration and scholarships. Head home Sunday. Back in Portland Monday. I'll be posting about the daily events when I have internet access. Keep the prayers going for a successful trip and for BonZeb's mission to give a hand up to the people of Haiti.
January 20th: About ready to board my flight to Port au Prince, Haiti, via New York City.
Hmm, 14° or 95°, which do I prefer. Praying that weather lifts a bit so I can make in and out in the 59 minutes the airline is giving me. It'll be a real test for the knees. Looks like everything is falling into place for meetings tomorrow afternoon and Tuesday through Thursday. Usually there is not a dull moment while I'm in country. This trip is shaping up the same way.
Already met two other missionaries headed to the island. Might have a chance to talk on the plane, I am not a good sleeper when strapped to a seat at 35,000 feet. Total eclipse of the Blood Wolf Moon tonight. Wonder if I'll catch a peak. Valery, the Haitian phone is charging as I sit here. That will be good upon arrival. Could only take two laptops this trip. Too heavy with everything else I need to take. Next time with a bigger group we will take more and the other equipment we need to get on site. Please pray for the pilots and flight crews that are operating tonight. Get everyone home safely.
January 20th: 11:00pm: Guess who hasn't left Portland yet. Connecting flight was late. Delay #1. Coffee machine broken in cabin. Delay #2. Maintenance can't be found. Delay #3. Captain is timing out and a replacement can't be found. Delay #4. Flight crew is timing out. I did have an hour from the initial arrival time to the departure time for my connecting flight to PAP. Now that we are an hour and 20 minutes behind in the boarding process here and still no movement from maintenance, who thinks I'm in Haiti tomorrow. That 14° is going to be cold. I packed my windbreaker in my carry on when they it to speed up boarding. It's going to PAP before I get to see it again. Like we always say when going on mission prepare for the unexpected. Duh! The airport is closing down and the heat is off. Hmm.
January 21st: Day 2. About to board once again. Better rested this morning. Same place, same crew, same passengers as last night. The delay will cost me one day in Haiti. Would be there now the delay hadn't happen. Now I get to spend the night in NYC. 6:00am departure tomorrow, weather permitting. 4:00am check in. Ugh! Still only have light coat for the trip.
Hopefully Jet Blue will give me a voucher for a room tonight, if there is a room available due to storm we will be flying into.
Please keep the prayers coming. God has the plan, even when it is not apparent to us. You never know what blessings will come from diversity. As my dad used to say "be flexible", everything will work out. Guess what? Flight crew arrived late and then they had to finish the maintenance from last night. We are now looking at another delay of an hour.
Let's see what else God has in mind for this trip. I met another Haiti bound traveler yesterday and had an opportunity to talk a little about her sewing project in Kenscoff. The team makes medical scrubs. See God does work. The 7th grade group from Salem decided not to check any of their bags. Greatly slowing down the boarding process. Sitting next to an excited pre teen. Look like we are all on board. Time to go. God's love to you all. Thank you for your prayers and words of support.
January 22nd: Bags are rechecked. Trip from hotel was not as cold as last night. -11° was the wind chill as I left the airport and had to stand in the wind for 20 minutes waiting for the shuttle. 11:00pm to 3:00am of being prone. Nice break, but not enough sleep. Took hours of standing in line waiting for an agent to get my boarding pass for today and meal vouchers and hotel voucher and then by the time I made it to baggage claim my bags went missing. They were found it lost luggage and I was able to retrieve them for the night. This meant hauling them through the terminal to the train and then to the shuttle. 1.4 miles walking yesterday, just in airports. Flight leaves a 6:00am and on arrival we will be headed directly to Hinche and a meeting with the landowner and notary to write up the sales contract. Big day in the life of BonZeb. Thank you Lord for making these possible.
Day three. Actually day one in Haiti. After a false start on Sunday (CANCELLED FLIGHT), I made it to NYC last night and had an early morning flight to PaP this morning (24 hrs late), and sleep deprived. Only 3 hrs in bed last night. Took from 7:45 arrival until 11:30 to be checked into my room, which I left at 3am to get back to airport for my flight.
After a smooth check in I sat at gate 21 like my boarding pass started, charging my phones and eating breakfast. Then when the boarding time came and no one was at the gate I decided to use the boys' room. Saw on the board my flight was now at gate 12, never heard the announcement cement, and walked to. end of the terminal. Walked to get there and right into the plane. Then sat and watched the circus that is travel to Haiti. Much like the day before when a school group from Salem thought they'd save on arrival if no one checked a bag, no matter how big, and then took at least 20 extra minutes boarding. Only to find that bag sticking out 8 inches in the overhead bin is not okay and the bag needs to be checked. Wonder how that went upon arrival. Haitian's are very similar in the luggage choices. Some awful interesting parcels make it onto the planes. I'm not sure how some got through check in or much less security. And who says I can only have two items. I can handle 5, 6,...They hit the bins all over plane not realizing or not caring that upon arrival they need push through rows upon rows of passengers slowing down the exit from the plane. More tomorrow can't keep my eyes open. Spoiler alert we closer on the land this afternoon at 5:00.
January 23rd: Morning has broken on day four. Yesterday was a long day and I am feeling the toll today. Good night's sleep, but still feeling tired. Some good Haitian coffee is in order this morning. Yesterday we accomplished the goal of our trip; we completed the purchase of 1.6 acres (half a carreaux) of land in Benico. Today we will take a survey of the land to be filed with the government and then we can start to begin the construction of the site which will include in the long term, our manufacturing plant for converting our grass to charcoal, an office, a guest house and a formation center for educating those interested in partnering with us. Speaking of that, we were able to reschedule our meeting with Help4Haiti and Pastor Olistin who wants to support his orphanage in Onaville by collaborating with BonZeb on some land at their disposal. We will meet tomorrow with him and Louis, the president of Help4Haiti who is in country this week as well. The 80° change in temperature yesterday did a number on me and probably contributed greatly to long rest last night. We arrived about half an hour ahead of schedule and my bags came quickly and I found myself outside the airport before my original arrival time. This meant acclimating while waiting for Jovenel who was stuck in traffic, no surprise there, and Othucoto arrive. The drive was interrupted by a flat tire, stop at bank, never a short process, and beautiful vistas under blue skies. We arrive in Hinche at 3:30, not 1:00, but everyone was present. After introduction, which I suggested, I met Fritzner's wife and two brothers. The notary then commenced writing out the contract and bill of sale. He concluded by saying he had conducted his due diligence and the sale could be finalized and payment made in full. At our banking session in the morning we discussed how much cash we would need for what we thought was the first step of the process. We did not bring the total amount. That is a lot of cash to carry half way across the island. So we gave a 10% down, which enabled the seller to pay his fee to the notary. We will head to the bank again this morning to transfer more funds to Hinche and the seller. We spent last night at a Hotel Maguana in Hinche. After a light breakfast we are on our way. Let today's adventure commence. Today went very smoothly, until we got back to Port au Prince an hour and a half ago. Should have know, its Wednesday which is market day in Haiti. All the little villages we passed through had their markets open. Open markets mean that everyone in the area with anything sell brings it to the plaza or in PaP to any and every corner of the city. Over flowing into the streets with produce, cattle, chickens, pigs and piglets, horses, donkeys, burros, and every other type of vehicle available. Cause great congestion in a city known for daily congestion. We dropped Anaxe off on the highway near his home and parish and then hit this snag. 6 or 7 kilometers in nearly 2 hrs. 6 or 7 to go before we reach our housing for the night. But back to the start of the day. Met with the landowner and the surveyor in Benico. The road seemed a little worst this trip. But we made it in one piece.
The initial step was to walk the entire site, 3 acres, and decide which piece we wanted. Not wanting to make the family have to move their home we picked the eastern side. Step two: using a ruler and calculator, draw lines at various points and measure the lengths and calculate areas until the areas add up to half a carreaux, about 1.6 acres. Step 3: walk the new piece of property with sticks and a measuring tape. I gave up when team veered into a jungle of cacti, thorny scrub plants and over growth. A path was cleared by a team of machete wielding volunteers and the process was finished in about 2 hours. Having signed the agreement prior to this based on the pencil marks on the map I was disappointed to find that the last measurement went under the entry to the house, one foot from the door. No we won't be asking Fritzner to move two feet west. Our visit to the bank went much quicker than yesterday's in PaP. Another nice piece to the day and glad we did it, because those volunteers expected and were paid for their labors. We treated ourselves to lunch in Mirebalais. Fried lamb, plantains, white rice with bean sauce. It was great. Now hopefully we get to our home for the next few days and a cleansing cold shower and rest. Tomorrow brings Help4haiti and a look at at least two potential farm sites. Our agronomist FanFan and Anaxe will accompany on these visits and I look forward seeing Louis once again.
January 24th: Oh what a day. Pastor Olistin and Loouis were at Matthew 25 a few minutes early. While was still chatting with a group from Marietta, GA. They are here on mission and will be around tonight when I get back. Then it was off to pick up Myriel Fanfan and head to the mayor's compound in Croix des Bouquets. Quite the compound. The security guard didn't want to let us in, until we got the mayor on the phone. Just drive in and find that our guides had already gone to the property. So quick turnaround following one of the many vehicles at the compound and found the site. Surveying the lay of the land and the ten foot creek that needed to be crossed on rocks I decided that the knees have been good on the trip, but I didn't test fate. I stayed with Louis, who was heading to the airport after our meeting. We discussed the sites potential and FanFan tested the soil. Good location, very near the orphanage. Good thing, pastor Olistin did what I was afraid I'd do and slipped off his perch on one rock and waded ashore covered in mud. He luckily had a change of clothes and shoes at the orphanage. Then it was back to the mayor's compound and a discussion with his attorney over lease options, total average needs and purchase of land for the factory. No one wants to say how much we wanted to pay, we have no idea of costs, etc to start up and prep the land. It has a lot of scrub brush which will be harder to clear than the land in Boucantis. After an hour and a half we moved on to the airport and then an errand with pastor. The errand was a meeting of the local pastors as they discussed the upcoming election for the church leadership council. 2 hour animated discourse and then I was asked to speak. Didn't see that coming. Afterwards I was given many business cards and gave out all I had on me. They were all excited by our presence in Haiti and our work.
One more errand at pastor's school in Delmas 31 and finally back home at 4:30. My morning meeting took 8 1/2 hours.
Walked in the 3 gentlemen from Georgia and chatted until Junior showed up for his donated computer, thank you Nathan, and he also picked Natacha's donation. Dinner on my own. A rare occasion here at M25. Janet, the current US volunteer sat with me and chatted for awhile. Then the call from Mgr Pierre, at NDUH. He was to head over after services, but I haven't seen him yet and it is time to turn in. Tweaked my back somewhere along the road today or this week. Caught up with me when I tried to stand up from the table out front. Good news I found the land on Google earth. Yeah! Tomorrow Bellegarde and I will meet Chery in Cabaret around noon. Then Michel Santia, scholarship candidate, and Mgr Pierre, I hope. Thank you for all your prayers. Now the real work of BonZeb is ready to start.
January 25th: Day 5: Meeting up with Bellegarde this morning. Off to Leveque and a visit with Chery. This is another potential organization that with help from NCompass in Tigard, OR, could be partner. We visited the site that the mayor has offered on a free lease. Original we thought we were looking at an 8 acre parcel. As we veered off the highway onto the gravel ground we found ourselves pass lush banana plantation and other farms. Well irrigated and beautiful. Not the type of land we want for BonZeb. Chris a member of one of the groups staying at M25 came with us today. As Fanfan and I shared our vision in the 2 hr drive up to the property he got an understanding of our mission and reasoning behind how do things. The road continued passing nicely built homes and a few shanties, and then we crossed a stream and WOW! Everything changed. We had reached the foothills and deforested area. Just the kind of land we want. A little future up the road we pull off and are informed this is the spot. We walk up the first rise. The soil will work FanFan informs the group. Then they inform us that the land continues. We climb the hill and they point out the extent of the property. Not 8 acres, 8 hectares (18 acres), not really, more like 8 carreaux (26 acres). Good wind flow for potential wind power, back side of hill is flat area, suitable for factory, and stream for irrigation. Discussions continue for awhile and then it is off to a celebratory lunch. Haitian pizza and Haitian wings. Good food, good conversation, good result.
Bill comes and my new Costco Visa card is denied three times. Luckily I have cash for the meal. Then it is back to PaP. Traffic is heavy again near the markets, a couple of big rig breakdowns snarl the road, but finally Bellegarde finds an escape route. It fortunately takes us by Rebo Cafe where we have a wonderfully Haitian coffee with quarter inch thick cream. Sitting in the air conditioned space felt nice. Back on the road for the last stop. Delimart. Haitian ice cream run.
Sadly when we reach Delimart in Delmas it is closed. The parking lot lined with burned out cars from the recent gas riots. Bellegarde saved the day by finding another market where we found rhum raisin and strawberry ice cream. Perfect way to close off the day with bunk mates from Georgia. Mgr Pierre came by tonight just in time for bowl of each and long conversation about collaboration with the University of Portland and Concordia University of Portland. Emails from Johnnie and Thomas must have been list in his spam folder. He is embarrassed to not have responded and invites my mass on Sunday morning and an opportunity to draft a letter them. Should make the morning interesting as I have a 1pm flight. He says don't worry he will personally take me through the diplomatic entrance. Nice. I've done that few times over the years. Beats the long security lines. We also discuss having his Engineering school and Bioscience take an active role in BonZeb and potential building our kilns. After this week we might need two more in the coming year. This could potentially lower the cost significantly. No shipping? I am pretty pumped up right now and even though I should be in bed I am enjoying the rhythms coming from the night club across the soccer field and welding light show across the street that has been lighting the sky for hours. Thumbs is getting tired, so I will sign off. Thank you all for your continued prayers for the success of this trip, for my safety, and for the success of BonZeb. May God bless you and keep you safe.
January 26th: Day 6. WOW!! What a week so far. Last full day in paradise. Keeping with tradition I am heading to Visa Lodge, but not before the usual delay and wait for my driver. Bellegarde is out there making his way slowly from Croix des Bouquets to Delmas. About 10 kilometers. Today it will take him about 2.5 hours. In the mean time there is a last chance to talk with Chris, Bruce and Ray from Georgia. There is also time to chat with a few delegates from an Iowan medical missionary group. Over 70 people cluttered the center as a busload of missionaries arrive on their way to the airport to shop in the gift shop. Lots of activity and chattering, calling out, organizing, hustling to the bus while 36 of the 37 residents from last night are checking out and shuttling to the airport as well. Then I am called in the middle of the chaos, my ride is at the gate. I am greeted by the beautiful smile of a petite Haitian girl, Joseph and her friend, not boy friend, Djim, who were 6th graders my last year a LCS. Djim tells me he recognized me by my hat, which a few times removed from the original. I think Eileen burned that one a few years ago. Jo admits she can't really remember me, but does remember her first year in the school. She has recently finished her last class for a law degree and is now working on her thesis. Jim has a few more classes and his thesis and he will have a degree in economics. We arrive at Lisa Lodge and order a drink to rest my Visa card, which had been rejected the day before. It works. Thank you Eileen for calling Visa last night. Now we can enjoy the buffet and an afternoon of insightful conversation sharing dreams and visions for Haiti. After round one of conch, chicken, beets salad, rice, etc, we are joined by Erick, my old IT guy, and his wife, Che, and a lovely daughter and shy little boy. He shares about his work at the FOCAL Foundation and his willingness to ask Madam Pierre Louise, the past PM if Haiti and Valery's former boss, to meet with us on our next trip at the end of March. We are looking at spring break week for anyone wanting to join us.
After a dessert of tiramisu and pastries, no I didn't imbibe, we were off to M25. Opened the gate and I was greeted by Anaxe and Michel Santia. Anaxe had one more form for me to take and Michel had her transcripts from her first year of university, before the teachers strike and unrest in the streets that made it difficult for her to attend classes. Hopefully she can get help to attend NDUH and finish her degree. I thought I was done for the night when Nelly dropped by the great me. What a gift she is to Haiti and to her patients at the state hospital in Tabarre. After a very pleasant visit she gave me a bag of Rebo coffee. Thank you. That is one tradition I was not able to keep this trip. As I walked to the gate I felt concern for this lovely young woman as she disappeared into the darkness that is Haiti at night. No Uber or Lyft or taxi or bus. Just walk until you find a tap tap and make your way home. I asked that she confirm with me that she was home safely which she did an hour or so later. Three tap taps to cross town. Home safe. Good night. It is a good night. Another cool, breezy night. Perfect weather after another warm day. It is always amazing the way God fills up my days her in Haiti. Old friends, new friends, amazing stories and storytellers, beautiful smiles and wonderful songs.The rhythms of life here aren't a single thread, but a multitude of threads interwoven and stretched out, sagging at times but taut, resilient and hope filled.I can't wait to return and see what else God has in mind. And I still the anticipation of the morning liturgy with Msgr and the Earthquake Church and the writing of correspondence to Thomas and Johnnie. Then the dash to the airport and the flights home.
January 27th: Airborne. On my way to NYC. Should be back in the USA around 5:00. Hope to pass through customs quickly and get something to drink. Another great day today. Said goodbye to M25 and attended a wonderful mass at St Frances de Sales Church with a few M25 staffers and a young woman, Rose, who has a sewing ministry. She works with women in the area who see bags, purses, etc. Out one recycled plastics. Gorgeous bags. I'll have to get one next time. She acted as my translator for Mgr's homily. Pointing out that everything is said three times in different ways to make sure people hear it. There is an introduction of all visitors at the end of the service and all guests come forward and introduce themselves. Then they read the list of all birthdays for the week. Then the usual announcements. No picking up a bulletin at the back of church, printing is too expensive. So every announcement needs to be shared. Final blessing and then the gathering in front of the church for crushed ice. 30 minutes of blessings and well wishes and the constant, "don't worry I have it covered". Meaning, Tom, I will get you to your plane even if I have to deliver you to the plane myself. So as the minutes tick away I meet the parish staff, which includes an architect, youth minister and others. The final introduction to the young priest recently assigned to the church. After a few words of introduction he grins and says "Mr. Stein, I and Louverture Cleary student, I know you, I know you, I know you." A quick catch up and then retrieve my bags and off to the airport. True to his word he Mgr delivered me to the diplomatic entrance and walked me in. They took my ticket and passport and mgr sat down opened his computer to draft a letter to U of P and Concordia, but it was not to be. The agent came and said it was time to go. Hope in van, ride to the terminal, go to the front of the line, skip a few check points, front of the line at duty free, front of the line into the gate area and then back to being a regular Joe.
Made the flight when the plane was already boarding. Drinking water, drinking juice, drinking Sprite, drinking water. Must be a bit dehydrated today. JFK in a few hours. Then Portland by 1:00am. For trip that started with so many cancellations, delays and missed opportunities, God made up for it tenfold. With today's gospel focused on the parts of the body I was reminded of how every encounter leads to another part of the body helping the whole body function. Each conversation adds to the story. Even a decade later someone can return and have an impact on your life and your ministry.
PLEASE CONSIDER MAKING A SUSTAINING DONATION TO BONZEB SO IT CAN CONTINUE ITS WORK OF ENABLING, EMPOWERING AND SERVING THE PEOPLE OF HAITI. THANK YOU.