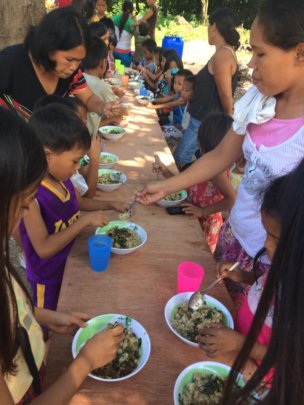 Dear Friends and Partners,
#ProjectBaon has officially launched for school year 2017-2018 last July 2017. Thanks to your generosity, we now have started with Three (3) Full time Feeding Stations and Five Outreach Feeding Stations. We are pleased to share with you some of the highlights below :
#ProjectBaon Mindanao :
In January 2017, Reach Out and Feed Philippines Inc., joined the United for Healthier Kids Philippines or U4HK - "a coalition composed of different partners to raise awareness on the extent of malnutrition, areas for collaboration, and opportunities for action. This focuses on creating a social movement and encouraging various stakeholders to make use of a platform that would provide long-term action against hunger and malnutrition. " -https://hangryabouthunger.u4hk.ph/about-u4hk
Being a part of the U4HK Philippines movement has provided us with the needed information to determine the locations in the Philippines where malnutrition is most prevalent.
Using the U4HK's Malnutrition Heat Map : https://hangryabouthunger.u4hk.ph/mhm , we learned that severity of malnutrition in Mindanao Philippines is high, and most of the key cities in here do not have partners yet who are focusing in what we do.
In our last report in May 2017, we have shared with you that we have launched our very first Feeding Station in Bukaran Samal Island, Davao del Norte. In this report, we are happy to inform you that we have just launched our 2nd Feeding Station in Mindanao, at Davao City.
Currently we provide supplementary meals for an average of 70 kids in Bukaran Samal Island, Davao del Norte, every week and 30 kids, daily in Davao City
#ProjectBaon Pangasinan :
Our full time Feeding station in Pangasinan started last April 3, 2017 and has now accepted it's 2nd batch of beneficiaries.
We are pleased to inform you that the 30 kids who started with the program had an average weight increase of 1.20kg for the first 20 days and an average total of 2.12 kg weight increase after 40 days in the feeding program. Twenty Five of the Thirty kids who started the program were able to complete the 40 days program.
#ProjectBaon Rizal :
The #Projectbaon Rizal team had to change their program from a School-based feeding program to a Community Based-feeding program. The Department of Education of the Philippines has launched this year a school feeding program for most of the schools in the Rizal area. However, once the kids leave the school, they are faced again with the dilemma of looking for their own dinner.
This is where we came in , #ProjectBaon Rizal provides the nutritious dinner of at least 35 kids from the community of Maharlika Creekside Taytay Rizal. Our Feeding Station coordinator - Mark Ocampo, shares in a short video their daily challenges in going to this community.
Watch the video here : Maharlika Creekside Video
Summary :
Overall, here are the numbers since we started last July 2017 until as of August 18, 2017
July # of Meals Served : 713
August # of Meals Served : 577
Total : 1,290 meals
July to August number of beneficiaries for Full time Feeding Stations: 160
According to recent statistics, there are still over 7 million stunted and undernourished kids in the Philippines. (Childhood Stunting in the Philippines ). "Stunted growth – a sign of chronic malnutrition – could affect a child's cognitive development, overall health, and even socio-economic conditions that carry on to adulthood."We need your help to be able to reach more children in the Philippines.
Our goal for this school year 2017-2018 is to open more Feeding Stations,and reach at least 1,000 beneficiaries all over the Philippines . Can we count on you ? Together let's Feed, Nourish, Empower!
Yours truly,
Dawn + Team Reach Out and Feed Philippines