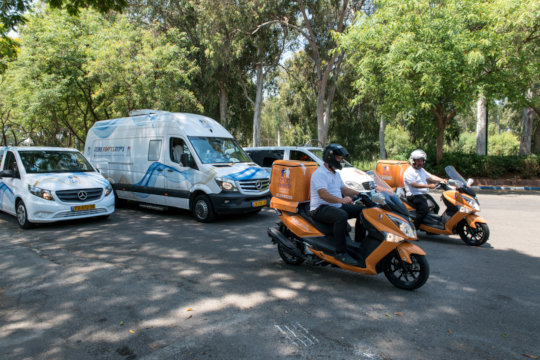 How do you make sure that even the most remote city, the most destitute patient, the elderly, handicapped and infirm – all receive life-saving and pain-relieving medication, for free?
For the last 16 years, Haverim's Free Pharmacy has been supplying more and more poor, needy, handicapped and elderly people with the medicine they simply cannot afford. We have been making sure they no longer have to choose between medicine – and food.
However, mailing out 5,000 packages a month still doesn't address all the needs of our community: we must extend our reach and make sure every person in need receives the medication they need.
Haverim extends the reach of our existing Free Pharmacy project by use of mobile vans. The vans reach over 300 cities and settlements throughout the country, providing life-saving medicine to the people who urgently and desperately need it.
This February we will be launching our fourth Mobile Pharmacy, destined to reach the Southern part of the country.
The Mobile Free Pharmacy project encompasses three Mobile Pharmacy vans that set out all over the country to deliver medicine. As a result, even more people will be able to enjoy our services, delivered directly to them.
The vans are custom-built to meet the strict criteria of the Ministry of Health, regarding pharmaceutical transport, refrigeration and storage.
In addition, we use state of the art 'Cool Meds Boxes' to transport the medicine from the van to the patients, with specially-designed GPS-monitored and temperature-controlled systems that ensure we know the status and location of each package at each time.
We couldn't have done this without your! Your support has enabled us to provide over 5,000 packages of free medicine every month. And from February - we will be able to provide urgent meds, and meds requiring refrigeration to patients across the country.
Thank you.
Links: