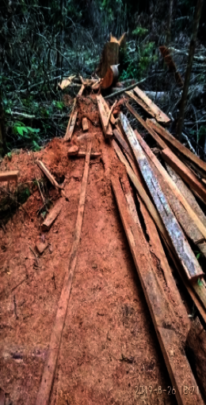 It is easy to think of deforestation in Sumatra as a process brought about by bulldozers owned by large companies, but that's only part of the story. Illegal logging on a small scale is unfortunately still common in some areas, and tackling it is one of the patrol team's most important jobs. Though small-scale operations don't clear huge swathes of forest in a matter of days, they all add up and cause the forest to become fragmented, making it harder for orangutans and other wildlife to use this vital habitat.
One recent example is illegal logging activity in Gunung Leuser National Park. The logger is a local farmer who was working alongside several other people to cut down Meranti batu (Shorea uliginosa Foxw, a species classed as Vulnerable by the IUCN), process the timber and transport it out of the park in order to sell it. The patrol team came across the processed timber while it was still inside the park, on one of their routine patrol hikes, once again showing how important it is for the team to keep working consistently.
Thank you for donating to this project and keeping the team out on patrol. You are making a difference.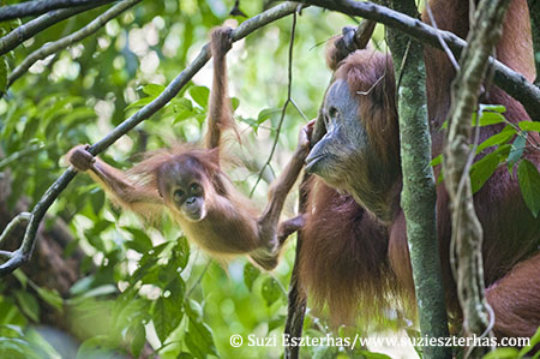 If you've chosen to give a donation to support our work, we know that you already believe in the importance of restoring forests to ensure a future for Sumatran orangutans in the wild. However, we also know that our values as a non-profit matter to our supporters, so we want to tell you a bit more about what they are and how they influence our Replanting Rainforest project.
The threats facing orangutans and their habitat are real, but we know there is hope. We are optimistic about the future for orangutans and their forests because we have seen what can be achieved through dedicated conservation efforts. This means that we see every tree planted at our restoration sites as a step forward and a sign of hope. We are so proud that our project teams have now planted almost 2 million trees in Sumatra, but that doesn't mean tree number 2,000,001 won't also make us really happy and hopeful.
Conservation is complicated and there are many obstacles to overcome in planning and implementing projects that really work. When an obstacle arises, we find a way around it, calling on our skills and contacts to help us find a way to achieve our goals. That's why our funding goes to experts in rainforest restoration, who use science-backed methods to achieve amazing results. We also support them when they want to spend time researching new methods - we want to be sure that we are always addressing conservation issues in the most effective way.
Everything we do is done with respect for orangutans, their habitat and the people living near it. We do not harm them with the projects we support or with our communications about our projects. We also have the utmost respect for YOU, our donors and supporters, and we hope that always comes across in the emails we write to you.
Orangutans are unique, precious and irreplaceable. We feel they are something to be cherished, and our work – protecting their rainforest homes and helping them to thrive – reflects that. We know that you feel the same, and we are incredibly grateful to have you on our team.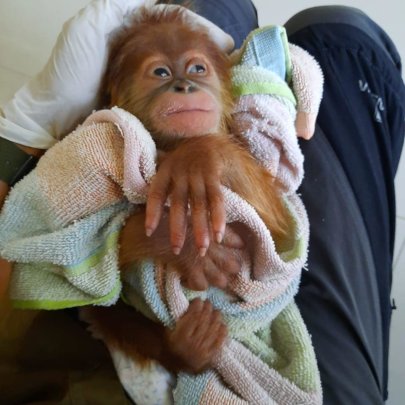 While most people were enjoying the holiday season, the HOCRU team in Aceh had to spring into action to save one of the youngest baby orangutans they've ever been called out for.
The baby, later named Eva, was estimated to be less than a week old when the team picked her up from a village near Subussalam. A local resident said that he found Eva near his farmland, and that her mother was nowhere to be seen. The HOCRU team suspects that someone had killed Eva's mother so they could sell Eva into the pet trade. Though this is illegal in Sumatra, selling an orangutan can brings in a large financial reward for someone who might be struggling to earn enough money through other means. The outreach work HOCRU does to speak to and help people who could potentially become illegal traders is vital in keeping these kind of incidents to a minimum.
Eva is now being cared for at the Sumatran Orangutan Conservation Programme rehabilitation centre near Medan, and will eventually be released into the wild when she is old enough. The HOCRU team are back in the field, monitoring orangutans who are in forests near human settlements and speaking to people in the villages they pass through on their journeys.
Thank you for supporting the team as they carry out this physically and emotionally demanding work.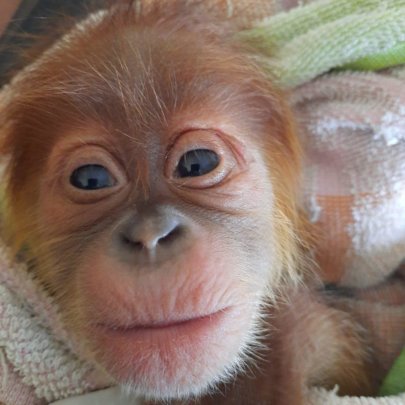 WARNING: Javascript is currently disabled or is not available in your browser. GlobalGiving makes extensive use of Javascript and will not function properly with Javascript disabled.
Please enable Javascript
and refresh this page.