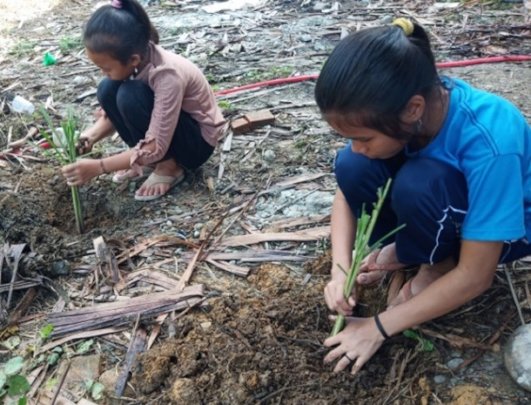 The Leuser Nature School is based at the Bukit Mas restoration and permaculture site, so the school's students often learn about plants, natural ingredients and permaculture as part of their school syllabus. To ensure the teachers' and students' knowledge is up to date, the school management recently invited a trainer from IDEP Foundation to lead a one-day training session on ensuring that the school's layout and infrastructure fits the permaculture concept. The trainer advised that any fences at the school should be made of snakefruit (Salacca zalacca) and thorned-pineapple trees to prevent wild animals from entering the school, and that citronellas (Cymbopogon nardus) should be planted around the school and along the paths within the school as insect repellent.
Leuser Nature School students often have lessons outdoors, and the teachers used the citronella planting as an opportunity to teach English in an outdoor setting. As the students planted the citronella plants, the teachers asked them questions about what they were doing in English, and the students replied in English.
Further integrating permaculture with their other subjects, the students also learned about The Classification of matter and its changes in grade 7 science by learning the theoretical concepts in the classroom and then observing what happens (changing solids into gases and liquids) at the essential oil distillation unit at Bukit Mas Permaculture Centre.
Thank you for continuing to support this wonderful school and the people who benefit from it.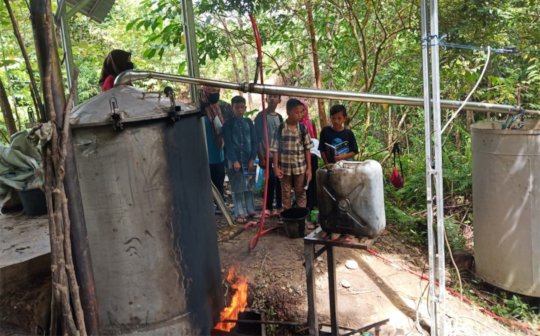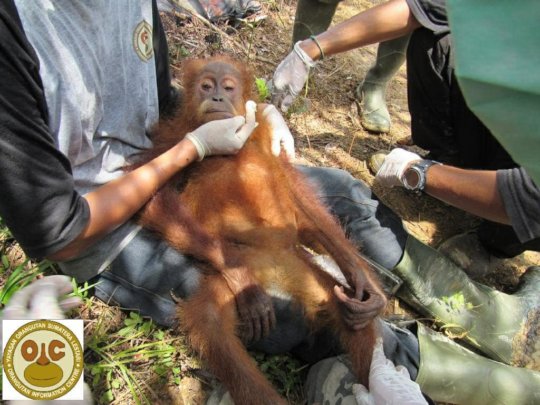 As you know, the orangutan rescue teams work on the frontline of orangutan protection in Sumatra. Responding to urgent calls around the clock, three HOCRU teams cover the Leuser and Batang Toru landscapes – evacuating Critically Endangered Sumatran orangutans and Tapanuli orangutans from dangerous situations and enabling their return to the wild.
Rescue operations usually involve driving hundreds of miles, often off-road, so it's vital for the HOCRU teams to have four-wheel-drive trucks they can rely upon. The South Aceh team, who made headlines in 2019 when they rescued an orangutan called Hope who had been shot 74 times, were having major problems with their truck – it regularly broke down, and the expense of repairing it was a big drain on their rescue budget.
Thanks to your ongoing support and donations, we were delighted a couple of weeks ago when we were able to send funds to the team to buy a new truck. They have already rescued a baby orangutan who had been bitten by dogs, and being able to complete the rescue without worrying about the truck breaking down was a huge relief.
Thank you so much for all you do to support Sumatra's orangutans and the people who work around the clock to save them.
People around the world recently celebrated World Wildlife Day. This year's theme was "Forests and Livelihoods: Sustaining People and Planet", chosen by the UN as a chance to highlight the vital role of forests and forest species in sustaining the livelihoods of hundreds of millions of people around the world - especially indigenous people or those who live locally to forests.
For the SOS team, it's an especially significant theme as it also encourages the celebration of conservation models which consider humans and their wellbeing alongside the protection of forests and forest wildlife.
Led by our Conservation Director, Koen, we are currently working on our conservation strategy for 2021 onwards, and while we have always championed projects which involve communities, the links between forests and people will be even more central to our new plans. Forest loss continues in some parts of Sumatra and is driven by factors including food insecurity, so we know that analysing this and working to improve it is vital if we are to keep conserving intact rainforests and making sure they have a long-term future.
I look forward to sharing more detail about our strategy and the projects it feeds into throughout 2021. Thank you for all the support you give us. You are keeping rainforests safe.
WARNING: Javascript is currently disabled or is not available in your browser. GlobalGiving makes extensive use of Javascript and will not function properly with Javascript disabled.
Please enable Javascript
and refresh this page.