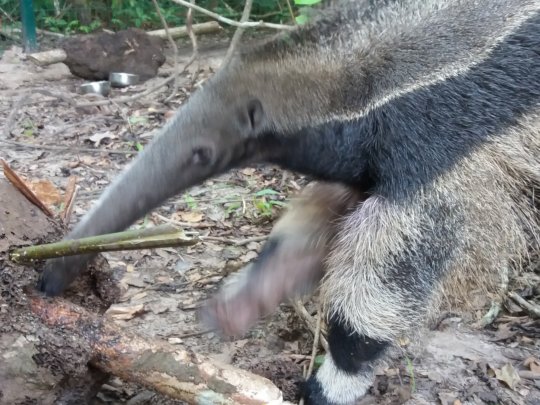 Xenarthra
Sloths, anteaters and armadillos are all in the Superorder of the Xenarthra. And although we rescue, rehabilitate and release mostly sloths, we do get the occassional anteater to care for. Since February we have been caring for a lesser anteater baby, now a juvenile, by the name of Johannes. For the purpose of housing giant anteaters our partner Welttierschutzgesellschaft provided us with the means to build an enclosure that should allow our temporary residents to roam as if they are in a forest, where they can become habituated to living independently. The enclosure would have a special double door and lock gate, so that the animals can be taken care of without too much trouble. The size is approximately 30 by 10 meters, and has an organic shape, adjusting to the available space and avoiding the need to remove trees.
The enclosure has been used to house young Johannes, a lesser anteater, providing an extra barrier between him and humans, so that he does not become too used to us, and allowing him to roam freely. Johannes has become a tree-dwelling animal that we encounter from time to time at night. He sometimes visits and sleeps in the hammock in his enclosure, where we still regularly leave anteater mix for him to eat. His door is always open, so he is free to come and go, and we often see him sleeping high up in the trees. We are now confident that he is capable of living on his own.
Igor, the Giant anteater
Igor, a giant anteater, has also used the enclosure. He was in the hands of a "legal" wildlife trafficker with a permit to export four giant anteaters (and no, we could not believe it either!). An associate of the wildlife trafficker called one of the veterinarians we work with, because one of the animals had diarrhea. Cleopatra went to see what was going on, and told this man that she wanted to take the animal with her, because it needed an IV and intensive care. While at his location, she saw that there were three other animals, one of which was wounded on his front right leg. Arranging the transportation of the sick animal was not so easy, and was delayed because we had trouble coordinatimg a rescue with the wildlife trafficker. When we finally arrived at his location, two days after Cleopatra first went there, the animal had already died. We took the animal with us and had a necropsy performed in the presence of a game warden.
Cleopatra arranged for the wounded animal to be released to us as well. She and the wildlife trafficker agreed that he would sign a release that he had voluntarily given the animal to us, and that he knew we were not going to return it to him. Igor arrived at the center on the 5th of October. He was very stressed and could not at first find his way out of the lock into the enclosure. Cleopatra decided after a while to go in with the animal and guide him into the larger area; he was definitely more afraid than aggressive. During the four weeks Igor received treatment for his wounds, he roamed the grounds where Johannes was housed. Johannes was not always pleased with this intruder, but Igor clearly either ignored him, or gave him a friendly slap when he became too annoying.
At the end of October, Cleopatra observed that Igor's wounds had healed very well and she told us that he could be released. Providing the animal with termite nests had become increasingly difficult because the nests were becoming scarce near the center.
So, on the 4th of November we borrowed a transport bench from the Animal Protection Society, and made an agreement with our friends from Apartments Bloemendaal to release the animal, with their help, on the uninhabited side of the Saramacca River. The last arrangements were made on Saturday night, when we decided we would try to lure Igor into the bench with a termite nest, then take him to the boat between 10 and 12 o'clock on Sunday morning. Astrid, veterinary doctor in Saramacca, decided to come and assist us, and several tourists arrived quite unexpectedly. We were a bit skeptical about the crowd, but we made the best of it, and they actually helped us carry the bench holding Igor.
The animal was a bit stressed by the experience, but then again also very interested in his termite nest. He continued eating for most of the 10-minute drive to Apartments Bloemendaal. Anteaters are very sensitive to sound, however, and the boat's motor seemed to stress him more than the presence of humans. The moment the motor was switched off he resumed licking up termites. We cruised for approximately 20 minutes, searching for a hard bank where we could put the bench and let Igor go. We found a beautiful spot, and he seemed curious as to what was happening. As soon as we had the bench stable on the bank, we opened the door. Igor walked out at a leisurely pace but quickly disappeared into the undergrowth. He did not hesitate for one second, and also did not look back to say goodbye ( :) )
We hope that in the future any other wild animals that need to recover in this forest enclosure will be as successful as Igor.
Help us achieve our 2017 goal by making an end-of-year donation

We once more ask your support to help us finish our shelter location by specifically making a donation on this Giving Tuesday, the 28th of November, or until the end of the year to our project. This will certainly help bringing us closer to achieving our goal of making our center operational.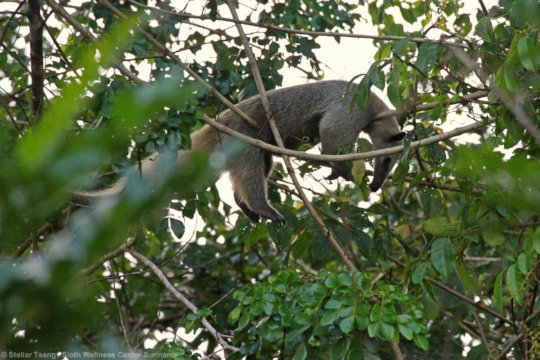 Links: