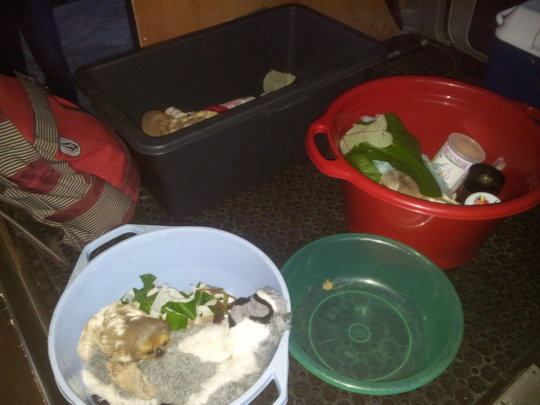 Timmie was found two days ago by Mr. Sabajo in a secondary forest. He heard the animal before he saw it. Timmie is very good at whistling like a good ventriloquist. When he found this baby, Mr. Sabajo noticed that the animal's nails were filed. Which means that someone must have left the animal in the forest. Because normally baby sloths have very sharp nails. One can only wonder about why someone first kidnaps the animal from his mother, and then leaves it alone in the forest to die. Yes, to die, because Timmie is not more than 4 months old, and will not be able to survive on his own yet. Timmie especially whistles while he is eating. This is either a sign that he is happy and whistles when he eats, or it may also be a strategy to stay in touch with his mother while he is eating away from her. From our experience, we noticed that the little ones will climb themselves to eat leaves while their mothers may be resting. And then join her again when they have finished their small adventure. At around 8 months, the mothers leave their babies to fend for themselves. We now have 3 babies at the center who go into their incubators at night. And hopefully we can run these incubators as of next week powered by the sun!
We moved…
Yes we did, even though the center is mostly an empty shell. We are managing without electricity, but hopefully that problem will have been solved by end of next week. The animals do not need much in terms of furniture, the trees are their furniture. It is for the animals that need care that we need to get our center properly outfitted. We will do this as funding becomes available. Two of our volunteers are looking into how our intensive care unit can be made into just that. The 20-foot container is very hot because the sun is relentlessly shining on it from different angles during the day. The first solution will be to paint the container white. The second solution will be to insulate the container by constructing a double wall. We are now awaiting further details of how we can as quickly as possible make this unit ready, so that we can receive animals, like Inke, that need extra care in a proper environment.
Meet Inke…
Inke was reported to us over the weekend by shop-owner Inke, who had previously rescued animals for us from people that came into her shop with a sloth. This time, she saw a person entering her shop with a sloth, and she immediately addressed this woman, and told her she had to leave the animal with her, and otherwise she would not leave her shop. Fortunately, as none of our own volunteers was available, Mariska from the dog shelter drove out to the shop to take the animal and bring it to one of our volunteers. On Monday, the animal that was traumatized as a result of claw cutting, was transferred to the center. She is now eating and drinking her rescue drops, and slowly healing from her trauma.
These are only two stories of animals that we recently rescued from unfortunate situations. We rescued and released animals throughout the transition period in which we moved. One from the waiting area at the penitentiary facility, another from some boys that were harassing an animal. Please follow our facebook, instagram and website for more stories about our work.
We appreciate every new recurring donation, as especially now this is what we most need to keep us going.