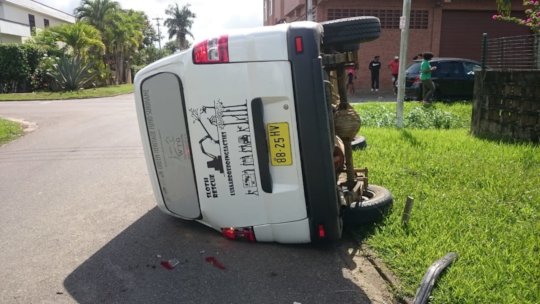 We normally have our report in on time, even though we tend to be deadliners... This time though it is late, because I was unfortunately rammed by a speeding car that ran a stop sign on the 23rdof November. The bus was hit in the rear against the wheel, spinned 180 degrees, and facing in the direction from where I came, the sloth rescue bus came to a halt and flipped on its side… With a whiplash and some bruises, I was lucky to get out, somewhat unharmed. I was glad, there were no rescue animals in the car or other passengers. But I was definitely shaken by this. Even if we drive as safely and defensive as possible, if the other road users do not follow the traffic rules, there is little we can do to avoid traffic accidents. Fortunately, no serious personal accidents, just a lot of material damage.
Since the end of August we had the usual flow of animals, sometimes five per week, sometimes only one. And sometimes two in a day. In this past rescue period we not only rescued anteaters and sloths, we also rescued one tree porcupine.
Champ
One of the three-fingered sloths we received had been rescued by someone who saw the animal crossing the road. As there was no forest around, he decided to put the animal in his car and take it home. He put it in a cage and tried to feed it, and although the animal was not eating, it took him two weeks to finally bring it to the Zoo. As you can imagine the animal was in bad shape, it's kidneys had started failing and he was dehydrated and skinny. Our vets Eva and Audrey, however, were determined to pull the animal through. Never before have I had an animal with failing kidneys recover. So I was a bit anxious, but as I am not a vet, I just let them do their work. My job was to give him a name that would forebode their success. So I called him Champ. Every day, Champ was given IV fluids, and after a week his diarrhea disappeared. And he started eating the leaves we gave him. His treatment continued, and after two weeks he had recovered so well, we transferred him to the center where he was observed for several more days. And boy, did Champ want to leave his enclosure when he saw all those beautiful trees. So on the 20thof October, International Sloth Day, Champ was released and looked very happy as he climbed fast into the canopy of his new home.
International Sloth Day
On International Sloth Day, we not only released Champ, but three more animals. One was a two-fingered sloth and two more three-fingered sloths. It was a very fitting way to celebrate this day. On this particular day we also saw how Jinkoe and Rory went together away into the forest. Jinkoe has been regularly coming back, but little Rory seems to enjoy himself (I think it is a he) very well in the trees and we only see him occasionally in his favorite tree, and he has been back only twice. Both Jinkoe and Ostrich like to roam into the forest for several days at a time, and they come regularly back to sleep in their buckets for the night to leave again in the morning. All of them, with the exception of our sleepy two-fingered babies, left before the official opening. As if they did not feel like seeing all these people roaming around their houses. As the official opening was over, they started coming back again.
Say no to selfies with sloths!
And we re-launched our campaign to not take selfies with wild animals, and in particular not with sloths on the 20thof October. This campaign will mostly be run using short videos that we will spread through social media, and in particular in the platforms most used by visitors, interns and tour guides.
World Anteater Day – 29 November 2018
And please check out our website or facebook page as it is World Anteater Day on the 29thof November.
As always, thank you for your support, and please check out our Thanksgiving post for some amazing glass sloth art from one of our loyal donors.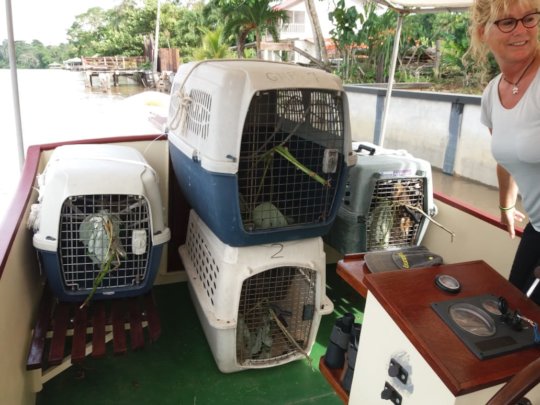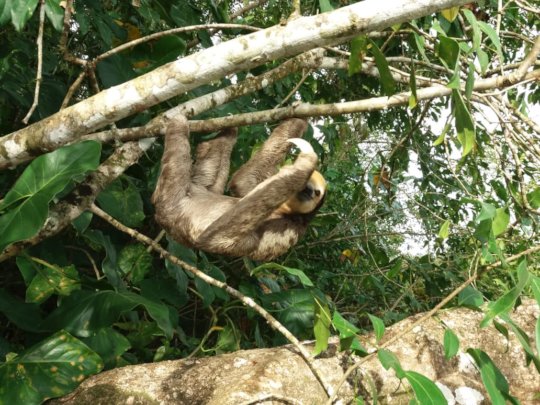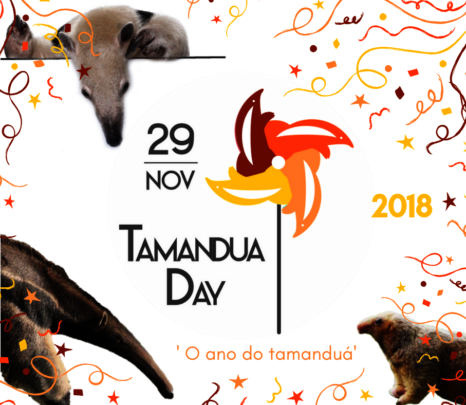 Links: