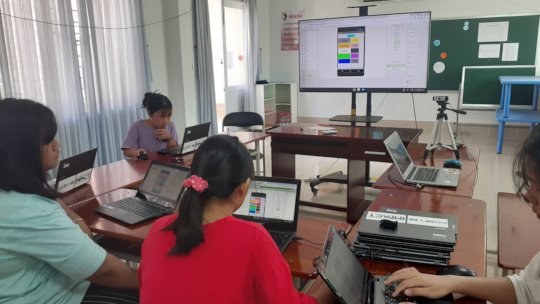 April 19 was an exciting day at Kidspire. For 3 months our teachers have been supporting our students to submit their Technovation Global Challenge projects - a project where the students identify a local community need, brainstorm a solution, code an app that contributes towards the solution, and then pitch their idea and app via video. It's an incredible project that provides students with the opportunity to gain so many skills in experiences, including project management, time management, communication, and collaboration, among others.
But how would we provide the students with the mentors they needed to complete the project when orphanages were on lockdown from receiving visitors? Enter our virtual learning environment - something Kidspire has been really been working to improve and expand during the past 15 months where our normal program has been affected by our new covid-19 environment.
I invite you to check out the attached photos. I think they showcase how we used video calls to connect our students with mentors who could coach them through tips and tricks on coding their app, or refining their pitch, or narrowing their solution.
And I want to extend a big thank you to all of you. Your support has made it possible for Kidspire to improve our program in some very specific - and important - ways during this past year. And these improvements have allowed us to continue supporting our students throughout what has been a challenging year. This is something that is really important to us. Thank you!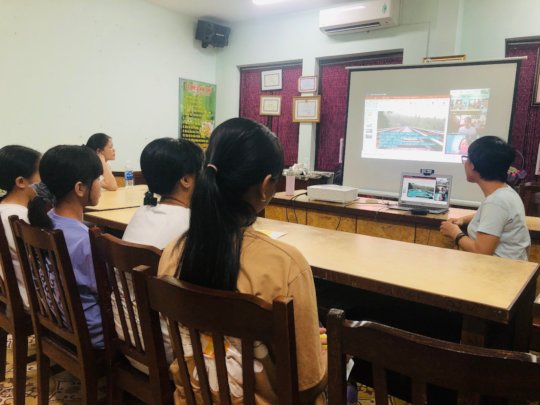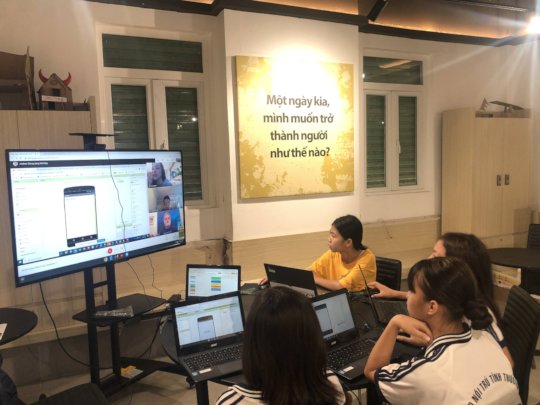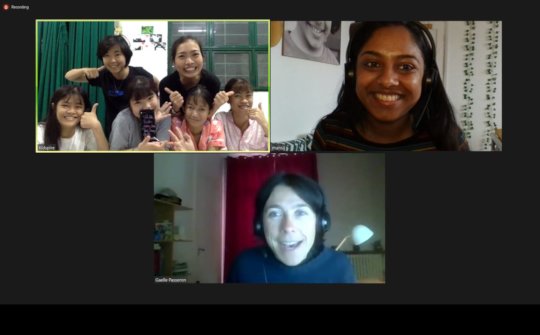 With just under 2 months to go before the April 19 submission deadline for Technovation, our students and teachers are in full swing. Brainstorming community challenges is complete and our teams of girls are working hard to conceptualize the functions of their app before beginning their coding. For many of our students, this is the first time they have particpated in Technovation - making each step a new encounter. Five of the Kidspire lead teachers are mentoring a representative team from each orphanage so that we can have at least team from each orphanage submitting their projects to the Technovation judges for review. This would mark a significant accomplishments for our students, and our teachers, and our entire program.
We're also excited to announce that we'll have some amazing volunteers from Cadence Design Systems and Team4Tech helping to mentor our students - via zoom video - through the final 6 weeks of the project - helping them to define and refine their project pitches.
As always, thanks to each of you who have so generously donated to help us keep this Technovation program going for our students across our partner orphanages. We are so grateful.
When covid started to spread into Vietnam in February 2020, it only took a week for the Vietnamese government to shutdown our teacher's access to our orphanage STEM classrooms. Despite being a "tech focused education program", we quickly realized that we will ill-prepared to actually continue our classes via video by utilizing a distance learning concept. We could still connect with our students via video, but that didn't mean that we are actually prepared to deliver our curriculum via video.
With the help our generous donor community on GlobalGiving, as well as support from some of our corporate and foundation partners like HSBC, Pure Storage, UOB, and Team4Tech, we were able to buy the equipment necessary to feature good quality audio/video streams in each of our classrooms, as well as spend the time we needed to re-think our lesson delivery from in-person teacher instruction to remote instruction via video.
We're not yet finished....this is still a process.....but we anticipate that we'll be fully capable of running our program via distance learning by May 2021 across all 8 orphanages from our "teaching studio" in our Ho Chi MInh City headquarters.
For now, we are set-up and running in 2 orphanages, with 2 more scheduled to be complete by the end of February and 4 additional orphanages completed by the end of March.
Thank you to each of you for your generosity in supporting this project. Our students in Vietnam live in fairly isolated settings within the orphanage - so the restrictions of covid-19 left them even more isolated when Kidspire teachers and volunteers were unable to visit the orphanage on a regular basis. Your support helped us to keep connected with our students and ensure that they had the opportunity to continue their learning. Thank you!
WARNING: Javascript is currently disabled or is not available in your browser. GlobalGiving makes extensive use of Javascript and will not function properly with Javascript disabled.
Please enable Javascript
and refresh this page.