Since June we have hired 6 additional care assistances into 3 of our patronized nursing homes.
3 new care assistants were hired into one of our biggest and severe nursing home in Tver region, 300 km from Moscow. It has 550 inhabitants living 3-4 people in small rooms, around 300 of them are bedridden meaning most of them haven't been outside their small rooms for years.
Here are the quotations of our newly hired girls.
Anna: "Even ion the bus on the way to my work I start to feel good, I enjoy this work. In fact, I'm very sorry for old people, as many of them were abandoned and cheated. But what's important – I can give them respect, a smile, attention and communication! I like to walk with them, to hear about their lives (some had outstanding lives), to read to them. Some I help to eat, some I help write letters."
Vera: "Every day I help around 10 people to go outside (in wheelchairs, or helping them to walk). Many of them haven't been outside for 2 years and more, and they sent sincere thanks to the Fund . We sing their favorite Russian folk songs together (there're so many singing grannies!) With those who are not allowed to go outside because of health conditions I sing and talk inside. I also read newspaper, help feeding and fulfil other requests."
In Tovarkovo home located in Tula region, with 100 inhabitants, we have hired a professional massage therapist and instructor, Vladimir! That means that grannies in Tovarkovo can get a real professional massage. Vladimir is spending most of the time with bedridden, conducting physical therapy and massage. He took under his control 5 people in the most severe condition, constantly working with them and monitoring. The first improvements are already visible for two out of the five wards! Besides, Vladimir makes massage every day to other old people who are in need of it.
In Zernograd, Rostov region, we have a new care assistance Diana. Diana helps grandmas and grandads to eat, gets them outside for a walk, plays with them, helps them doing physical exercise.
The Head of Zernograd nursing home says: " Diana brought difference into our nursing home. Many of our residents became more calm and friendly, after walking they have a better sleep and appetite. Thank you!"
And we want to say: Thank you dear friends! It's your donations that help our grandparents sleep better, get high quality physical treatment, and just feel needed and loved.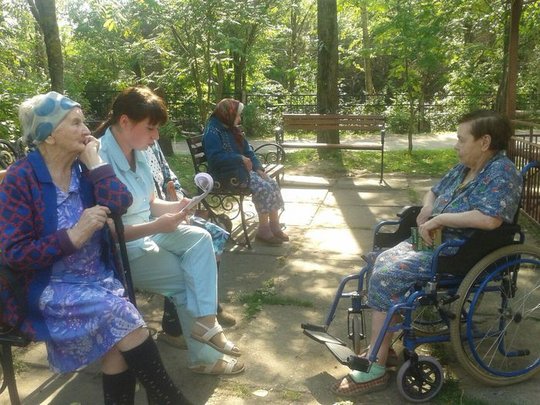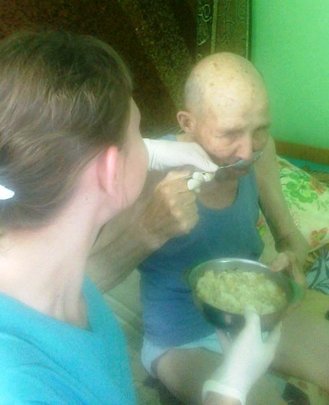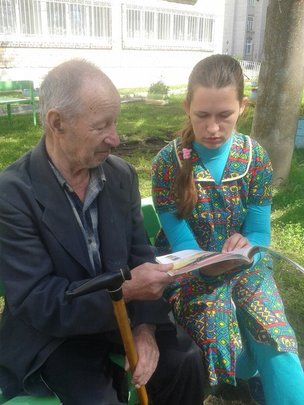 Links: