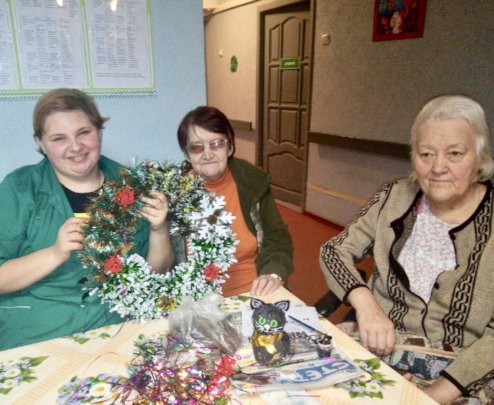 From February of 2020 we're inviting you to jump two long winter months back into the cozy Mid-December of 2019, traditionally the time when preparations for the New Year begin. Halls and rooms in care homes are being decorated, this time with handmade ornaments. When people adorn their rooms themselves, it feels more like home rather than an institution. Besides, the process of making New Year ornaments helps preserve fine motor skills and serves as cognitive stimulation for elderly people. Both feeling at home and skills preservation are important parts of healthy ageing, as well as the excitement and anticipation of the volunteers' visits are the vital part of the New Year mood.
Before the New Year comes
Since the second week of December the majority of activities are linked to forthcoming New Year celebrations. The residents of a care home in Elkhovka (Samara region) made wreaths during the sessions with their occupational therapist Lydia. She prepared circles of fiberboard by drilling holes in them. The care home's groundskeeper trimmed the pines and gave the twigs to the residents.
They were beyond enthusiastic and free to assemble any composition they wished. By unanimous decision, the tasks were divided. Men put the twigs together to form small bunches, tied them with string or wire, then fixed them to the circles. After that women decorated the wreaths with paper bows, ribbons, tinsel and whatever they wished using pieces of string and hot glue.
The wreaths were put on the care home's front door as a reminder about forthcoming holidays.
Meanwhile, the staff at Rzhev care home (Tver region) helped local residents master different techniques: painting Christmas bulbs, clay modelling, scrapbooking, collage making. All the mice, fish, Father Frost portraits, fir trees etc. were used as ornaments in decorating the care home facilities.
And in Kargopole (Arkhangelsk region) the residents of the local care home visited the launch of the town's New Years fair. Even the wheelchair users managed to get there and have fun thanks to the help of their care worker, Maria. Fancy-dressed actors, the concert, the music, slight frost and the fair itself were a huge inspiration and a source of great mood to the elderly people.
Maria, like many other care workers and therapists, is part of our project, which means we're able to pay for her work with the help of your donations. Without her work and the work of people like her, care home residents with restricted mobility would never have left their rooms, tried arts and crafts, felt frosty wind on their cheeks. This is the real miracle you help make happen.
Railway museum
A group of 24 residents (including wheelchair users) of Tovarkovo care home went on a trip to the railway museum in the last week of December. The outing was organised by our occupational therapist working in Tovarkovo care home, Lyudmila.
The tour guide told the story of creation and development of the railroad, the evolution of Zhdanka station. She showed the group the interior of the communication and transport minister's office. For a couple of moments everyone felt as if they had time-travelled to the XIX century when the trains were seen as the wonder of progress.
Men were more interested in steam locomotives models and asked questions about technical details. Women paid more attention to the station historical miniature and wondered how people could get along without being able to boil water in old trains.
Adaptive bowling
Tatiana, the physical therapist in Pervomaysky care home (Tula region), supports local residents with reduced mobility in regular exercise. But even to the most patient of people daily routine can become boring, and discouragement is a barrier in rehabilitation. Tatiana came up with introducing bowling in the list of physical activities available to people. Adaptive skittles and balls are softer than the real ones and do not require a specialised lane. Curiosity and a healthy share of competition encourage people with reduced mobility to keep strengthening their motor skills.
Both the therapist's salary and the adaptive bowling kit are the results of your constant support and belief in our cause.
When change could harm
Maya, one of our care workers, takes care of 13 elderly women. They are different but all have complex needs and require individual approach.
For example, Alevtina F. survived a stroke and needs help with restoring activity levels and multimodal exercise to combat contractions. With the support of her care worker she is now able to do exercise with a ball while in the past she was unable even to open a fist.
Or, another instance, Zinaida V., who is 91 years old and has dementia. She needs repositioning every couple of hours to prevent pressure ulcers. Maya regularly does that, professionally and empathetically.
Still another woman in her care, Elena G., requires cognitive stimulation. She is good at remembering actors or songs but confuses edible and inedible objects while playing the well-known game of the same name. However, training with Maya is pleasant no less than useful for her.
Because of the nature of the relationships between care workers and their clients, change of care worker is inadvisable as it can lead to sadness and loneliness and can also cause confusion in people with dementia. That is why it was very important that Maya could stay with her clients who are used to her, and it became possible with your support.
Kitchenette for residents
Rules and procedures of care home forbid residents from cooking their meals themselves except in specially equipped places. And there is one now in Tovarkovo restricted mobility unit. This is also where cooking classes and competitions take place.
Many residents enjoy cooking and would like to do that from time to time, not to mention the importance of preserving as many skills for independent living as possible. A special kitchenette is such an opportunity, besides, it gives people the sense of control over their life even if it is in as small an aspect as their lunch.
Feeling in control plays a key role in happiness and quality of life. That is why occupational therapists encourage independent cooking in all ways: help with buying food, getting to the kitchenette, cleaning up after the meal is ready.
Beauty parlour in the room
Feeling your gender identity is also important to quality of life. Unfortunately, the workloads of care workers in most state-funded care homes exceed all reasonable levels so they just do not have enough time or resources to pay attention to residents' beauty needs. On the bright side, the care workers we hire to add to the staff regularly help elderly women to cut and dye their hair and to take care of their nails. "It's a pleasure to watch them, - says Natalia, a care worker. - As they don't give up and still want to be attractive. And we're delighted to help them".
Beauty sessions are more than just personal care, they are a source of optimism and inspiration as well as psychotherapy that helps elderly men and women feel the men and women, not the elderly.
With this we thank you again for your support which enables changes for the better in Russian care homes. We hope they will become the new reality one day – so that no one will ever be surprised to see the handmade wreaths on the care home's front doors, elderly people in wheelchairs strolling through the city center and enjoying the New Year and Christmas holidays, all the care homes having enough rehab equipment and people living there in happy anticipation of the volunteers, who had already become their close friends. Thank you for making these ordinary – yet so essential and heartwarming – New Year dreams come true for elderly people in the care homes of our country!