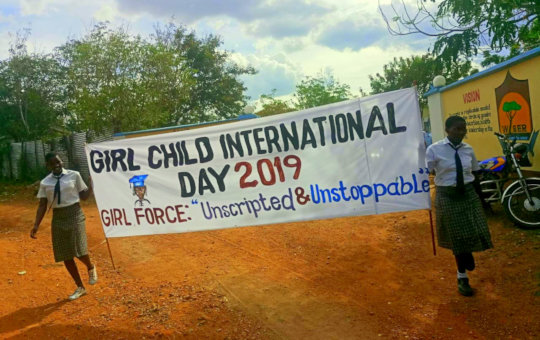 There is an infectious joy in the air when WISER gathers together to celebrate. Whether it's graduation day, a national holiday, or even when WISER girls dance and sing their hearts out simplify for the joy of it on a weekend, the community takes notice. So when the entire school population took to streets for International Day of the Girl this month, the community took notice!
Equipped with banners loudly and proudly announcing the power of the girl child (GIRLS ARE THE LIGHT OF THE WORLD!), WISER marched through Muhuru Bay on October 11th to remind everyone that girls are a force to be reckoned with. And while we've made tremendous progress in recent years, there is still work to be done.
International Day of the Girl began as part of the United Nations' renewed commitment to women and girls under the 2015 Sustainable Development Goals. This means not only keeping girls in school, increasing access to reproductive healthcare and menstrual hygiene products, ending child marriages and all forms of sexual violence, and making sure women are in leadership roles at every level of society. This commitment also recognizes how investing in women and girls around the world is the key to solving other complex global issues, from ending poverty and hunger to making political and social institutions more just and equitable.
WISER girls have learned that when women and girls succeed, our world succeeds. When they were entering primary school, girls in their community faced insurmountable odds. Sexual violence, lack of access to sanitary products, early pregnancy and marriage, and economic hardship meant that girls rarely finished secondary school, and almost never made it to college.
Almost a decade later, WISER's investment in the education, healthcare, and wellbeing of girls has meant hundreds of girls with secondary school diplomas, clean water for a whole community, sexual and reproductive health education for thousands of primary schoolers, sustainable energy and farming on campus and beyond, and greater economic potential for women and their families.
But while these are the most visible ways that WISER girls have changed their community for the better, even more importantly, WISER girls have changed how women and girls are valued in their community.
Women and girls used to be expected to stay in the home, with little control over the economic and healthcare choices of themselves and their families. Now, girls are marching through the streets, making their voices heard.
The theme for this year's International Day of the Girl was "Unscripted and Unstoppable" - an effort to highlight how girls rewrite the scripts of gender-based bias and violence that are present throughout the world and use their power to make unstoppable, vital, and extraordinary changes in their communities.
WISER girls are doing just that, not just by sitting in classrooms, but by showing the girls younger than them growing up in Muhuru Bay that they have potential to be unscripted and unstoppable, too.
In these girls' lifetimes, they have seen a cosmic shift in the roles of girls in their community. WISER girls are here to celebrate all that girls are and all that they can be, as all of us, our staff, our supporters, our volunteers, and our students, work together to build a future where every girl is educated, well, and able to follow her dreams.Together, we're going to flip the script of gender roles and gender violence and see girls become unstoppable forces for change in the world.
What a reason to celebrate.