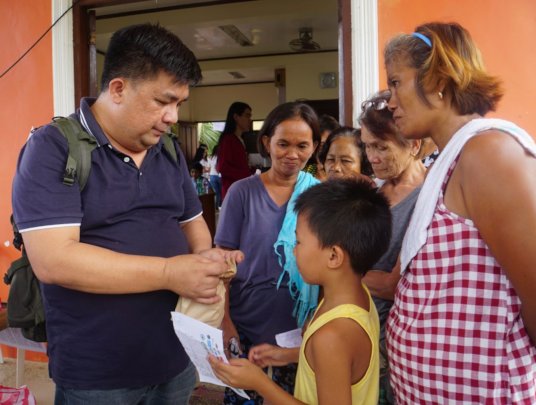 Talim bay's local fishers, Local Government Unit (LGU) of the Municipality of Lian, Batangas (reprsented by Municipal Mayor Isagani Bolompo), conservation advocates and the De La Salle University-Manila (represented by Br. Raymundo Suplido, DLSU President) through its Center for Social Concern and Action and the Br. Shields Ocean Research Center push to sustain biodiversity conservation initiatives with the renewal of partnership and signing of a Memorandum of Understanding (MOU) on Sept. 23, 2019 in Matabungkay, Lian, Batangas.
During the MOU signing, local fishers were represented by the leaders of LGU of Brgy. Lumaniag, Lian, Batangas and of local peoples' organizations like Lian Fisherfolk Association, Inc. and the Samahan ng mga Mandaragat sa Sulok at Samahan ng Maliliit na Mangingisda ng Binubusan.
While maintaining Talim bay's biodiversity remains a challenge for conservation advocates and the fishing community given the concerns on coral reef bleaching and limited fish catch in Talim bay areas declared as marine protected , stakeholders commit to take a closer look at establishing their version of a Marine Protected Area, designed to protect the municipal coral reefs, seagrass beds and mangrove forest and help ensure the integrity of these ecosystems. The operative word is to sustainably utilize resources through regulation and peoples' participation.
To date, one coastal community in Talim Bay continues operation of its community based-ecotourism activity as alternative source of income for fishers. Also, stakeholders pursue initiatives to help keep Talim bay's health, sustain peoples' participation through continued capacity building activities and facilitate the conduct of relevant services with the community, among others.
Moreover, De La Salle-Red Cross Youth, the DLSU-Lasallian Scholar's Society, Sagip Bayan Foundation, Inc. and DLSU-COSCA through its Lasallian Health Education, Accessible Resources and Training Services component facilitated the conduct of a Medical Mission last July 27, 2019. Approximately 180 household members of fishers in the coastal communities of Lian, Batangas received health services during the mission through medical check-up and provision of medicine supplies.