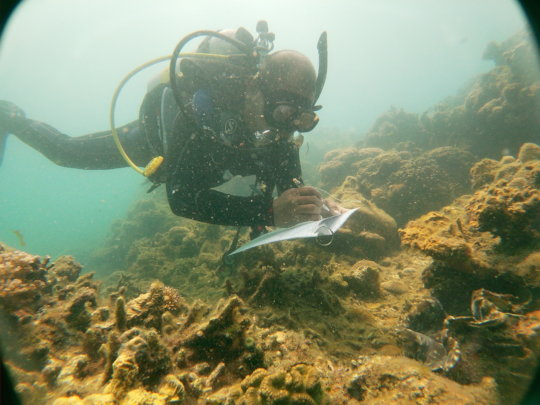 The concerted efforts of Talim bay's stakeholders facilitated the implementation of relevant activities necessary to maintain the bay's biodiversity and health. Despite the challenges faced by local fishers such as pollution, over extraction of marine resources, and the destruction and bleaching of coral reef which adversely affected the availability of marine resources and therefore reducing the income of local fishers, community based-ecotourism initiative supported by the stakeholders has provided alternative income for the fishers.
In order to help sustain the initiative, DLSU- COSCA, together with the various LSDP-ENVISAGE-CBCRM Lian stakeholders, supported the March 5 and 6, 2019 checking and monitoring of Talim bay reef in the Marine Protected Areas (MPA) of KayReyna and Binubusan MPA, respectively. COSCA's Community Coordinator, Mr. Quenamot shared that the regular Talim bay reef checking held last March 2019 was participated by members of the community, led by organizations of local fishers like the Lian Fisher folk Association, (LFA) Inc.
The regular reef monitoring aims to encourage local community action to protect the remaining pristine reefs, rehabilitate damaged reefs in Lian, Batangas using ecologically sound and economically sustainable solutions, investigate through the local scientists the reef ecosystem processes on the two MPAs, and determine the increase in fisheries production. Specifically, the regular reef check monitoring is undertaken to enable the community to come up with a baseline data that will help strengthen their monitoring of their marine ecosystem. The stakeholders include among others the following: a) Municipal Environment and Natural Resources Office-Local Government Unit (LGU) of Lian, Batangas, b) Barangay Council of Binubusan, Lian, c) Barangay Council of Lumaniag, d) Reef Check Philippines, e) DLSU-SHORE, f) Homeowner's Association of Matuod, Brgy. Binubusan, g) LFA and, h) Samahan ng Mandaragat sa Sulok Fisher folk Association.
Members of the community reef check team attempt to apply lessons they learned from capacity building activities they attended in their regular Talim bay reef monitoring. This includes the technique of noting the diverse marine resources and quantifying biodiversity through the roving census methodology enabling local fishers to identify the fish and invertebrates while segregating the trash. The team hopes to learn more techniques and approaches to measure the sensitivity of the reef to climate change, and determine the health or resiliency of the Talim bay reef.