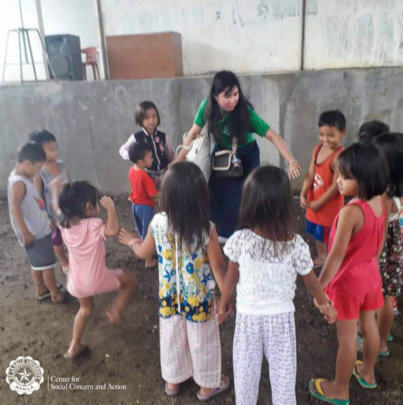 Collaborating with Stakeholders to Support Families and Partner Communities Affected by Calamities
The De La Salle University-Center for Social Concern and Action extends gratitude to the members of the academic community and to its partner institutions for responding to the call to help our brothers and sisters affected by calamities like the current health crisis, the Taal Volcano eruption and a fire incident in its partner communities.
Taal Volcano Eruption Psychological First Aid Sessions and Relief Operations
A Call for Donation, in support of the One La Salle Relief Operations for Affected Families of the Taal Volcano Eruption was made early this year, encouraged support to help those affected by the calamity. Cash donations were utilized to buy relief packs for families displaced by the Taal volcano eruption. Relief packs were distributed to household members in evacuation centers in Lian and San Luis, Batangas. On the other hand, the delivery and distribution of "in-kind" donations to other affected families was coordinated by COSCA with the respective Relief Operations headquarters of De La Salle Lipa, De La Salle University-Dasmariñas, and Lipa Archdiocesan Social Action Commission. Also, volunteer counselors from the Office of Counseling and Career Services facilitated the Psychological First Aid sessions for families temporarily sheltered at the Sto. Toribio Elementary School in Lipa City, Batangas.
Efforts to assist identified sectors affected by calamities are facilitated by DLSU-COSCA's Lasallian Environmental Sustainability and Governance (L-EnviSaGe) component of its Lasallian Sustainable Development Program. These initiatives are undertaken in collaboration with the University Student Government, various student volunteer organizations and other stakeholders of the University.
Relief and Recovery Efforts Continue for Families Affected by the Leveriza Fire Incident
Relief and recovery efforts continue to assist the families affected by the December 19, 2019 fire incident in DLSU-COSCA's partner communities in Leveriza area. Cash donations and proceeds from an activity supported the distribution of relief (food) packs to families in affected partner communities: Barangay 717 (45 relief packs), Barangay 718 (150 relief packs and 4 tents) and Barangay 720 (5 relief packs). Students and graduates of the DLSU Alternative Learning System shared an additional 5 relief packs to the communities.
Also, the relief and recovery efforts included the establishment of a temporary shelter at the Tuluyan Center for nineteen affected employees and their families.
As necessary, provision for an electrical connection to a covered court which provides shelter for the evacuees and the procurement of construction materials to replace damaged structures for the following partner communities were pursued: Barangay 717 (11 damaged structures) and Barangay 718 (56 damaged structures). The delivery of these construction materials (initially targeted last March 27, 2020) was postponed with the whole area of Luzon placed under Enhanced Community Quarantine.
Supporting Initiatives during this COVID-19 Pandemic
The COVID-19 pandemic has rendered everybody's movements limited and has forced individuals to stay at home while the declaration to place most areas in enhanced community quarantine has forced businesses to limit, if not cease operations. This situation placed some members of our communities in difficult financial situations. Some of us may be directly affected or sick, some may be afforded with responsibilities to provide care for a loved one or help in our respective communities. This prompted everyone to continue to think of, act and respond to needs of our families, our partner communities, and the institution that we are part of, as the situation may allow us, we continue as we need to acknowledge this unprecedented reality yet we hold on to the hope that we only have each other and together we shall surpass these challenges. We continue to support initiatives and continue to hope that we all help each other during these challenging times.
(Photos by DLSU-COSCA LSDP and PNDP )