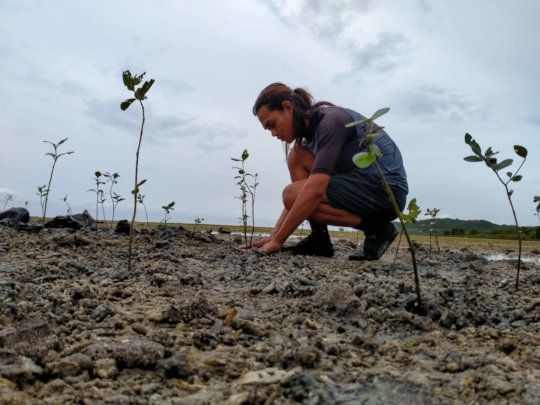 Facilitating community engagement activities such as visiting the coastal communities in Lian, Batangas, one of the project areas of the Center for Social Concern and Action (COSCA) of the De La Salle University (DLSU)-Manila deepens community involvement of members of the academic community.
The challenge of COVID 19 pandemic and all related quarantine measures and required health protocols only helped strengthen collaboration among communities, the private sector and government institutions. DLSU-COSCA facilitated activities such as the provision of food packs to assist vulnerable sectors like our local fishers in Lian, Batangas affected by the pandemic.
Amid the contagion, COSCA continue to pursue mangrove reforestation and rehabilitation activities through strengthened partnerships-providing opportunities to members of the academic community and or its stakeholders to contribute to environmental conservation and protection initiatives, in line with the framework of faith in action.
Mangrove seedlings of Avicennia sp. (900 propagules) were successfully planted in a newly identified planting site in Sitio KayReyna, Lumaniag, Lian, Batangas. The mangrove tree planting activity was made possible through the collaboration of Santugon sa Tawag ng Panahon and Civil Engineering Society (CES) (DLSU-based student organizations), Lian Fisherfolk Association, Inc. (LFA) and DLSU-COSCA. COSCA coordinated with LGU Lian, LFA and the student organizations (Santugon and CES) the mangrove planting while the latter provided the logistical requirement and bought the mangrove seedlings from the nursery of the local fishers. The actual planting activity was facilitated by 15 members of LFA.
The COVID-19 pandemic continues to remind us the importance of empowering our communities and ensuring sustainability of initiatives - community partners leading grassroots activities. Members of our partner community organizations will regularly inspect the planted seedlings in keeping with the project's goal to help communities conserve and protect the environment.
The following personnel made this activity possible: Mr. Leo Tadena (LSDP Coordinator), Ms. Annadel Sapugay (ENVISAGE Development Specialist), Mr. Noel Quenamot (Community Partnership Specialist) and Mr. Ariel Casihan (President, LFA).