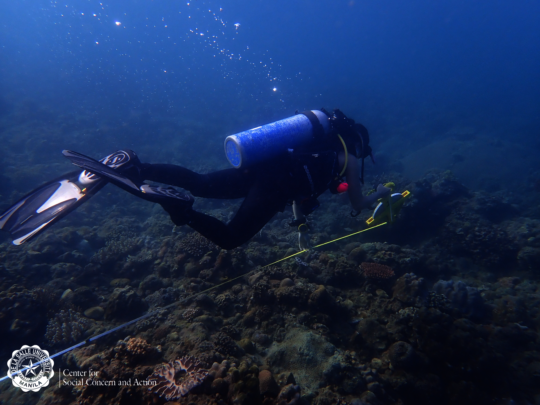 In line with the efforts to maintain biodiversity and manage Talim bay's marine ecosystem and at the same time provide alternative source of income for the local fishers, collaborative efforts are being pursued by local fishers, the Lian Fisherfolk Association, Inc. (LFAI), Local Government Unit of the Municipality of Lian (Batangas) and DLSU (COSCA and Br. Alfred Shields FSC Ocean Research (SHORE) Center) in the implementation of the following:
A. Community Based Coral Reef Monitoring
Local fishers from organizations of fisherfolks who were trained as local scientists investigate the reef ecosystem processes of their respective Marine Protected Area (MPA). This initially started in the MPA of Sitio Kayreyna, then trained local fishers from other Talim bay MPAs followed the conduct of Community Based Monitoring using the C30 Method. A report on the coral reef monitoring undertaken last March 8 to 10 was shared by Ms. Annadel Sapugay, DLSU-COSCA's L-EnviSage Specialist. COSCA through its Lasallian Sustainable Development Program (LSDP) L-EnviSaGe Component assisted LGU Lian Municipal Environment Officer in reef monitoring using the C30 method, maximizing the potential of local capacity /expertise in monitoring corals, fish and invertebrates) to monitor the status of the MPAs in Lian, Batangas and in the long run help strengthen conservation measures in Talim bay and help ensure the health and sustainability of marine resources in the area.
Together with DLSU COSCA, DLSU's SHORE Center, and representatives from the Oceanus Conservation, and UP Marine Science Institute made the community based coral reef monitoring possible.
B. Mangrove Tree Planting in Observance of International Day of Forests
COSCA through its LSDP-L-EnviSaGe component and in partnership with LFAI facilitated the planting of 500 seedlings of Avicennia sp. (Kalapinay) in Sitio KayReyna, Lian, Batangas in observance of the International Day of Forests last March 21, with the theme, "Forest Restoration: a path to recovery and well-being."
(Photos provided by LFAI's Mr. A. Casihan and Mr. W. Clores)