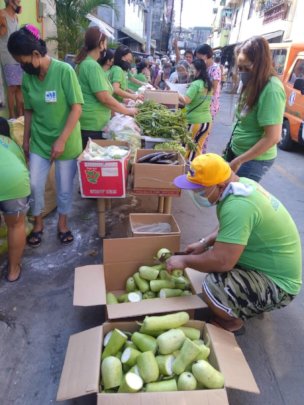 The De La Salle University - Center for Social Concern and Action continue to pursue initiatives to assist the vulnerable sectors affected by the pandemic and other calamities such as typhoon.
Rekindling the Damayan spirit through the Community Pantry
In support of De La Salle Philippine's KADA-Uno, and through the Office of the Lasallian Mission, De La Salle University - Center for Social Concern and Action (COSCA) supported DLSU's community pantry and the community pantry initiatives of its partner community-based organizations. This initiative has also been an opportunity for Lasallians to rekindle the spirit of "damayan" during this pandemic and in times of disaster. Students, faculty members, staff members, parents, alumni have shown their support for the relief drive by serving as volunteers, donating goods and money, and requesting network and partner organizations for donations.
Disaster Preparedness Activities through the Digital Platform
The pandemic enables to pursue awareness and capacity-building activities through the digital platform. The harsh aftermath of typhoons such as typhoon Ulysses that struck the country in 2020 continues to challenge the country's disaster management response. COSCA, through its Lasallian Sustainable Development Program's Lasallian Environmental Sustainability and Governance (L-EnviSaGe) and its Student Social Formation Program's De La Salle-Red Cross Youth (DLS-RCY) facilitated the Disaster Risk Reduction and Management webinar, "Kaalaman, Kaagapan, at Kahandaan sa Panahon ng Bagyo" (KKK sa Bagyo) on July 31, 2021 via Zoom link and Facebook (DLSU-COSCA and DLSU RCY Page links).
The webinar which aimed to raise awareness on the typhoon season in the Philippines and provide practical and helpful tips necessary for communities to get prepared for the typhoon season was participated by members of COSCA's partner communities such as the following: Samahan ng mga Mandaragat sa Sulok, Lian Fisherfolk Association, Inc., Women's Love, SAGIP, Samahan ng mga Maliliit na Mangingisda sa Binubusan, among others, DLSU-COSCA student volunteers and the general public (social media viewers/participants).
Invited resource speakers from the Philippine Atmospheric, Geophysical and Astronomical Services Administration, Ms. S. Reyes, discussed, in general, the occurrence of the typhoon season in the country, and the representative from the Philippine Red Cross, Ms. A. Balidoy, elaborated on typhoon preparedness, emergency response during a typhoon and the need for disaster-ready bags.
A panel of reactors including Ka (Filipino term for Partner) Noli Abinales, BUKLOD-TAO, one of DLSU-COSCAs' partner organizations; Ms. N.Barmejo, a student volunteer, and Ms. R. Oquendo from the University Safety Office were invited. The forum opened the discussion of the following areas that will help encourage vulnerable sectors to ensure their safety and not solely be dependent on the government's response during and after a disaster: Evacuation Center Bill, a proposed Bill which seeks to establish standard-based relief shelters in the country as a measure of safety especially during disasters; Disaster Reduction Management at home (instilling preparedness from the family to the community); and Preparedness as a contingency plan (as an effective measure of safety)(Info and photo source: LSDP COSCA Activity Report and community partners' reports).