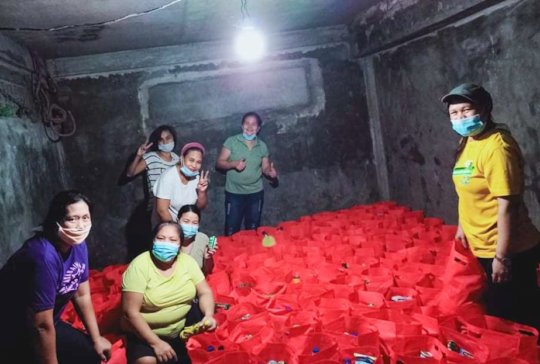 Many parts of Luzon in the Philippines were heavily affected by Super Typhoon (STY) Rolly and Typhoon Ulysses.
Typhoon Rolly (with international name Goni), the most powerful storm recorded worldwide for 2020 made landfall on 2 November 2020 in the Philippines in the island province of Catanduanes in Southern Luzon-with catastrophic winds of up to 280 kilometers per hour and torrential rainfall. While the people adversely affected by STY Rolly were finding refuge in makeshift houses and temporary shelters provided by their respective local government units and by concerned private individuals and organizations, another typhoon, Typhoon Ulysses (international name Vamco), visited the Philippines in the same month of November 2020.
Through the DLSU Disaster Risk Reduction and Management Committee (DRRMC) and in support of Kada Uno relief operations, assistance was sought to provide relief to our affected brothers and sisters, specifically in the areas of Bicol, Batangas, Marikina, Rizal, Cagayan, and Isabela. Both Super Typhoon Rolly and Typhoon Ulysses left many families homeless, damaged infrastructures, and hampered economic activities. The most affected children and their families face risks including exposure to COVID-19 and other diseases due to crowding in evacuation centers, as well as further depletion of resources prevented families and local governments to respond timely and sufficiently.
Propelled by the situation and the Lasallian Guiding Principles, the DLSU through its DRRMC and in support of the Kada Uno relief operations, facilitated and called upon the community to contribute and share (i.e. relief items or money) to the response. A rapid damage/needs assessment and capacities assessment was undertaken by DLSU. Total donations received as of December 17, 2020, amounted to Php 0.563 Mn. The overwhelming gesture of generosity has given once again more substance to the Lasallian Core Values of Faith, Service, and Communion in Mission.
The donations have provided relief to about 1,544 families in the following areas/sectors in the Philippines through partner /facilitating organizations: Guinobatan, Albay ( 200 families /Diocese of Legazpi - Social Action Center), Lian, Batangas (141 families/ LGU Lian Municipal Disaster Risk Reduction and Management Office), Santolan, Pasig City (121 families/ St. Vincent Foundation for Children and Aging-Unbound Manila-Pasig), Novaliches, Quezon City ( 50 families / Samahan ng Mamamayan ng Bagbag Tullahan Housing Cooperative), Masambong, Quezon City (155 families/ Kababaihang Yumayabong sa Kagalingan-Quezon City), Rodriguez and Tanay, Rizal (300 families/ Kada Uno De La Salle Philippines / Teresa Charities for the Elderly Program Inc.), Virac, Catanduanes (200 families/ Diocese of Virac - Caritas Virac Justice and Peace Inc.), Rodriguez, Rizal ( 200 families/ Kada Uno De La Salle Philippines / Akap sa Bata Philippines), and San Mateo, Rizal (90 families/ Buklod Tao, Inc.).
In addition, the University was able to assist some 57 DLSU students and personnel affected by STY Rolly and Ulysses.