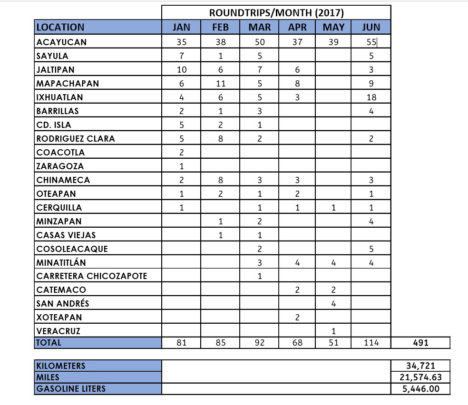 We are pleased to present our first report for this project at GlobalGiving, Free Transportation for 45 Children with Cancer (and MPS) :
This report covers the first 6 months of the year, from january to june:
Our transportation covers more than 30 locations, not all of them are covered daily, they change according to the patient.
The majority of active patients arrive every week, others every fifteen days one more each month. When they start their treatment they must arrive more often for their induction.
At some point in their protocol they attend outpatient chemotherapy or hospitalization, so they stay in the hospital.
There are no routes defined as each patient has a route and if on the day of their appointment they can not not go to the hospital then their parents change the date to another day, so our driver is in direct and constant communication with them.
We have two units, one transports to 15 people, the other up to 7. Our free shuttle service is from Monday to Friday.
In these 6 months they traveled 34,721 kilometers and more than 5446 liters of gasoline were consumed.
But we need of your support to continue granting the service in an uninterrupted manner. These patients mostly live in about 40 rural (marginalized) localities, in addition their parents have other children and do not have the economic resources so that they can go weekly to receive their treatment of chemotherapy or hospitalization to hospital of medical specialties, several hours away.
Thank you
,