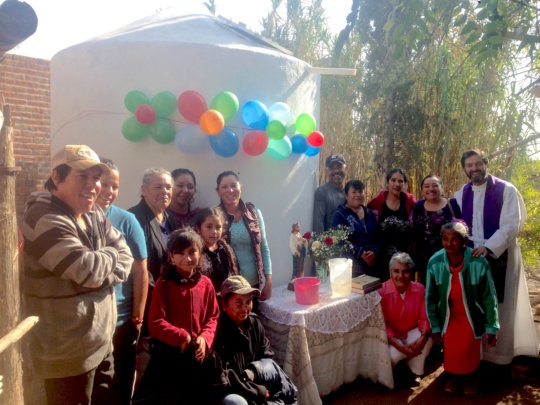 Dear GlobalGiving Supporters,
During our last update in late November 2016, we were just finishing a capacity training in a small rural community where we built a 12,000-liter rainwater harvesting system over the course of a week with local community members. From that point, we continued building additional systems in the communities of Arenal, La Escoba, and Llano Verde. By early December, all six 12,000-liter systems were finished – providing healthy and safe drinking water to dozens of families in the region. Additionally, 30 filter systems were installed in the participating family members' homes, allowing easy access to safe drinking water for more than 150 people!
The communities celebrated their achievement with an inauguration ceremony and party on December 16th (pictures provided).
In the end, we closed out 2016 by constructing 43 rainwater harvesting systems – representing more than 500,000-liters of safe water storage. When combined with the more than 130 ceramic water filter systems provided in these projects, families in communities throughout the region have the ability to enjoy nearly 5.7 million liters of safe drinking water over the next 5 years before needing to change out their filters. Much of this was made possible by GlobalGiving supporters like you!
We ended 2016 with a major push on GlobalGiving, and thanks to your support as well as a very generous match by the Gates Foundation, we were able to bring in nearly USD $8,000 to continue this work! So, we hit the ground running in 2017. Working closely with the United Communities for Life and Water Coalition, we began returning to the communities of San Antonio de Lourdes, Arenal, La Escoba, and Llano Verde in late January. All of these communities suffer from some of the most severe water contamination and scarcity issues in the entire region and desperately need more access to safe and healthy water supplies.
We are currently working with these four communities to build 21 new rainwater harvesting systems, providing more than 250,000-liters of healthy water storage! That is nearly half of the systems we were able to build in all of 2016! Additionally, we are beginning new rainwater projects with organizations like El Maíz Más Pequeño, where we will begin building a large-scale system with women at a local high school.
So, look out for one of our biggest updates in May!
In the meantime, you can keep up with our work by reviewing our project map here.
We would like to sincerely thank Wageningen University who provided the funding for our end-of-2016 rainwater projects mentioned above. Please have a look at this documentary made by the university regarding water issues in the region we work.
As always, many thanks to all of you here on GlobalGiving. Your contributions at the end of 2016 are going to help us make our biggest impact yet in 2017! Please consider supporting this project so we can continue to expand our work in creating a lasting impact on safe and healthy water supplies for communities that really need it.
We are aiming to create 1 million liters of healthy water storage through our rainwater harvesting projects this year, doubling the impact we made in 2016! We've still got a long way to go. Please help us make this reality.
Saludos,
Dylan Terrell
Links: