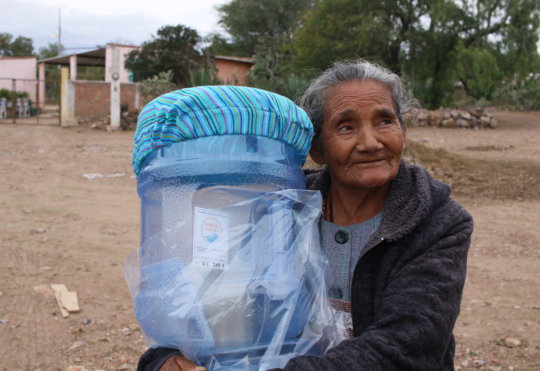 Dear Global Giving Supporters,
As the rainy season winds down here in Central Mexico, the Caminos de Agua team and local communities are rushing to get the last few systems up in the hopes of taking advantage of the few rains that remain. In our last report, we illustrated the impact of an Engineers Without Borders group from University College of London (UCL) who helped a local community build 10 full scale systems and provide dozens of ceramic water filters for participating families. Over the last couple of months, we have expanded our partnerships to continue increasing our impact!
Thanks to our new partners at Wageningen University in the Netherlands, we have been able to provide two large capacity trainings and build seven (7) new rainwater systems in four local communities. Additionally, another partner – Mission for Life – is helping expand the impact of those rainwater systems by sponsoring filter systems for individual families so even more people can have access to safe and healthy drinking water.
We started this round of projects a little differently with an entire new training model – utilizing prefabricated cisterns and new educational materials. We built a 7,500L capacity rainwater system for an elementary school in the community of Los Lopez, which suffers from excessively high arsenic and fluoride concentrations. Given the great – and ever increasing – need for rainwater systems, the goal of this training was to provide a new model that illustrates how local families can build their own rainwater systems, with minimal labor, and increase their storage capacity over time. The three 2,500L capacity cisterns were installed one-by-one, showing how a family can add on to their systems year after year. This new model utilized special workshop materials – some designed specifically for the community – from one of Caminos de Agua's long-term interns currently working on her master's degree.
This system will provide safe and healthy water to 211 elementary students! Take a look at the new educational materials recently developed on our website here (English versions): http://caminosdeagua.org/water-education/
From the community of Los Lopez, we moved back to the north to break ground on six (6) 12,000L ferrocement cistern models with our regional partner – the United Communities for Life and Water coalition. These systems are being built as we speak in three (3) rural communities suffering from some of the most intense water quality and access concerns in the region.
We started these projects with a week-long capacity training, led by Caminos de Agua staff, in the community of Llano Verde, where 20-30 people participated from the surrounding area. This small rural community of 17 families has almost no water access. They currently receive water once or twice per month (only 200-400 liters) from a neighboring community at one single tap. The two (2) systems built in this community will serve the 11 participating families, all of whom will receive their own filter system thanks in part to Mission for Life.
The two additional communities – Arenal and La Escoba – participated in the capacity training at Llano Verde and are almost done with their four (4) respective systems. Similar to Llano Verde, the small rural community of La Escoba also lacks regular water access. Arenal, a slightly larger community of 46 families in total, has semi-regular water access; however, their water is some of the most contaminated in the region, with arsenic and fluoride levels at 9 and 12 times World Health Organization recommendations respectively, making its consumption potentially acutely toxic.
In total, these six systems were built quicker than any to date, as the communities are anxiously attempting to take advantage of any potential late-season rainfall. In total, these systems are anticipated to impact more than 40 families in the region.
By the end of the year, we will have officially:
Built 38 rainwater systems – with more than 20 coming from Global Giving supporters –in partnership with 17 rural communities throughout the region, providing homes and schools with more than 450,000 liters of healthy water storage, and
Installed more than 130 ceramic water filter systems, with the ability to produce nearly 5.7 million liters of safe drinking water over their lifetime.

We still have hundreds of communities that need your support. You can see how we continue to leverage new and existing partners to expand our impact with each project. Next year we already have projects scheduled with local organizations as well as international universities in several local schools. Please, help us expand the impact of those projects!
Our sincerest thanks to Wageningen University for providing the support for this current project, all of you in Global Giving for your on-going support, and special thanks to the local communities for providing all of the labor, lunches, and love for these projects.
Saludos,
Dylan Terrell