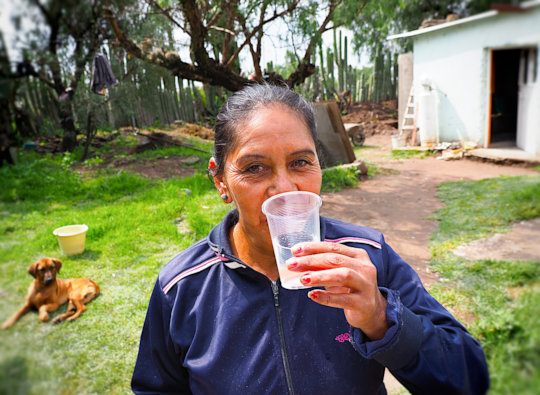 The rainy season is about to start in our region of Central Mexico. This is a great time for Caminos de Agua because rain means the cisterns we have built with dozens of communities, impacting thousands, in this region will soon start filling up with healthy drinking water.
Many of the cisterns we built late last year and early this year will start filling up for the first time and this is a cause for celebration. Twenty-five large-scale rainwater harvesting systems were built for the communities of Pozo Hondo and La Vaciada which will benefit approximately 60 families; however, residents were worried that the local grade school had no fresh drinking water and very little water for restroom use or basic maintenance. They conveyed the need to Caminos de Agua, and we found a generous donor, outside of GlobalGiving, who provided the financing. The parents of the school children (mostly the mothers) organized, were trained, and ultimately built the ferrocement cisterns, which is no easy task, and finished the construction just last month. The inauguration and party celebrating these school systems is scheduled for next week!
Additionally, we are working through various partners to get many new rainwater harvesting systems off the ground. We just just put the finishing touches on another school system with the highschool students in the community of Agustín González. This community has some of the highest levels of fluoride contamination we have ever seen in San Miguel – impacting the participating teenagers development and health throughout their life. Many thanks to the GlobalGiving community and our long-time partners, El Maíz Más Pequeño, for providing support on this project.
Additionally, we are working with our partners at Casita Linda de begin implementing a comprehensive education program and build nine (9) large-scale rainwater harvesting systems in the community of Palo Colorado. We are also working with the Municipal and State Departments of Environment and Sustainability to potentially build upwards of 80 rainwater harvesting systems in communities at-risk throughout the entire state in the months to come. So, keep your eyes peeled for some big projects in future updates.
The work we do involves far more than construction. We've been taking recent opportunities to develop and begin piloting our new education program. We provided a series of workshops to mothers participating in the Pozo Hondo and La Vaciada school rainwater program. Topics include the water cycle, the importance of knowing our watershed, the health risks of contaminated groundwater (these two communities are affected by high levels of arsenic and fluoride in their drinking water), and how rainwater is the most important solution to the problem now. This educational program has evolved into six extensive modules that we will be implementing in new rainwater programs in the future.
This educational development is a massive undertaking for the organization and an integral to – and perhaps the foundation of– the future of Caminos de Agua. Our team is working diligently every week to create new materials, design modules, and pilot new ideas. Lots of these topics have never existed in these types of educational programs to date – with each module linking to the previous and future modules and focusing on things like: the entire spectrum of water contaminants (i.e. organic and inorganic chemicals, etc) and their individual impacts on human health – ideas that are largely set aside by tradtional water educational programs.
Get a taste of our new educational materials in one of the photos below.
By finding solutions to water issues, communities are empowered to organize and solve other problems. Other grassroots NGOs with a longer and more constant presence in these communities are crucial collaborators and partners in this objective. A local woman summed it best in this description of the experience, "we are not only building cisterns, but we are also building community."
Your donations not only build rainwater harvesting systems, but they are also helping develop stronger and more resilient communities. We thank everyone that is supporting our efforts through GlobalGiving. We are ready to do more, but limited only by our ability to raise more funds. Help us take advantage of this rainy season today!
¡Muchas gracias!
Paco Guajardo