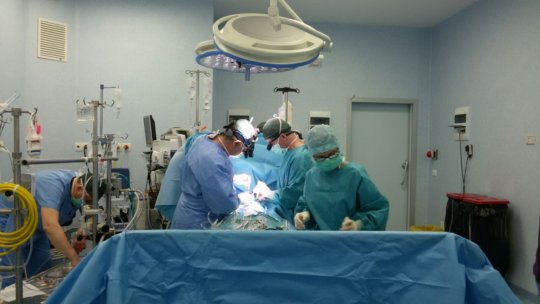 Drin, drin, drin…Hello?
Everything has started with a phone call: the Volunteer Office of Mission Bambini chose me to join a mission for Children's Heart. I couldn't believe it!
In that moment my journey just begun. Since then, my wait was increasing, full of thoughts, expectations, anxiety, excitement, and happiness.
Lately, the Project Office told me the effective departure date and the destination: 11th of February 2016, Spitalul Monza in Bucharest.
Now my worries are really coming to light, but when I arrived to the hospital, at the Spitalul Monza, I fall in a spin cycle of emotions, which I cannot describe and that only Mission Bambini Foundation projects could transmit.
Not even the time to take off my jacket that a nurse from the pediatric department passes by holding the first child that will have a surgery.
He is all wrapped up in a white blanket, and I can only see his face, not even his hair. He has two lively eyes, curious, and a very funny expression!
Three are the children that need to get operated: Uenkli, one year old; Rijhani, seven years old; Esela, two years old. I met two of them, we spent some time together and also took some pictures, but it is already the time to go to the operating room to assist the surgery. My legs are shaking, but luckily Dr Marianeschi has the capacity to calm everyone down.
The first thing that strikes me is the unconditioned serenity that Dr Marianeschi works with and the understanding that you find in the operating room. The whole equip works together in order to make the best of the operations, as each of them is fundamental and complementary with the tasks undertaken by the others.
The operation lasted around 4 hours and I cannot find the words to describe what I felt by looking at a heart beating, then stopping and then start again!
I was at the bottom of the bed, where the operation was taking place and I was supporting him, thinking again about his clever eyes and full of joy, that I saw few hours before.
Slowly slowly the electrocardiogram start again, up and down, the beats increase, the pressure of the child raises: the operation is over!
Now that I came back I want to say "Thank you" to all the volunteers of Mission Bambini Foundation, that are contributing to run the organization and this massive project with their efforts!
The most important thing that I will keep with me is the will to live and the strength that those three children conveyed me by their smiles!