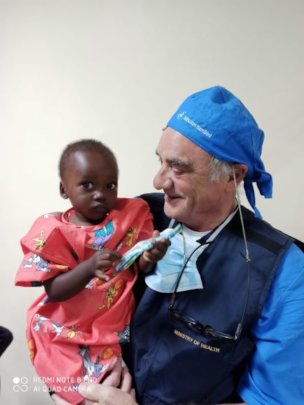 CONTEXT AND PROBLEM
Congenital Heart Difects (CHD) is the most common cause of major congenital anomalies, representing a major global health problem. An estimated 1 million children is born every year affected by heart diseases .In developed countries, congenital heart disease is easily diagnosed (even prenatally) and successfully treated, with pediatric cardiac surgery if necessary. In developing countries are often lacking prepared medical staff and adequate health facilities. Years can go by just to obtain a correct diagnosis.
Significant Data 50% of children born with severe heart conditions are at a greater risk of death if not treated in the first years of their life; others face serious development problems. The differences in mortalityrate between the industrialized countries and developing countries are striking, from 3-7% to 20% respectively. Strong differences in the availability of congenital heart surgeons across the world: 1 for 3,500,000 individuals in North America and Europe, 1:25,000,000 in Asia and 1:38,000,000 in Africa
The «Children'sHeart» Program aimsatreducing the mortality rate in developing countries of children affected by congenital or rheumatic heart diseases, with particular attention to the lessprivileged population.
Mission Bambini identifies and assesses the Countries and hospitals with whom develop a multi-year partnership, involving Governmental Institutions;
• verifies the feasibility of paediatric cardiac surgery camps;
• ensures monitoring and evaluation phases;
• realizes fundraising e communication activities;
• plans, organizes and manages the camps logistics.
Overall results 2005-2019
20,314 children screened since 2005, of which 12,936 for RHD prevention
3,854 children screened in 2019
497 local professionals involved
6,051 hours of training on the job
How we have implemented the programm :
Surgery camps abroad have two different aims:
to operate on the most complex and urgent cases;
to train local medical staff during surgeries or with specific training sessions.
The medical professionals are all volunteers, from the best hospitals in Europe and USA
The team is usually composed by a heart surgeon, a cardiologist, an anesthethist, a perfusionist and one or more nurses for intensive care.
A significant aspect of the "Children's Heart" Program is the training of local doctors and health personnnel. Every year, a local health professional selected among the partner hospitals, completes the «Cardiac surgery, cardio anesthesia and cardiology» Master, at Milano Bicocca University, in collaboration with the International Heart School in Bergamo.
The long term aim of the partnership with local hospitals is to reach the autonomy in treating heart diseases in children, raising the level and quality of the whole local sanitary system.
During surgery camps abroad, the selected local healthcare staff work alongside with the MB volunteer doctors for the transfer of skills and know-how.
To ensure continuity of the training activities, with the local hospitals the partnership is long-term and the surgery camps are carried out twice a year.
The Multidisciplinary Specialist Training Program in CHD designed and implemented by MB in collaboration with the local Univerities of Medicine aims to enhance theoretical and technical competences of local healthcare staff,training future professionals to treat heart diseases in children.
A team of volunteer international lecturers take part to periodical training camps, in accordance with the local Hospitals and Universities.
The team of volunteer international lecturers follow the students during the academic year through a digital platform.
The Multidisciplinary Specialist Training Program included in the local university curricula, is formalized by the issue of an academic certificate.
Prevention of Rheumatic Heart Disease
To avoid the onset or worsening of RHD (RHD (Rheumatic Heart Disease) children up to 10 years of age, timely care must be given to treat otorino-laryngeal infections.
For this reason, children between 6 and 10 years undergo to medical examinations and cardiological screening in schools and / or health points.
To prevent the onset of acquired cardiopathies, it is essential that adults adopt appropriate behaviors.

Mission Bambini finances hospitals and local organizations in organizing training/awareness-raising workshops for parents, teachers and health professionals on prevention, recognition and treatment of the symptoms of otolaryngeal laryngeal infections.