BANGLADESH: The Coronavirus (COVID-19) that spread from Wuhan, China, last December 2019, is currently pandemic worldwide. This threatens the existence of human civilization today. After Europe, the virus has started spreading to South Asian country like India, Pakistan and Bangladesh. Now the question is, where the situation of developed and rich countries is mournful, how will the situation of developing country like Bangladeshbe? here thousands of poor people are bearing the brunt of the deadly virus without being infected. Poor and low-income people have already been seriously affected and even the middle class will be affected if the pandemic continues longer. People who live hand to mouth have lost their income and the prices of daily essentials have climbed up. As time elapses, the situation will be evenworse.In the present situation, the condition of the dalit and backward population has become very miserable. Because most of them are day laborers and they make a living by pulling rickshaw-van, working in the land of others or selling bamboo made products in different areas. In the area we are making various efforts for distribution of relief goods among the starving people of organization's working area. For this purpose, a quick family survey program has been conducted in the working area to determine the number of people in need. Now they need food (rice, lentil, potato, cooking oil, salt etc.), oral saline and hygiene materials like face mask, hand gloves, soap and hand sanitizer to protect themselves from Coronavirus
Apart from this, there is a 10 bed Hospital directed by Dalit, where specialist doctors, nurses and health workers are employed. At this time of the outbreak of Coronavirus, where the people is unable to get out of the house and cannot get general treatment at various public and private hospitals, but doctors and staff of Dalit Hospital can take medical service to the doorsteps of the people.
INDIA: it is clear that the effects of the Pandemic will remain for the coming months and year to come. While children will not be able to access our centre for the coming weeks/months(no one really knows when this will be possible) and we will not step into the slums without ensuring full safety of our team members; the situation unlike any others requires innovative need-based and time-bound interventions.Most of the BTS ( Back to School ) children used to spend a large amount of time in their homes watching TV, but with encouragement from the social workers , they have begun to play some indoor and outdoor traditional games like Pallanguli (using only a chalk to draw out the pattern on the floor and with tamarind seeds), flying kites, etc.. Some have even begun helping out with the household chores and being more positively engaged. We believe that these activities will have a big positive effect on the children's emotional and physical health. It also gives them time to bond with different members of the family and community and learn games and ways to pass time fruitfully with family.
One of the biggest points of need is that the school-going children are all missing out on their summer camp time at Sharana where they are given nutritious food, access to learning and fun activities in a safe environment, and company of other children as well as their trusted and loved social workers. Instead they remain at home, often a small one-room rented cramped space without basic sanitation or aeration facilities. Once we are able to reopen activities at Sharana, much work awaits us- and a lot of damage control. For now the social workers continue to follow up on each of the families via the phone.
The children would also have been doing side courses like type-writing or a computer course during this time or visiting their grandparents in the villages. Neither of these will be possible due to these unforeseen circumstances and major economic and social problems will have to be battled in the coming months. Now with the opening up of work hours and relaxation in movement within areas, markets and shops are able to function to a certain extent, all stand alone shops have been given the permission to be open with proper protocol set in place. This has helped bring back the prices of vegetables and other items back to their original prices or at least close to the same. For several weeks, many items were either unavailable due to lack of stock or unavailability given the boundary blockades.
The COVID-19 preventive lockdown has changed the life of every individual in India. While the lockdown is laudable and very much required to fight the pandemic, it has also led to numerous problems, especially for the underprivileged section of the society who live in a 'hand to mouth' situation throughout the year. Millions of daily wage earners have lost their jobs and are struggling to fend for themselves and their families.
And horrifyingly, our children have become even more vulnerable to exploitation. Children living in the slums spend most of the time outside the house vulnerable to abuse.
Here are some Positive changes that have happened in this epidemic in the slums; while these are not in all families- we found it important to take note of the same and celebrate these moments.
Social distancing has become part of their daily life
In some families, the bond between the husband and wife has become stronger. They learned to support each other, they spend a lot of time with each other, they are able to communicate, share and understand each other more.
Many husbands come to know about the household works and wife's dedication towards the family.
On a very positive note, many parents started to find solutions on their own to manage the situation for example, in slum many parents have started to make homemade kuzhambu powder(used in all curries), vathal(snack fried to have along with a rice-based meal), idli paste etc… and sell in the slums for a reasonable cost and earn money for their daily need
Following a story about the COVID exoerience:
A couple has become a role model of good parenting to other parents in the slum. They live in a one-room house with their two children. The father is an auto driver and he also sells keychains by putting up stalls in the temple festivals around Puducherry and Tamil Nadu. The mother looks after the house and helps her husband in the business. Both of them are very dedicated towards their children's education, especially the father wants her daughter to become an a Government Administrative officer. He also gives importance to extracurricular activities like swimming, sports, and games, cycling for his children.
The father volunteers in many social activities like blood donations, creating awareness in education and hygiene within the slum. If any children did not go to school, he will take the initiative to advise the parents and the child to go to school. Sometimes if the parents are not educated, he himself takes the child to school and talks to the principal.
During this Covid-19 epidemic, he started to volunteer in his friend's non-profit organisation which collects money from local people and cooks free food for the elderly people who are living in the streets around. The government has taken the steps to help the people living on the street by providing food and shelter. Now, he continues to volunteer with his friend by cooking food for around 30 people per day and sells it for a little amount of money. Sometimes he gives it free for some people who don't have money. He prepares a variety of lunches like curd rice and lemon rice for free distribution. During night for dinner, he volunteers with his friend to sell 2 chapatis for Rs.10 and 4 idlis for Rs.10 on streets.
"I always look for the opportunity to help others, if I get it, I will not miss it. The work I am doing now, looks may be small but for me it is big. It gives me soulful happiness and I really encourage my children to do the same."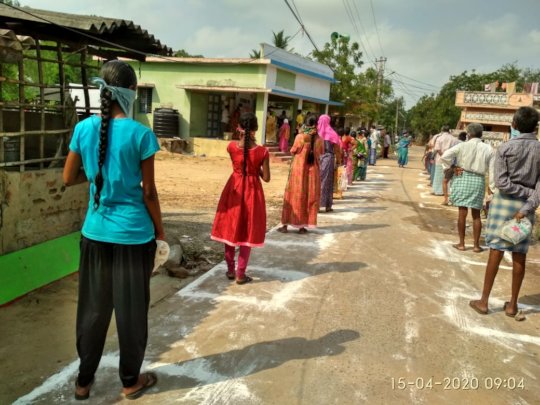 Attachments: