The flowers are blooming and the birds are chirping in South Korea with the start of a new school year. Along with the spring season starting, two male students who grew up at Samsungwon Children's Home have embarked on a new journey. Minyeal and Byung Kyung have started as new students at a Divinity school studying Applied Music. It's amazing that both of them can support each other through their classes in the same environment - that's what we call brotherly love.
Minyeal graduated from World Cyber University in spring 2018 with a Pastoral Studies degree. He decided to continue his studies in Applied Music to get one step closer to becoming a world-wide praise minister. Minyeal has a natural gift to sing as he leads Sunday worship at a local church in the Gyeongsangbuk-do province. Serving others is his passion; he regularly visits a children's home in Daegu to work with children with physical and cognitive challenges. Attending a new school, his goal is to make new friends this semester and will use the scholarship funds to pay for living expenses and school textbooks. While his next vacation won't be until the summertime, he hopes to improve his English while playing the guitar during his school break.
Byung Kyung chose the Applied Music major to learn the necessary parts of the church ministry. Specifically, his dream is to help with worship activities working with college students. While being in his first semester at the Divinity school, his goal is to adapt well to his new academic environment. In his spare time, he loves to sing, listen to praise music, and play soccer. While many people their age would like to climb the corporate ladder to make a successful name for himself or herself, both Minyeal and Byung Kyung understand the true meaning of life. Albert Einstein said, "Only a life lived in service to others is worth living." They have found the key to happiness - to give and serve others to the best of their ability.
Your continuous giving to KKOOM's college scholarship program allows us to give hope to young adults as they experience challenges and success. It shows them they are not alone in their journey to make a difference in society. Thank you for believing in our mission to improve Minyeal and Byung Kyung's life through your support.
With gratitude,
Grace Lee, Chief Administrator
Through your generosity, KKOOM has funded preschool education for 11 toddlers. KKOOM provides a scholarship for two and three year olds in children's homes to help minimize the educational gap for them. Early education prepares children to be constant learners and to gain valuable life skills. We are excited to have one new preschool scholar starting in March 2019!
Jay is 23 months old and arrived at Emmanuel Children's Home just four months after his birth. He has a gentle spirit - he doesn't cry much and eats healthy on his own. While he's generally mild-mannered, he loves to dance to music. It's beautiful how young toddlers connect to the rhythm of music. He dances like nobody's watching - just pure bliss.
Not only does Jay like to dance, but he loves to sing! Research shows that singing has similar health benefits as exercise. When you sing, your body releases endorphins and you experience pleasure. Your body also releases the hormone oxytocin while singing, which helps relieve stress and anxiety. Singing is a positive way for Jay to freely express himself without any worries. We hope that as Jay grows, he realizes the power of his voice and confidently pursues his dreams.
At a very young age, structured social interactions are important for children's healthy development. In preschool, Jay will learn to build strong social and emotional skills such as learning how to express himself and use teamwork to play with other children. Jay will also learn how to cooperate with others through play time and shared meals. Interactions with other children will help develop Jay's creativity and will provide positive reinforcement in a community setting outside of the children's home.
Thank you for giving Jay a safe learning environment to grow emotionally, academically, and physically. We appreciate your investment in the lives of Korean at-risk children. KKOOM is grateful for your dedication to uplift the younger generation who will be tomorrow's leaders.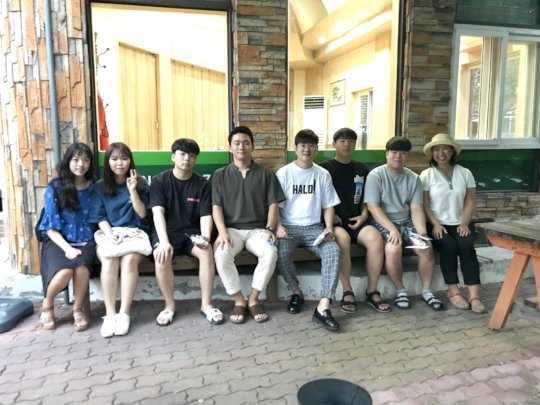 Fall 2018 marked special milestones for KKOOM's two college scholars, Se-Hee and YongHoon. While Se-Hee just completed her first year studying Hotel Tourism at Gumi University, YongHoon graduated with his Social Welfare degree from Cyber World University. In November, KKOOM asked Se-Hee and YongHoon to share highlights from their semester about their favorite class and what activities they participated in.
Se-Hee still participates in an English club with Koreans and foreigners. With positive fall memories, she celebrated Halloween and watched a movie together with her English club friends. Not only is she learning English but Chinese as well, which was her favorite class this past fall semester. Her semester scholarship of 700,000 won helped pay fees for her Chinese class and buy supplies to participate in a cocktail competition.Se-Hee works hard to find ways to sharpen her skills as she received the Storytelling Award at the International Barista Contest. We asked Se-Hee what she wanted to share with KKOOM supporters. She thankfully said, "I am always grateful for you to think about and take care of us every semester. I pray that you will always be filled with happy things."
As YongHoon finished his last semester in college, he worked on weekdays during his free time. On the weekends, he attended church and played with the younger children from Samsungwon Orphanage. His favorite class was "PC Use" sharing that the class was easy because of previously receiving a computer certificate. Your giving helped YongHoon pay his rent and electricity bill. In his final KKOOM scholarship application, YongHoon said, "I will always be grateful to KKOOM! I always appreciate it and think of you often. It was very helpful to help me financially until graduation."
KKOOM will continue providing two young adults with college scholarships in 2019. While YongHoon graduated in the fall, we are excited to have a new scholar starting her college career in spring 2019. With the new school year beginning in March, we look forward to continue sharing how your generosity helps improve the lives of young adults who grew up at Samsungwon Orphanage. Thank you for giving our KKOOM scholars unlimited potential to dream big.
With gratitude,
Grace Lee, Chief Administrator
WARNING: Javascript is currently disabled or is not available in your browser. GlobalGiving makes extensive use of Javascript and will not function properly with Javascript disabled.
Please enable Javascript
and refresh this page.