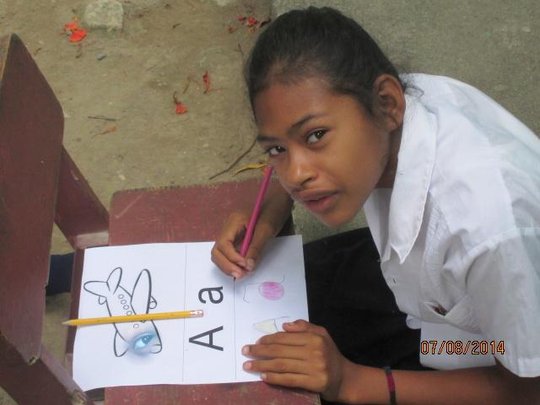 Dayana has been an active member in the Un Mundo Cangrejal Special Education and Health Program (CSEHP) in the Cangrejal Valley in Honduras since 2009.
Dayana has Global Delays, which can include problems with language or speech, vision, movement -- motor skills, social and emotional skills, and thinking -- cognitive skills. Often no cause can be found. Through her participation in CSEHP, Dayana has learned numerous letters of the alphabet and can write her name. She is speaking clearer, and has increased her knowledge.
Dayana entered the 2nd grade in the traditional school in her community in 2014. Her behavior in school and at home has improved and she has learned to help with house chores and care for herself. She has become more friendly and sociable, and has a lot of interest and talent in art and music.
Dayana has made additional advances this year. She has learned to recognize and write her first and last name, the first five letters of the alphabet, and knows the reading sounds ma, me, mi, mo, mu, pa, pe, pi, po, pu. She also has learned a song with the days of the week. In math, she can count from 5 – 9 and can write 1-3, and has begun to add using objects. She has learned how to identify and distinguish between humans, animals and plants. Since transitioning into the local school, her mother has noticed a significant difference in her self-esteem in her community and with children without disabilities. She used to be very timid and afraid to go outside or play with other children in her neighborhood, and was very non-verbal. Now she is now more comfortable associating and playing with kids beyond just her family, she is more talkative and expressive and more adventurous and is developing more independence.
Dayana said, "I love going to school. It is fun to learn new things, to be with other children and to sing."
Un Mundo's Cangrejal Special Education and Health Program (CSEHP) has a three prong process to support children living with disabilities: Special Education, Health and Rehabilitation, and Parent Advocacy Network.