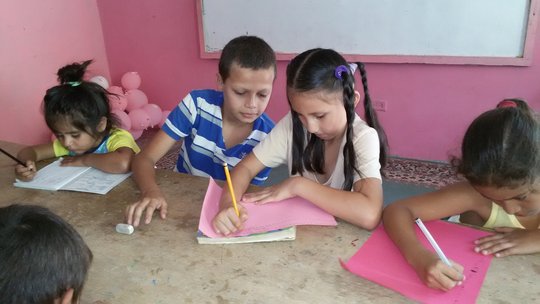 In 2014, when the temporary library space began to open in the afternoons, a child by the name of Aaron was always the first one to arrive. Aaron was a troubled child. His teachers complained they could not control him and he was incredibly behind compared to the other students in his class. Despite his interest in being present in the new library space, the librarian was also seriously challenged working with Aaron. If he wasn't fighting or bothering the other kids, he was creating chaos for everyone present. He was very hyperactive and would rarely sit still to complete his homework or read a book.
Since then, Aaron has changed. Today it is still rare for Aaron to miss a day in the library, but now instead of causing problems, Aaron is helping the librarian teach the younger children. He is a major leader that the librarian now relies on as an important support for the successes they have each day with all the children that arrive.
The Un Mundo Library/Literacy program helps children and families learn to read in Honduras by helping build a regional library and a mobile library that travels by burro to isolated, remote areas. In 2014:
1. 72 different children visited the temporary library, and the library had a total of 870 visits.
2. 180 different children and 35 adults from four rural communities enjoyed a Bibliobandido presentation and enjoyed meeting the burro which carries the Un Mundo mobile library.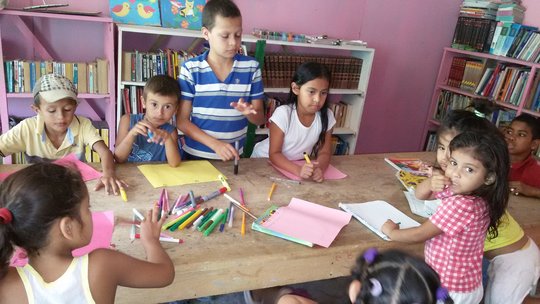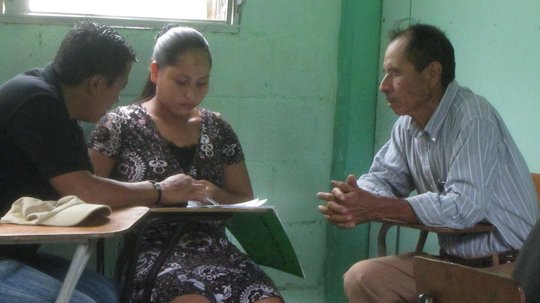 This month the Water Board in El Pital is gearing up to welcome their new engineer partners, Duke Engineers for International Development (DEID) for their first visit. The Water Board with the guidance of DEID will be constructing trash receptacles throughout the community and systems to filter household waste water. The goal of these micro-projects is to help reduce contamination and standing water throughout the community. Additionally, DEID and the Water Board will be finalizing the plans for the water distribution project which will bring drinkable water to approximately 1000 people.
The El Pital water initiative is a multi-faceted effort to bring clean drinkable water to its residents, while also reducing water contamination and increasing forest conservation/reforestation efforts for the regional watershed and its surroundings.
Pablino, Vice President of the Water Board, reported that in a recent Water Board planning meeting the group discussed the challenges they face engaging the larger community given the lengthy timeline of the project, "People in our community are not used to planning for the future; they are accustomed to live day to day. For that reason, it can be hard for folks to justify investing in a project that they may not see the results of for many years."
"But we (Water Board) continue to stay involved, no matter how long it takes, because we understand the importance of planning, and we want to do this project correctly and well so that it will last for many years in the future. We learned our lesson the hard way with the potable water project that the community built back in the early 1990's. There was no planning, no thinking about the future, and we got it done too quickly. It was not very long before the system could no longer support the growth of the community, and property owners surrounding the water source began cutting and burning trees causing the water source to be contaminated and less abundant."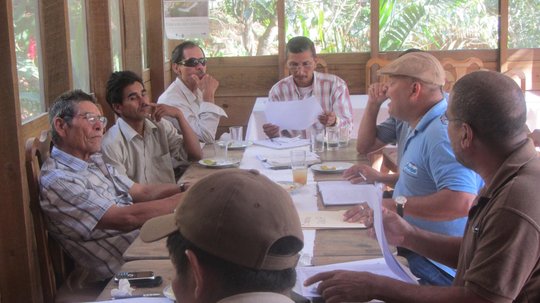 Maria, a local midwife in the region had seen the positive results of other local children in her community over the years through the Special Needs project (CSEHP). When she heard about the situation of one of her grandchildren, Marta, she requested that Marta come to live with her so that she could be part of the Special Needs Project. Marta's mother agreed and brought Marta to the Cangrejal Valley, just in time to start the academic year in 2014, as one of the newest participants in the CSEHP. Marta, age 11, was bound to a wheelchair and could not walk, due to distortion in her legs, knees and feet. She had never studied and had no self-esteem. After conducting various evaluations and conversations with her grandmother, it was determined that Marta's challenges were caused by many years of physical abuse and her extremities being tied down for extended periods of time.
Being in a new environment had a positive impact on Marta. However, she still encountered further obstacles when the local school where her grandmother lived resisted admitting her due to her age and disability. While the school eventually accepted Marta as a result of Un Mundo's advocacy efforts to integrate students with disabilities into the public schools, she initially was significantly marginalized. Timid and afraid at the start, through support and motivation with the Un Mundo volunteer specialists, she slowly began to gain self-esteem. Throughout the year, her physical therapy helped her further strengthen her legs, and by mid-year she was practicing taking steps without her wheelchair. Today, Marta is in the 2nd grade, she is able to walk slowly to and from school by herself, and is beginning to learn to read and write. She has been significantly integrated into the school and has many friends who accompany her to school each day and help her up and down the stairs. Her resilience and willingness to push herself beyond her comfort level has made her an inspiration so that not only Marta and her family believe what is possible but also the larger community who has witnessed her transformation.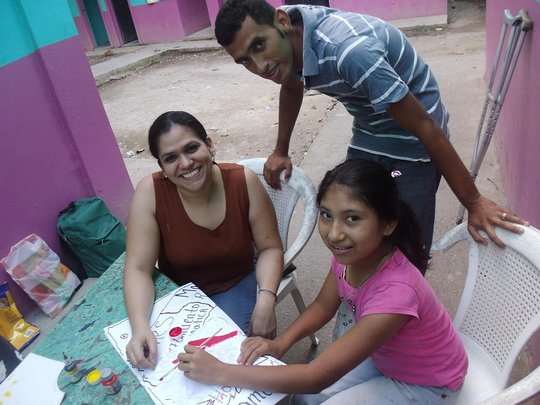 WARNING: Javascript is currently disabled or is not available in your browser. GlobalGiving makes extensive use of Javascript and will not function properly with Javascript disabled.
Please enable Javascript
and refresh this page.