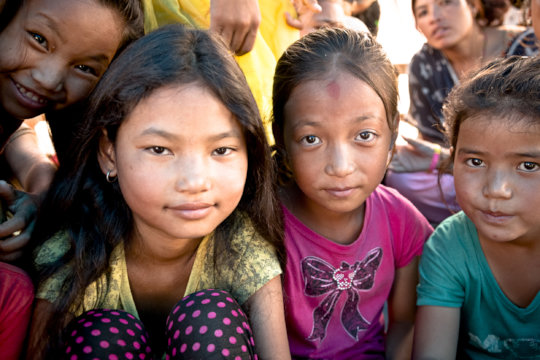 All around the world, even in the West, talking about menstrual health is uncomfortable.
WHY?
What's with the shame? It's our biology... it's what makes us female... what makes us HUMAN. It enables women to bring life into the world, if they so choose.
If you ask us, women's menstruation should be cherished, not hidden.
Aura Freedom's Outreach, Knowledge, Change program is lifting the stigma and breaking the silence on female menstrual health, and giving young girls in Nepal the tools they need to practice good hygiene and enjoy good reproductive health.
In many Nepali communities, menstruation is shamed and hidden, making young girls feel at fault for their own biology. In extreme cases, some communities still enforce "chaupadi" a harmful cultural practice which banishes young girls to animal sheds during their menstruation, further isolating them from the community, perpetuating gender inequality, and in some cases, subjecting them to dangerous living conditions.
Our local Outreach staff host awareness sessions with young girls in rural areas to discuss menstrual and reproductive health, something that is normally taboo in Nepal. Through the sessions, they learn that their bodily functions are normal and important. Young participants are able to ask questions and speak freely about their bodies, which is so important for adolescent girls to do.
Sanitary pads are also provided for the participants, as many cannot afford them and may use other menstruation management methods which can lead to poor hygiene and even infection.
Of course, the distribution of sanitary pads is a super useful component of the program for the class participants. However, it is the education and the KNOWLEDGE, not the pads, that make the program powerful and create lasting change.
Being able to manage mensturation also increases school attendance, which ultimately leads to a reduction in poverty and gender-based violence, which is our ultimate goal.
Thank you for supporting this important project!