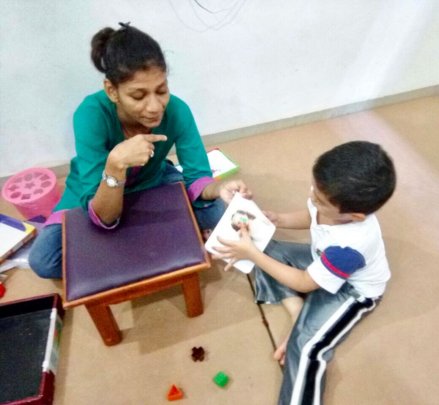 Aman is a 5-year-old male child. The child is being brought up by a single mother. Aman's father and his family disowneded him and his mother when they found out that he was a disabled child.
The family in the initial years did not notice Aman's problems. A few months back they realised that Aman is having serious behavioural difficulties. After the problems within the family the child's mother had to start living by herself.
Although she constantly wanted to give the child best medical treatment so that his disability is managed. She kept making inquiries within the community, soon she was told about the centre run by Bal Asha Trust.
The mother met the social worker from the Bal Asha Child Development Centre and shared her day to day concerns regarding the child. She also shared about the personal issues she is facing.
The social worker counselled her and assured all possible assistance. After the assessment by the developmental paediatrician and team of therapists at the Bal Asha Child Development Centre. The team concluded that the child has "Autism Spectrum Disorder". The child will require disability management in most crucial areas by providing Occupational Therapy, Speech therapy & counselling therapy.
The mother is taking keen interest in the development of the child. She takes special interest in following up with the home exercises given by the therapists and shares the progress with the social worker.
Mother's like Aman's need to be supported as she continued to belive in the child inspite of all the family problems she faced in her life.
The team assured the mother all the help from the Bal Asha Child Development Centre, thanks to donors like you. Your donations help us in providing the best medical support to the children with disability in Mumbai.
Thank you !