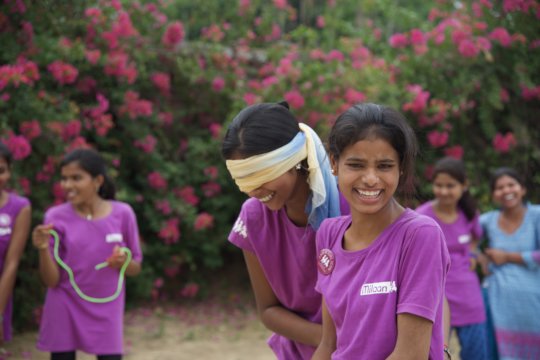 Dear Champions,
Guess what happened when we trained 216 GIRL LEADERS and 38 GRASSROOTS WOMEN in 2 states in 21 days? We created MAGIC and occasional chaos!
The girl leaders we call Girl Icons are part of the Girl Icon program. They come to the journey for 2 years as Fellows who are trained to advocate for their rights as girls. The residential Girl Icon Leadership Development training took place in three batches in Uttar Pradesh and Assam from 17 June 2019 to 8 July 2019.
The training focused on building their awareness, knowledge and skills around Adolescent Health, Violence and Risk Taking Behaviour, Building Relationships, My Values, Leadership, Team Building and planning and organizing Social Action projects.
Session on Adolescent Health created awareness on bodily changes during adolescence, body image and nutrition. The girls delved into Menstruation and Sexual & Reproductive Health. The session built knowledge of the biological process of menstruation and debunking demystifying myths and taboos that surround this topic. It also covered the importance of hygiene and good practices during periods.
In Building Relationships session, the girls examined and mapped the good and bad relationships in their lives and how to maintain relationships. The session on Leadership helped the girls identify the traits of a good leader and also reinforced the expectations from them as Girl Icons and a girl leader in the community.
The session on Violence and Risk-taking Behaviour established why adolescence is a time of vulnerability, the dangers of peer pressure & substance abuse and discussed both physical and emotional violence. The session on My Values demonstrated the link between our values and our behaviour / decisions, followed by the importance of values for a leader.
Interspersed throughout the trainings were Mulakat sessions which focuses on providing knowledge, and inspiring and motivating girls to take charge through interactions with notable personalities. This encourages sharing of experiences and learning between guests and girls. Dr. Manoj Shukla, general Manager of Rashtriya Swasthya Karyakram (RKSK), Monika Yadav (DSP, Uttar Pradesh Police), Prof. Mudra Singh (Amity Law School, Lucknow, Uttar Pradesh), Anita* acid victim survivor from Sheroes Café in Lucknow, UP shared their inspiring stories to encourage the girls.
The Girl Icons also orgainzed Mehfils where they performed cultural programs highlighting a wide spectrum of social issues through plays, skits, street plays, songs, dances and poems.
The 38 grassroots women whom we call Sahyogis attended the knowledge sessions with the Girl Icons. Capacity building sessions were conducted for them to equip them with information and skills to work with adolescent girls in their communities.
The Girl Icons have big plans for themselves. They will be organizing one social action project each in their communities. So this year, we will have more than 200 social action projects implemented across 15 districts in the 2 states!
A big thank you to all!
Milaan Team