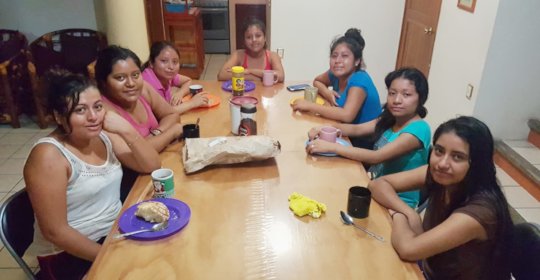 This week will be one year since the 8.2 earthquake hit our region causing massive damage. As we come upon this anniversary we sat down as a group to see what have been the effects of the quake, where we are today and what comes next.
The first question that most people voice about the earthquake is "When is it going to stop?" Just this past Sunday we had a 4.9 aftershock with an epicenter less than 5 miles from Juchitan. On October 25th the National Seismological Survey had registered 39 aftershocks from the Mexico City earthquake of September 19 and over 9500 aftershocks from the earthquake of September 7. Today the predominant emotion in the region is fear. Now each time we have an aftershock we pause in fear, asking ourselves "Is it a small quake or just the beginning of something bigger?" No one feels completely safe and there are many rumors about the future and new and more terrible earthquakes. To the extreme that one rumor states that the entire region is now permanently unsafe and uninhabitable and that the government is going to relocate entire cities. The lack of information is difficult, a google search about the quake and aftershocks reveal that indeed our quake was unusual in origin and strength and a mystery scientists want to investigate.
Tension, anger are the second most common emotions. Many people have been able to rebuild in some way and housing is no longer so hard to find, but business has not reopened, so jobs are scarce and many people are frustrated at the lack of support from the government. Much was promised and little delivered.
In this continued chaos, Centro de Compartimiento continues our commitment to rebuild spirits and provide an emotional haven. Not just for our residential students, but for other people in town as well.
With the anniversary looming we have begun the new school year. We have filled the house in Juchitan with students, It sustained little damage in the quake, but we still cannot use our housing in El Espinal so we have space for fewer students. Most schools are still in temporary buildings or using alternative spaces.
We were pleased that our students returned and that more students applied for the program. We were afraid that many students would not return out of fear, but most told us that they have no other options. They are happy to be back but feel that they are not quite up to speed in their school work, having rushed through many topics to complete the year. Many school teachers have told me that the kids have taken their start of year evaluations and the majority are not at the level that should be.
It has been a hard year and will continue to be difficult as the region slowly rebuilds. We thank you for all your support this past year and hope that you will continue to support our program and the young women who aspire to a better life through education and personal development.