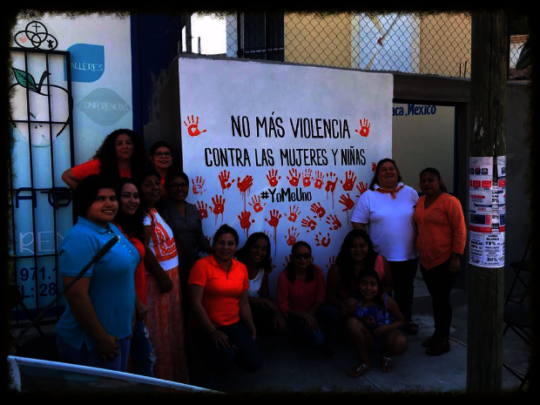 It has been three months since an earthquake, 8.2 on the Richter scale assaulted our region causing tremendous damage and taking almost one hundred lives. We have had time now to take stock of the damage and start thinking about the future. Our property in Juchitan had comparatively little damage, our multipurpose room and student home were undamaged, just our property walls suffered. Our property in El Espinal fared worse and is for the moment unusable.
For over a month our residential students went home to their villages. The schools closed down as most were damaged and with the chaos in town we felt it was better to have them at their homes, and their mothers agreed. In late October word started getting around that some of the schools would be opening at alternative sites. Some full time, and some only one day a week. We brought our students back. Our front wall in Juchitan was still not repaired, and our program center in El Espinal is too damaged to use, so we had to find alternative housing. After strong aftershock in late September, most of the population moved out of their buildings and into their yards. No one wanted to be indoors, so we got a donation of tarps and set up a temporary home for the students who started school. In the day they used our executive director's kitchen and other facilities, and during the night they stayed on the patio surrounded by tarps. Mid-November is the beginning of the windy season here in the Isthmus and with the high winds those who could moved back indoors. Many organizations have come to our region helping families who lost their homes with temporary shelter. CDC was given ten tents, and soon our students became experts in pitching tents as we found families in need.
We decided not to get into the massive aid effort; there was no lack. There was a flood of donations and moral support right after the quake, but most of the out of town groups have left. It is up to us, locally, to rebuild. Since the quake we have been working on just that, we have no skill at demolition and rebuilding, but we do have a lot of experience with listening and helping people tell their stories. For a long time, we felt like the front wall of our property, propped up and just barely standing. But slowly supporting each other, we are moving forward. Our doors have been open to our students, women, and neighbors to come in a have a safe place to talk about our experiences. Sharing our stories, fears, and frustrations helps us to get through the harder days.
Life is far from normal. Half of downtown Juchitan was destroyed. Our market is now located in our main square and many stores no more. In our WhatsApp groups it is common to see the question, "Does anyone know where the _____ is now?" It is very hard to get around town, next to the piles of rubble that line the streets are now joined by piles of sand and gravel for rebuilding. Our roads have become one lane, no parking zones, every day a new street is closed due to demolition and some people just block their street because they don't want the traffic. Going into town is a drain on the spirit. So we take it slow and do as much as we can.
Thanks to our donors we were able to rebuild the front wall at our Juchitan student home. The students moved back two weeks ago. Not all is normal; we still do not use the second floor, everyone sleeps on the first floor in hammocks or inflatable mattresses. The constant construction around us had brought new challenges. Two homes across the street were demolished and are being rebuilt. As our young women exit our property, they are subjected to wolf whistles and stares. Our interventions with the owners of the property and the construction company have brought little change, since it does not happen when any staff is around. To keep the students safe, we keep an extra staff on site during the day and make sure that multiple adults, especially males, make visits. Telling the workers who are from out of town, these girls are family, and we will not tolerate their behavior. November 25 gave us an opportunity to remind our community that ongoing violence against women is a problem and invite them to join us in working on prevention. We painted a section of our new wall with the words; No More Violence Against Women and Girls. We all added our handprints in bright orange to show our commitment. It got the construction workers attention. Each month on the 25th we plan to have an activity around the theme of stopping violence against women.

In two weeks we will all go to our families to celebrate the holidays. We hope to return next year refreshed and ready to work. We all want to get away from the aftershocks for a while (we are at 12,000 and counting). We would like to thank you for your support this year and wish you and your families all the blessings of this holiday season. Ndaayatu'. We are grateful to have you as partners in this project of walking with our young women as they reach for their dreams. Please remember our program in your holiday giving.