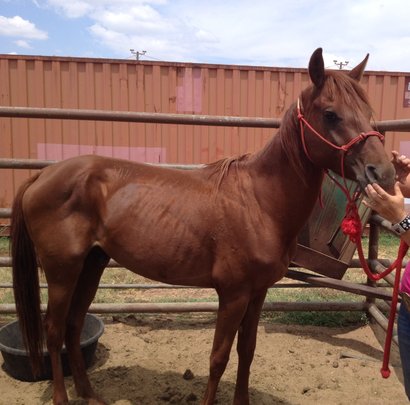 In late July we received a call from a Deputy at the Lubbock County Sheriff's Department reporting that he was on his way to seize 5 unhealthy, malnourished horses from a property in Lubbock County. The situation was dire. All of the horses (19 in all) were in less-than-desirable condition, but he was only taking the ones most in need of rescue. The deputy asked if we could take three of the five. So we immediately secured foster care. Two of the horses were mares and one was a young stud horse whose first stop was to the vet to be gelded (castrated). The vet techs called him Pilot while he was there and that name stuck. Though in better condition than the mares, Pilot was underweight and malnourished. He was leery of people but showed some willingness to learn to trust them.
Because we had the funds that were donated through the Global Giving program,and the financial generosity of the foster homes, we were able to provide all the medical and nutritional needs of Pilot. He was started on a feeding program that included high quality grain, hay, and supplements. He was seen by the farrier and dentist (his teeth had probably never been tended to) and received vaccinations.
Pilot's first foster home was with a family who had a pre-teen boy named Tanner. Tanner had a way with Pilot and they became buddies. But unfortunately, this family had to move to California, so Pilot transferred to another foster home with a lady named Corrie. At Corrie's barn there was a mare named Mama that immediately claimed Pilot for her own, and they became fast friends. And because best friends shouldn't be separated, Corrie and her family applied to permanently adopt Pilot into their herd. He is at a healthy weight and now allows people to catch and halter him without too much difficulty. And he and Mama stay side by side.
We couldn't report on stories like Pilot's if not for people who donate to the Global Giving campaign. The funds allow us to provide the best possible care for horses such as Pilot, and not cut corners because we don't have enough money. Easy R Equine Rescue wants to say a heart-felt thank you to every single person who has given to the campaign.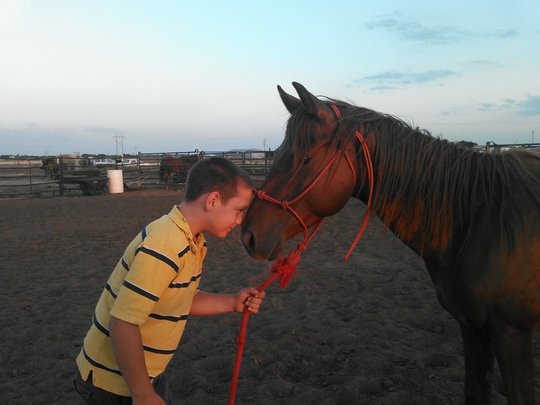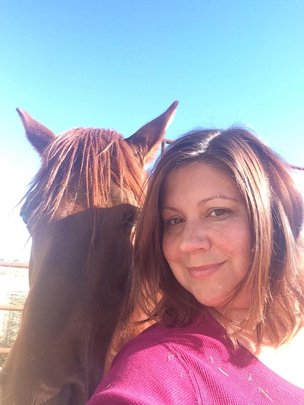 Links:
In our August report, we told you about two little malnourished mares who had just joined the Easy R herd via the local Sheriff's department. We are pleased to report that Andi and Ginger have been gaining consistent weight and establishing themselves within the small herd. Though they are still very food-motivated, they aren't acting as frantic during feeding times. They need to gain a bit more weight before winter arrives, but are well on their way. Even though the two still stick fairly close together, Ginger is realizing that the big BLM Mustang horse named Tango is a pretty cool buddy too.
Three weeks ago we were able to finally gain custody of a mare badly in need of rescue. She was living in deplorable conditions, not being fed adequate or quality feed, and was in a great deal of pain as a result of a badly foundered front hoof. As we do with most horses coming out of situations such as these, we immediately gave her a new name--Gracie. Grace is underweight and has a severe limp due to the founder. She also arrived with many scars and open sores, probably from an aggressive pasture mate at her previous home. Gracie is currently in a local foster home through Easy R. Therapeutic farrier services have begun, but the road to recovery will be a long, and expensive, one. She will need to be seen by a farrier approximately twice per month, for at least six months. She also is receiving laser treatment 1-2 times per week to encourage blood flow and circulation to the damaged hoof and leg. She may never be completely sound in that leg/foot but hopefully we can provide her some relief from the current pain she is experiencing.
Therapeutic services for Gracie will be approximately $800 for the first six months. In addition, she is being started on a very high quality feed that will assist in her weight gain, each 40 pound bag costing $21.00. Because of donors like you, we can take in horses like Gracie and provide the much needed respite, rehab, and recovery that she needs. If she had stayed at her previous placement, she surely would've died. Thank you so much for your generosity and willingness to assist in the mission and vision of Easy R Equine Rescue. This Thanksgiving, we are especially grateful for folks like you.
Links:
On July 30th, Easy R Equine Rescue was contacted by the Sheriff's Department with sad news that 5 very malnourished and underweight horses were being taken from a local resident due to neglect. And immediate placement was needed. Because of the generosity of donors through Global Giving, Easy R was able to say yes to two of the horses. A day later, two very leery, underweight, and malnourished mares stepped out of a stock trailer and into a better life.
Even though the previous owners said that the mares were between two and three years old, their body size was that of a yearling, indicating probable malnourishment since birth. Their hooves were very overgrown and in poor condition. They were bony and had very little muscle mass.
With funds raised through the Easy R Equine Rescue project on GlobalGiving, we will be able to provide each of these neglected horses thorough veterinary exams, vaccinations, Coggin's tests, farrier work, dental examinations, de-wormers, and quality feed and start them on their road to recovery and restoration.
There will be more horses like these two mares. We will continue to get calls from the Sheriff or local residents who cannot take care of their horses for one reason or another. The care for neglected, malnourished, or starved horses is much more costly than that for a healthy horse. With continued donations from caring folks across the country we will continue being able to welcome these horses into the Easy R herd, rehabilitate them, and find them caring adoptive homes.
Links:
WARNING: Javascript is currently disabled or is not available in your browser. GlobalGiving makes extensive use of Javascript and will not function properly with Javascript disabled.
Please enable Javascript
and refresh this page.