A few summers ago, Easy R Equine Rescue received a call from a young lady who lived in our city but at that time was working during the summer at a cattle ranch 3 hours south of us. She explained that one of the horses on the ranch was going to be euthanized if she couldn't find him a home. The horse, named Hershey, was a ranch horse that was a hard worker, easy to ride, and up until then, had been a valuable equine asset on the cattle ranch. No one really knew how, but Hershey had sustained an injury to his stifle which rendered him unable to be ridden to work cattle. Because he was young, and otherwise healthy, the owners of the ranch had a veterinarian x-ray Hershey and provide a diagnosis and prognosis. The vet confirmed an injury to the stifle that would be similar to an ACL tear in the knee of a human. He recommended "time-off" and rest for Hershey to heal.
Well, on this particular working ranch where the horses are tools and not companions, Hershey wasn't going to get time off. If he wasn't being useful or earning his keep, he was going to have to go. And by "go", I mean being put down along with a few senior horses that were no longer useful either. Thankfully, the young lady who contacted us knew the value of this kind, gentle, hard-working horse. She pleaded with us to help her save Hershey. And, of course, we did. Why wouldn't we??
Because we were not sure about the type and extent of Hershey's previous injury, we took him to an equine lameness specialist in our area. This doctor told us that at one point Hershey might have had a stifle injury but that his current source of pain was some serious arthritis that had formed in his lower spinal processes, probably the result of rearing up and falling over backward. Hershey was injected in between the spinal processes and then received two treatments of shock wave therapy. The treatment decreased his pain and improved his physical movement. Although he still obviously has some effects of the initial injuries, he is in better physical condition and can carry small riders.
Hersheyhas been an integral part of our youth program each summer. Because he is gentle and kind, he is one of the horses we can trust to be around children and teens and to do his job of carrying riders and standing still and quiet to be groomed. Many kids who have participated in our Horseplay groups have never been around a horse, touched horse, or ridden. He is a valuable asset to Easy R, and even though he will never be able to ride really hard and carry adult riders, his job is very clear--to be a kind, gentle guy who introduces little ones to the world of horses. At the ranch where he previously lived he was going to die because he wasn't useful. He was going to be trash. To us and the children who meet him at Easy R, he is definitely a treasure.
The donations we receive through the Global Giving program go directly to the care of Hershey and horses like him. Because of the generosity of people who give, we were able to provide good, quality (but expensive) veterinarian care, chiropractic treatments, and therapeutic farrier care to Hershey. Our rehabilitative efforts will continue with Hershey and all the other rescued horses at Easy R. They are all treasures in our eyes.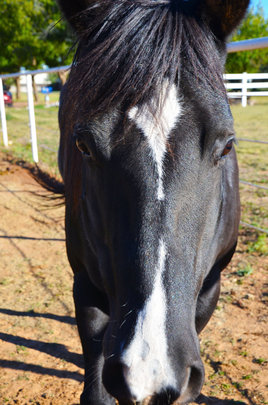 Links: