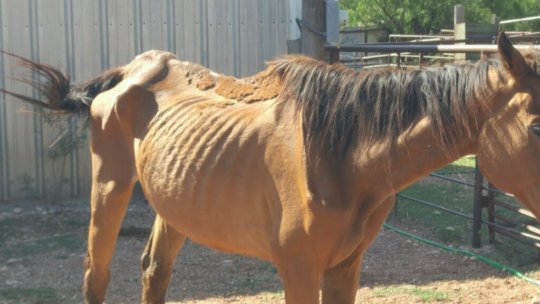 In early June, the staff at Easy R Equine Rescue received a call from an area veterinarian's office. The lady on the other end of the line said she knew someone who knew someone who was extremely concerned about a horse in a town a few hours from Lubbock. Most of the time we refer people to shelters or rescue organizations nearer their own community, but she almost begged us to take a look at pictures she had been sent of this horse. So we did. It was clear that this horse needed immediate help or she was going to die. And by the looks of the pictures, even with intervention, death was possible. Long story short, she was loaded up by a concerned family and made the almost three hour trip to Lubbock. The director of Easy R met them at a local large animal veterinarian's office. Even though the pictures we had seen reflected what poor condition she was in, it always looks even worse in person. The fact that she made the trip to Lubbock without falling in the trailer proved the fight she still had left in her.
The neglect Chablis had been suffering was obvious, and extreme. She was in the worst condition of any horse that Easy R has taken in up to this point. In addition to her weight being at a critically low level, she had an obvious limp on her right front leg, a very swollen knee, overgrown hooves, evidence of a fungal skin condition, an open wound on a back leg, poor muscle tone, and overall body weakness. Due to starvation, her bones were all grossly visible, which also revealed a previous shoulder and hip injury. But her eyes were soft. Almost relieved and expectant that maybe this group of humans examining her would keep her safe and nurture her back to health.
The pictures attached to this report show her condition upon arrival and progress she is making at the loving and kind hands of a local foster family. She stayed in the veterinarian hospital for 9 days before being placed with the foster family. Her care has not been cheap, and more veterinary visits and procedures will be necessary to address continued health issues. Fortunately, she has responded well to the re-feeding regimen and is slowly but surely putting on weight. Chablis is in her mid to late 20s and will always need a senior diet with additional supplements. Her skin condition is mostly healed but she still requires topical medication for fungal infections. She is on a daily (and expensive) anti-inflammatory medication for the arthritic knee. Her feet are in poor condition due to the lack of nutrition she suffered for a long period of time. Regular farrier visits and annual dental care will be crucial for healthy feet and teeth. Due to her age, starvation, and probable previous use as a brood mare, her sacrum has dropped and in order to keep her female organs healthy, she will most likely need a Caslick's surgery soon.
Ironically, Chablis is probably the kindest horse we have ever had at Easy R. She has a lip tatoo which reveals her history as a racetrack horse, a demanding and even at times unkind sport. Based on her body condition, not including the recent starvation, it is obvious she has had many injuries that left her with improperly healed fractured bones and nerve damage. The fact that she is still kind and loves human interaction is a testament to this horse's heart and spirit. She is a fighter and has a strong will to live. We will continue to do EVERYTHING we can for this precious horse, making the rest of her life as comfortable and full of love as possible.
The only way we can take in horses like Chablis and have the funds for their intensive treatment is because people like you give. You will probably never meet Chablis, or the other rescue horses, but you are a HUGE part of their rescue, rehabilitation, recovery, and restoration. We thank you and appreciate you so very much.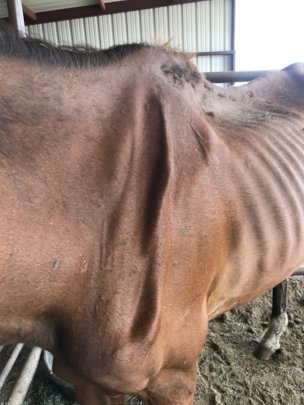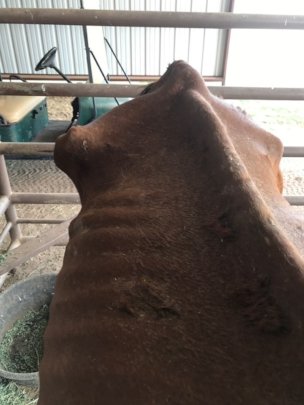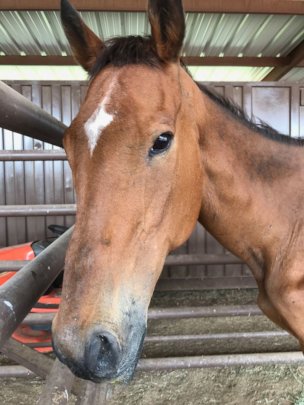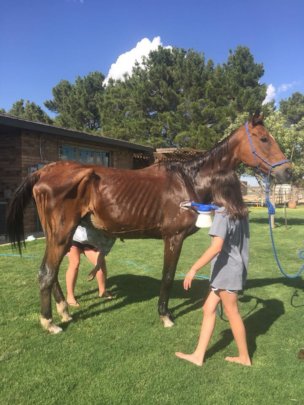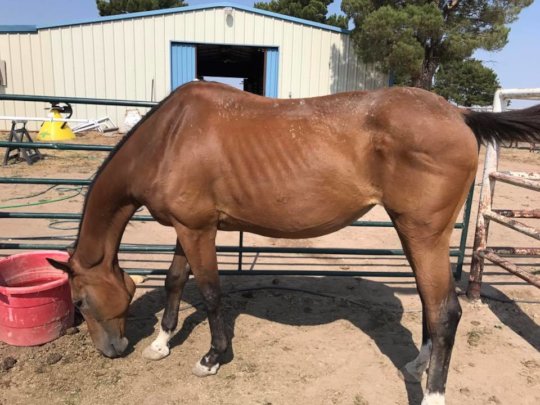 Links: