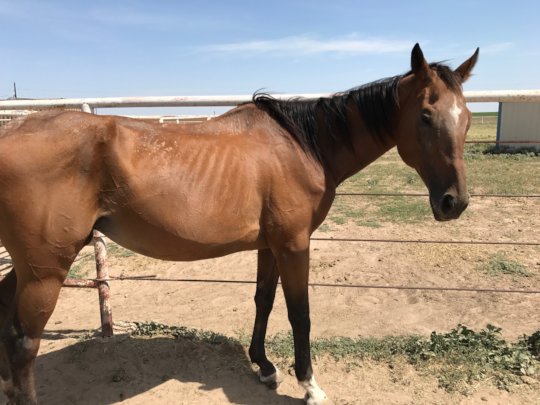 The previous progress report from Easy R Equine Rescue was about Chablis, the extremely emaciated and very ill Thoroughbred mare that came into the rescue in early June. At the time of the last report we had only had her 3 months and she was already making progress. We want to take the opportunity to update everyone on her current status and the care she's received since then.
The most vital part of her road to healing has been high quality food. And quite a bit of it. Generally speaking, Thoroughbreds can be hard keepers and difficult to keep weight on. So when we get one that is so underweight, the challenge is significantly greater. Chablis has been on a meal plan that consists of several meals a day of senior grain, a complete alfalfa pellet, and coastal and alfalfa hay. We are glad to say that as of now, she is considered to be a normal weight--which is a HUGE success in light of the critical condition she was in upon arrival.
She has been worked on by an equine dentist who filed off all the razor sharp edges of her back teeth and ensured that she has enough lateral movement to adequately chew and digest her food. She also was completely evaluated by an equine veterinarian who confirmed that she had a uterine infection and required a Caslicks procedure. The procedure was performed and she was put on strong antibiotics to clear up the infection.
In addition, she has been evaluated by a farrier a few times to get her feet in good shape and determine the cause of tenderness and lameness in her front right hoof. We are hoping the therapeutic shoes on her front feet will help with the soreness, but if she continues to have pain and discomfort we will move to the next step of getting her complete hoof x-rayed to determine the underlying cause of the pain.
Her poor skin condition has been completely resolved, primarily due to the increased function of her immune system as a result of a good, nutritious diet. She is on daily mineral supplements and probiotics, and anti-inflammatory medications as needed to help with the hoof pain.
Chablis is a very fotunate horse. There were concerned citizens that had the courage to step up and intervene on her behalf. And she has received nothing but the best at Easy R Equine Rescue. But the only reason we are able to provide the best for Chablis, and others like her, is because of the generosity of donors who believe in and support what we are doing. Every single financial gift is important to us--no matter how small. It isn't so much about the amount as it is about the heart of the giver. And we are so grateful for generous hearts. Thank you for being a part of saving and healing Chablis.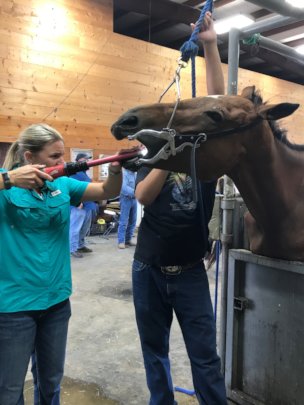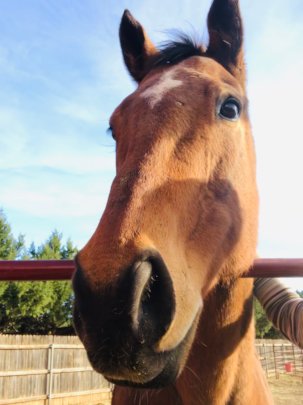 Links: