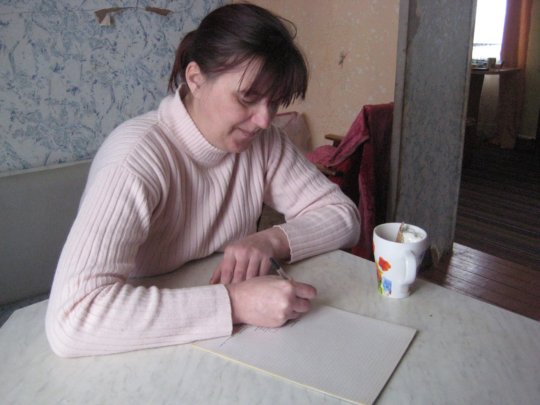 Sometimes parents become hostages of their past and cannot get the relationships with their children back on track because of shame or fear of social embarrassment. Here is one of the stories of 'Homelike Project. Smolensk region'
Victoria is 40 years old, she lives in a village. While her husband works, Victoria keeps the house and the garden. This fall their daughter starts school. Such a decent, friendly family of three. Meanwhile, in the next village orphanage there is a boy named Vasya. Victoria is Vasya's mom.
When our Smolensk team took Vasya's case, the boy's personal data file proved that his mother is deprived of parental rights due to an antisocial lifestyle and alcoholism.
It turned out that the woman actually behaved immorally in her youth, and due to this, the custody authorities seized her son from her. Eight years have passed since then; Victoria has completely changed, but could not get back together with her son since then.
She was scared to death to go to the custody, as she understood that no one had forgotten anything in their small village. Moreover, every time she met someone from them accidentally, the custody officers reminded of her past, adding to her guilt feeling.
However, Victoria never forgot about her son. Before we took Vasya's case, the woman kept track of his life on her own. For several years that the boy lived in a foster family, Victoria timidly asked friends in common of how he was doing. But recently the boy was returned to the orphanage, got into our program and soon afterwards we found his mother.
Victoria gladly shared memories of her son with us, and together we made a detailed family genogram- a technique that helps a child to better know his family, and also helps a specialist to better see family "scenarios" and find positive stories from the child relatives' life.
Our specialists have conducted psychological therapy with Victoria, thanks to which the woman has overcome her shame about the past, and, on the contrary, realized that she has every right to be proud of having independently overcome the crisis and changed for the better. She gave up alcohol, created a strong family with a worthy person, carefully runs the house, and educates her daughter, who, according to our psychologists, is harmoniously developed.
Our social teacher Alina Kiprich accompanied Victoria to the custody authorities to find out what documents were needed to resume the relationship with her son. After the visit, Victoria and her husband became determined to get back together with Vasya.
Unfortunately, the psychologist in the orphanage was also aware of Viktoria's wild youth, and firstly refused to organize a meeting with Vasya. At that point, our foundation organized a meeting with the orphanage director to assure her in Victoria's reliability and the seriousness of her commitment.
The meeting went well, Victoria made a right impression, and a longed-for permission was received! The most important thing for now is to prepare Vasya. From his personal data file we know that the boy was seized even without an opportunity to say goodbye to his mother.
Ulyana Sorokina, the psychologist of the project is actively working with Vasya now. The meeting is coming soon!