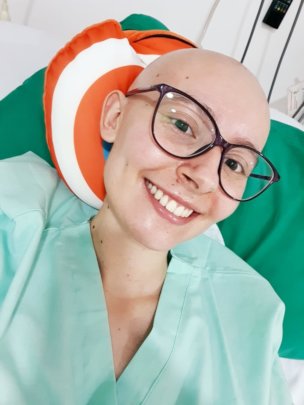 Thanks to your contribution we continue supporting young people with cancer!
Daniela is part of the Youth in Contact group of the Colombian Leukemia and Lymphoma Foundation, she is 23 years old and she was diagnosed with acute leukemia a few weeks before the health emergency that the country is experiencing due to COVID-19 began.
This situation has not allowed us to visit Daniela in the hospital, but it has not prevented us from sharing with her and other young people in treatment, through video calls.
This is how some Fridays of the month we have a virtual appointment with young people where we share the emotions and feelings associated not only with the diagnosis, but also with the particular situation that the world is experiencing due to Covid-19.
Despite the fact that cancer patients before the pandemic already wore a mask and had to comply with certain isolation measures, it is still difficult for them to manage loneliness mainly, due to the restriction on visits, even of their loved ones.
Aware of the importance of self-care, the young people promised to have virtual meetings, where they propose new things to feed the mind and spirit.
This is how film forum Fridays, meditation Fridays and sharing Fridays arise, the latter to talk about any topic, other than cancer.
The most recent Friday of sharing was very fun, we found out that Daniela is an athlete and a Harry Potter fan; also that Ricardo and Daniel studied at the same school, not knowing that they would meet again, but this time as leukemia patients
Sharing with young people in treatment fills us with inspiration to move forward #JuntosPorLaVida
What do you think of our support program for young people with cancer? How would you like to contribute?