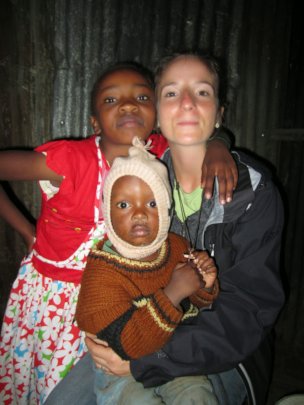 As many of you know, last year I (Christina) hiked the Appalachian Trail (AT). It was one of my dreams to complete the entire trail. The AT is a 2,190 mile trail that passes through 14 states. I endured unbearably cold weather, hot weather, poisonous snakes, bears, injuries, and the occasional lack of food and water. While the trail was tough, and I often thought about quitting, there was always one thing that gave me the courage to continue: the children in our Child Sponsorship Program.

On those difficult days out in the woods, I thought about the struggles that the children living in Kiambiu, Kenya encounter on a daily basis. I reflected on the conversations I had with children before they were a part of Action Two Africa, and how many of them talked about how they longed to go to school so that they could get an education, get a job, and hopefully, one day, be able to support their families.
I also thought about the daily struggles they encounter like not having enough food to eat and how difficult that made it to concentrate in school, or how on occasion they would get sick from drinking contaminated water, or how there were nights they couldn't do their homework because they had no electricity, or how there were days young girls had to skip school because they didn't have something as simple as a tampon, or how there were times when they had to endure the embarrassment of being told to leave school because their family didn't have enough money to pay their school fees.
I thought about all of these things, and about how much strength and courage the kids in our program have. How they have to fight every day for something as simple as an education. And while my struggles on trail pale in comparison to what the children in Kenya are experiencing on a daily basis, thinking of them gave me courage to keep walking, and, in some way, I hope they give you courage to pursue your dreams too.
Ultimately, what I realized out there in the woods was that while dreams are universal, opportunities, unfortunately, are not. Let's continue to encourage and empower children in our Child Sponsorship Program by helping to provide them with the resources and tools they need to help make their dreams come true.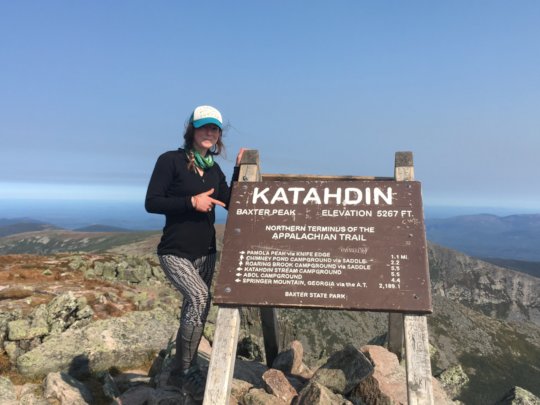 Our most recent project, "Empower Kenyan Girls through Education" aims to provide girls in Kiambiu with the opportunity to pursue the education that they're constitutionally guaranteed.
Mercy is one of the young women benefitting from this project, and her story is a testament to the motivation and passion that characterizes the youth in her community.
Mercy is the youngest of five girls in her family. Three of her sisters dropped out of school before finishing high school. Two of her sisters are now married to the same man. Mercy was on the verge of being forced to abandon her education as well. After finishing standard 8, Mercy's family couldn't afford to keep her in school anymore, so she was pulled out. Three weeks after the new semester started, Mercy was sitting at home while the rest of her peers were back in the classroom. Mercy's family reached out to Action Two Africa, and we are happy to report that Mercy is now back in school. Not only has she caught up with her classmates, she has excelled to the first position in her class!
Mercy exemplifies what it means to overcome in the face of adversity. Sometimes the barriers that stop us from achieving our goals are completely outside our control. It's instances like this that Action Two Africa was designed for. With a little help, Mercy has been able to continue to pursue her dreams. We are excited to see where her drive and passion take her in the future!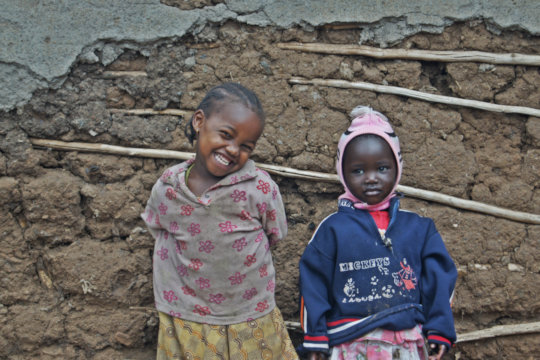 Living in the slums outside Nairobi presents residents with a unique set of challenges. Crime, poverty, and drug abuse, even by children, continue to rise in these communities. These are in many ways, inevitable challenges that come with living in an insecure environment such as this. One challenge that we shouldn't have to expect though, is insecurity brought about by government officials.
As many of you are aware, 2017 was an election year for us. The initial election was in August, yet disputes and accusations continue to drag the process out. Violence has once again marked this election, and many of those who have suffered this violence have been residents of these especially vulnerable slum communities.
Many of the children here had to take their siblings "upcountry," back to the rural communities where their parents are from, in order to ensure their safety. These are not challenges that school-aged children should be having to face while trying to make a better life for themselves.
Please join with us as we continue to hope and pray for peace and stability in Kenya. Our children's futures depend on it.
WARNING: Javascript is currently disabled or is not available in your browser. GlobalGiving makes extensive use of Javascript and will not function properly with Javascript disabled.
Please enable Javascript
and refresh this page.