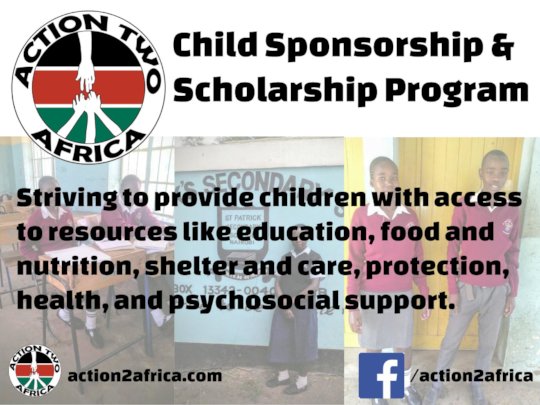 One of the struggles that we have faced is publicity and getting the word out about what we are doing here at Action Two Africa. While we have GlobalGiving and their resources to promote our organization and our goals, Facebook, and word-of-mouth to promote our mission, it has still been difficult to spread the news about the successes and benefits that our Child Sponsorship Program has had for the children in our Program. With that said, we are looking for ways to help us get exposure for our organization, so that we can continue to empower children in Kenya. If you have an area of expertise that you think would help promote what we are doing in Kenya (help with organizing fundraisers, grant writing, obtaining corporate donations, etc.), please let us know. We welcome any feedback or suggestions on how we can do this, and look forward to hearing from you, our family, friends, and supporters!
And while we have challenges like publicity, and spreading the word about what we are doing, we have one primary obstacle that has really affected our overall impact: funding. We certainly don't lack vision, or enthusiasm for what we are doing, but it has been a challenge for us to find sufficient funding to safeguard our financial vitality while at the same time working toward a stable and progressive future. After years of trying to get government funding in Kenya for our program, and reaching out to other Kenyan non-profits, we have not yet succeeded in getting public or private funding for Action Two Africa. This is not a surprise to us as there is so much need for aide in Kenya right now due to issues with severe corruption, poverty, and lack of resources. We will keep persisting in this area, and are hopeful that we will be able to partner with an agency to promote the good work we are doing. In the meantime, we are figuring out ways to help sustain the work we are doing.
In the coming months we are going to hold our 6th Annual Garage Sale in hopes of raising awareness and bringing in some much needed donations. If you would like to contribute items, donate your time, or help in other ways, please let us know by emailing me at: christina@action2africa.org. Additionally, continue to talk about the work that we are doing here at Action Two Africa. We encourage you to tell your friends, coworkers, and family about how we are empowering Kenyan youth through education sponsorships, in hopes that what we are doing will inspire them to take action by supporting our cause. We also wanted to give a shout out and thank you, to you, our loyal donors, for your continued support and encouragement! Without you, we wouldn't be able to continue the work we are doing. Thank you!